Rainbow List 2014: Ones to watch, internationals, power couples and straight allies
Nominations showed that readers want to hear more from the newcomers on this list , and our judges agreed
Sunday 09 November 2014 01:01 GMT
Comments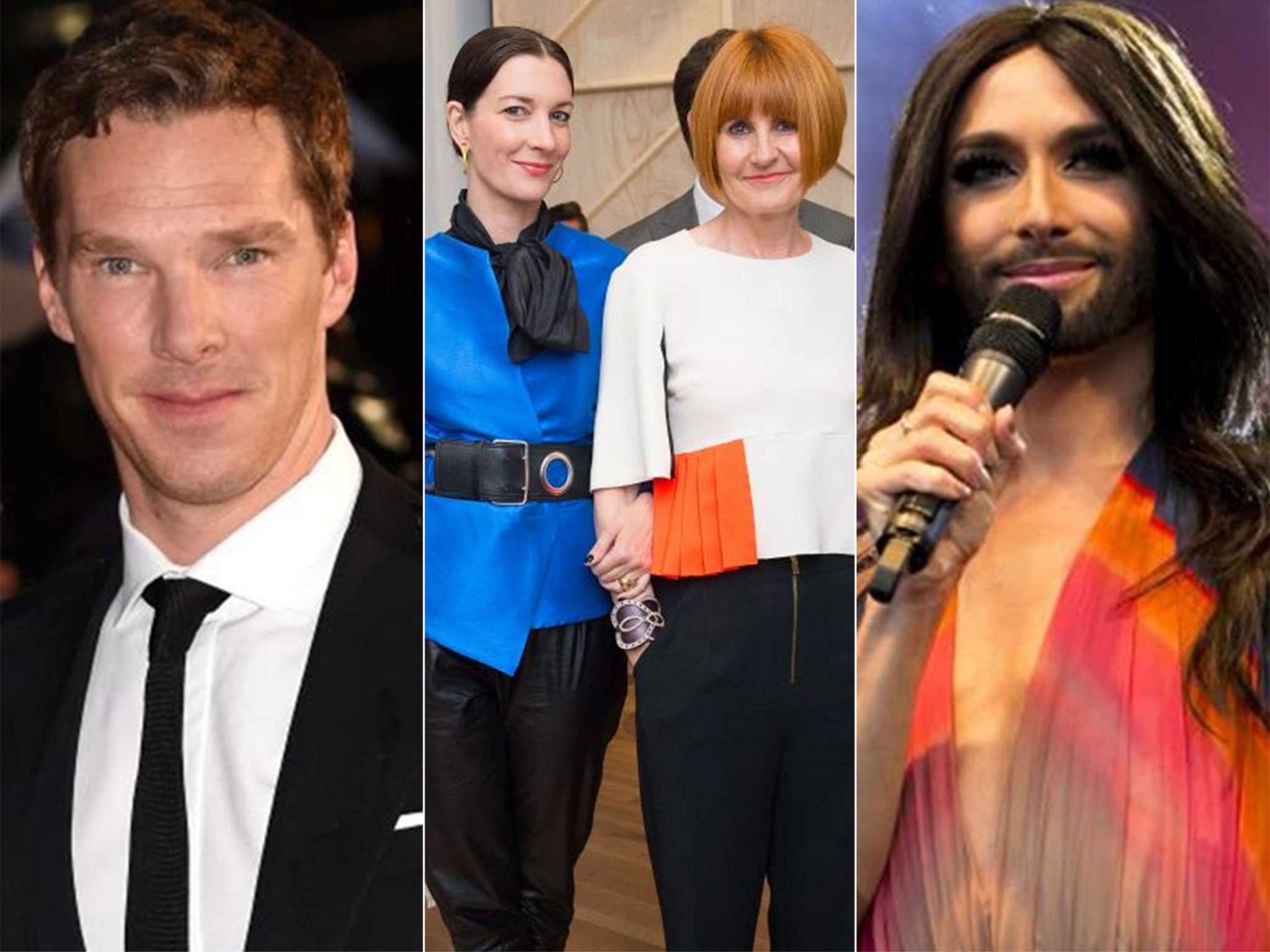 Ones to watch
They may not yet wield the influence of a top politician, an actor who's barely off our screens, or a musician with a million album sales; but our nominations inbox showed that readers want to hear more from these newcomers to the list, and our judges agreed.
One reader who nominated Cliff Joannou, editor of QX magazine, called him "an unsung hero who supports grassroots projects". Comedian Rosie Wilby and her Out in South London radio show proved popular, with dozens of nominations, as did Michelle Ross, for setting up CliniQ for trans sexual health.
TV producer Dominic Treadwell-Collins received plaudits for a moving gay storyline in EastEnders, while Ben Roberts, new Director of the BFI Film Fund, is partly responsible for funding films including Pride. "Rising star" Naith Payton managed to secure himself a first-person piece in The Sun ("unusual enough for a trans man", said one judge).
Meanwhile, boxing promoter Kellie Maloney "is in a position to have educated many just by the fact of her transition".
A moving nomination came from a relative of Hunter Charlton, a young HIV-positive man who became the Terrence Higgins Trust's biggest single fundraiser from this year's London Marathon.
Others to watch are Patrick Harvie MSP; Leng Montgomery, of Diversity Role Models; Canon Jeremy Pemberton; Nieves Barragan Mohacho, chef (pictured); Wayne Dhesi, of rucomingout.com; blogger Alex Bertie; artist Sophie Green; film editor Victoria Boydell; model Nicola Gibson, and Kristian Johns, who blogs about living with HIV.
Tim Cook
CEO, Apple
The American published an eloquent "coming out" on the day our judges met: "If hearing that the CEO of Apple is gay can help someone ... it's worth the trade-off with my own privacy."
Ian Thorpe
Swimmer
The Australian came out in July.
Michael Sam
NFL player
The first openly gay NFL player.
Thomas Hitzlsperger
Footballer
In January the German player became the most high-profile footballer to come out, having retired from the game last September.
Kaelyn and Lucy
YouTube stars
For making YouTube videos that show happy lesbian life.
Ellen Page
Actress
The Juno star came out as gay at the Human Rights Campaign's "Time to Thrive" conference in February.
Jaiyah Saelua
Footballer
This year, the American Samoan player became the first fa'afafine ("third gender") player to compete in a men's Fifa World Cup qualifier.
Laverne Cox
Actress
Sophia in Orange Is the New Black is the first transgender person to be Emmy-nominated.
Andreja Pejic
Model
Australian transgender model has been on both models.com's Top 50 Male Models and FHM 100 Sexiest Women.
Panti Bliss
Drag queen
She has 661,829 YouTube views.
Rachel Maddow
US TV host
Dr Rachel Maddow is the first lesbian to anchor her own primetime show.
Rob Kearney
World's second strongest man, an American, came out last week.
Anderson Cooper
CNN anchor
"The most prominent openly gay journalist on US TV," says NY Times.
Conchita Wurst
Eurovision winner
The Austrian (centre left) said: "Not just a victory for me but ... for those people who believe in a future ... based on tolerance and respect".
Janet Mock
Writer
American transgender rights activist and author.
Powerful partnerships
In this year of equal marriage, let's celebrate those powerful partnerships, both romantically and in business, in which each partner makes the other stronger.
Our family of power couples is headed by Twitter's favourite team, Clare Balding (the author of yet another bestselling book this year) and Alice Arnold, and includes a brace of chefs, Jack Monroe and Allegra McEvedy; a bookend of writers, the wonderful Stella Duffy and Shelley Silas, who have maintained their enviable relationship through a stressful year that included creating the countrywide arts event Fun Palaces; queens of shopping and fashion, and mothers to an adorable Horatio, Mary Portas and Melanie Rickey; the journalistic duo Matthew Parris and Julian Glover; and a game of two halves, the hockey team-mates, Kate and Helen Richardson-Walsh – the latter is also a patron of Spurs' LGBT supporters network the Proud Lilywhites.
In business couples, where would we be without Stacey Halls and Tom Blackie from Opening Doors London; the film-makers Lewis Hancox and Fox Fisher, who created My Genderation Films after meeting on Channel 4's My Transsexual Summer in 2011; Steph Keeble and David Viney from LGBT Birmingham; Benjamin Cohen CEO of Pink News (@pinknews) and Mike Buonaiuto, the team behind Out 4 Marriage; Jennie Kermode and Helen Belcher from Trans Media Watch; and Lou Englefield of Football v Homophobia and Pride in Sports; and Leviathen Hendricks of the Gay Football Supporters Network… and where would they all be without each other?
Straight allies
Alan Wilson
Bishop of Buckingham
One of the most vocal supporters of equal marriage in the Church of England.
He says: "If the Church wants to provide compassion, it can stop talking about gay people and start talking with them."
Cath Hall
Founder, Albert Kennedy Trust
Hall founded the trust 20 years ago after Albert Kennedy, a 16-year-old boy she knew, died after falling from a car-park roof while being chased by several attackers.
Jeffrey Tambor and Jill Soloway
Star and creator of the online TV drama Transparent
Tambor stars as a transgender, divorced, Jewish father-turned-mother in the Amazon series, created and directed by Soloway.
Benedict Cumberbatch
Actor
Plays Alan Turing in the historical drama The Imitation Game (general release this Friday). One nominator already thinks he needs an Oscar for his portrayal of "the greatest gay person of the 20th century".
Daniel Radcliffe
Actor
Perhaps because of the sex scene in the 2013 film Kill Your Darlings, in which he plays the poet Allen Ginsberg, Radcliffe was nominated for "encouraging people who identify as heterosexual to think a little bit more inclusively".
Jo Swinson
Liberal Democrat MP
As equalities minister, last year Swinson launched a campaign to end homophobic bullying in schools, and she's credited with much of the groundwork for the allocation of £2m to the problem, announced last month.
Norman Fowler
Member of the House of Lords
Presented with the Peer of the Year prize at the Pink News Awards, for his work to fight HIV and improve sex education, Fowler recently published the critically acclaimed book AIDS: Don't Die of Prejudice.
Lynne Featherstone
Liberal Democrat MP
The first politician to take part in the Out4Marriage campaign and the one who launched the consultation on equal marriage.
Julie Hesmondhalgh
Actress
Although her final scenes as Hayley Cropper in Coronation Street were shown earlier this year, Hesmondhalgh remains a passionate advocate for trans rights, working with groups such as Trans Media Watch, Press for Change, the Albert Kennedy Trust, and the Manchester Lesbian and Gay Foundation, alongside other charities.
Macklemore & Ryan Lewis
Hip hop duo
First nominated for their 2012 single "Same Love", the pair continue to support equality. Their track "Can't Hold Us" has the lyrics "Labels out here/Now they can't tell me nothing".
Donatella Versace
Fashion designer
Her autumn/winter 2014 menswear collection was dedicated to gay and transgender people and inspired by her late brother: "Gianni came out and said he was gay when it was very difficult to say that," she said. "I'm very proud of that."
Michael Fabricant
Conservative MP
Gay men cannot donate blood if they have had sex in the past 12 months. Introducing his Private Member's Bill calling for the gay blood ban to be removed, Fabricant called it "unfair" and "illogical". Which it is.
Join our commenting forum
Join thought-provoking conversations, follow other Independent readers and see their replies