Tom Hanks responds to growing calls for him to run for President in 2020
A reassuring speech delivered by the actor on Donald Trump's win is boosting hopes for the 2020 election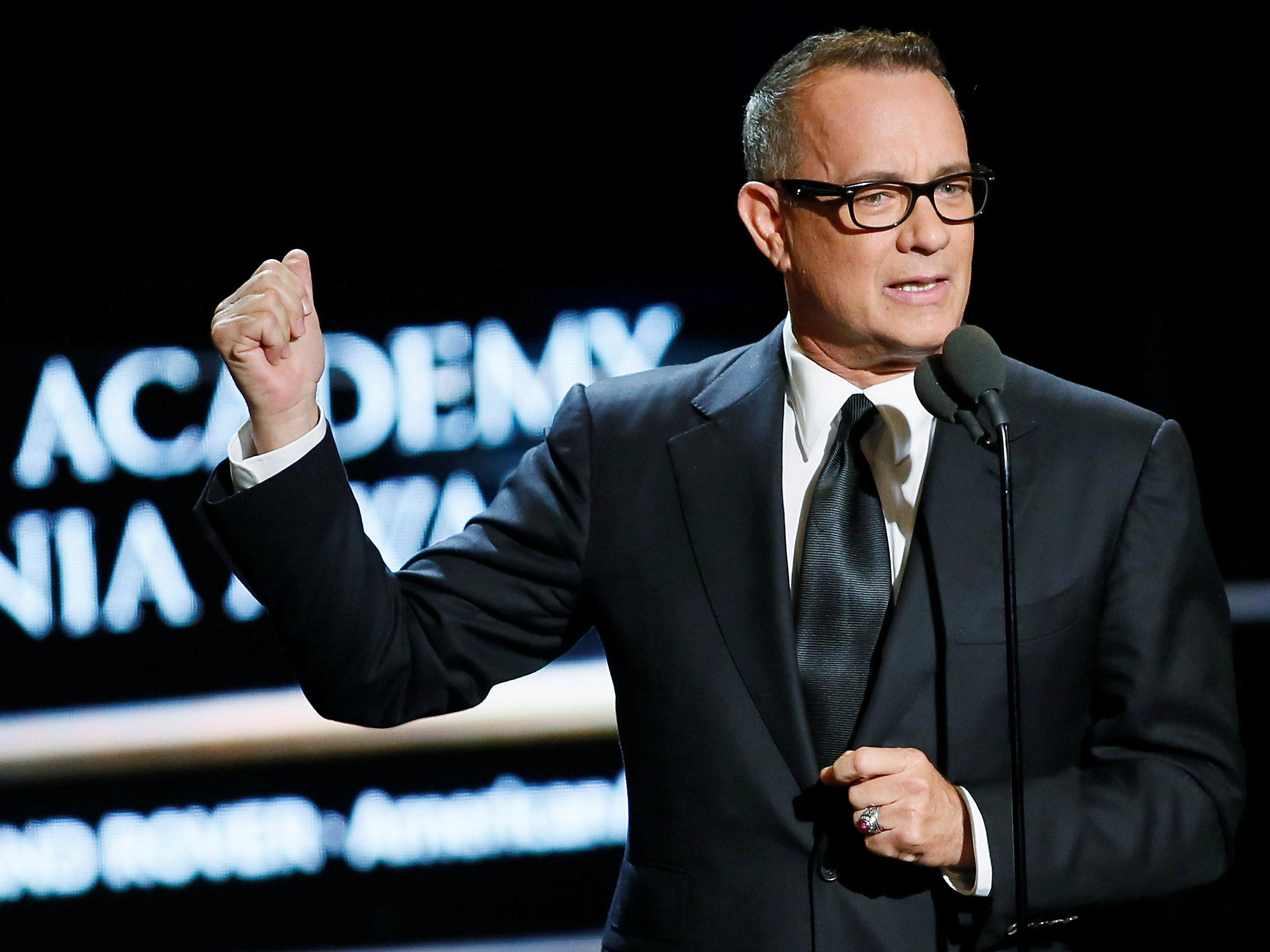 Tom Hanks is soothing growing panic over the repercussions of Donald Trump's election victory with a speech that has fuelled calls for the actor to consider a run in 2020.
In an address being touted by some as evidence of his leadership ability, Hanks referenced the constitution and, as Barack Obama has made a habit of doing throughout his tenure, even sang during his speech.
He was speaking at the Museum of Modern Art in New York where he was being honoured for his life's work in film.
Hanks was a vociferous critic of the President-elect, saying he was "personally offended" by his lewd "grab her by the p***y" comments. On Tuesday evening, he sought to assuage fears about his presidency by telling the audience America has been in worse situations than the one it finds itself in now.
President Donald Trump life in pictures
Show all 16
In a message of hope, he pointed to more turbulent times in America's past and promised citizens would endure this tumultuous period, as they did then.
"In my own lifetime our streets were in chaos, our generations were fighting each other tooth and nail and every dinner table ended up being as close to a fist fight as human families will allow," he said in comments published by Vulture.
"We have been in a place where we have looked at our leaders and wondered what the hell they were thinking of. We've had moments with the administrations and politicians and senators and governors in which we've asked ourselves 'Are they lying to us or do they really believe in this?' That's all right.
"We have this magnificent thing that is in place. It's a magnificent document and it starts off with these phrases that if you're smart enough you've memorised in school or you just read enough so that you know it by heart, or you watched those little things on ABC where they taught you a little song." Then Hanks began to sing. "We the people/in order to form a more perfect union/established to ensure domestic tranquility/to provide for the common defence/promote the general welfare,' and you go on and on.
"That document is going to protect us over and over again whether or not our neighbours preserve, protect and defend it themselves."
Tom Hanks 'offended as a man' by Trump remarks
He went on: "That journey never ceases, it never stops. Sometimes, to quote a Bruce Springsteen song, it's one step forward two steps back, but we still aggregately move forward. We, who are a week into wondering what the hell just happened, will continue to move forward. We have to choose to do so, but we will move forward.
'We will take everything that has been handed to us as Americans and we will turn our nation and we will turn the future and we will turn all the work that we have in before us into some grand thing of beauty."
Amid calls for Hanks to consider dipping his toes into politics, he told Vulture one speech is not exactly a robust indication of how capable he would be of running the country.
"Just because I'm an actor, I can give a good speech, I agree with that. But the concept of actually voting for someone just because they can do that?"
Should he run, Hanks could face off against Bernie Sanders, the socialist senator whose popularity has soared since Hillary Clinton lost in the election. Documentarian Michael Moore has offered his support to a Hanks run. A big fan of "beloved" celebrities running for political office, he said: "Democrats would be better off if they ran Oprah [Winfrey] or Tom Hanks. Why don't we run beloved people? We have so many of them. The Republicans do this – they run [Ronald] Reagan and the Terminator [Arnold Schwarzenegger] and other people."
Join our commenting forum
Join thought-provoking conversations, follow other Independent readers and see their replies