Tony Blair and Bill Clinton phone calls: Fake transcripts shared on social media after declassified records released
More than 500 pages of transcripts have been released, covering three years of conversations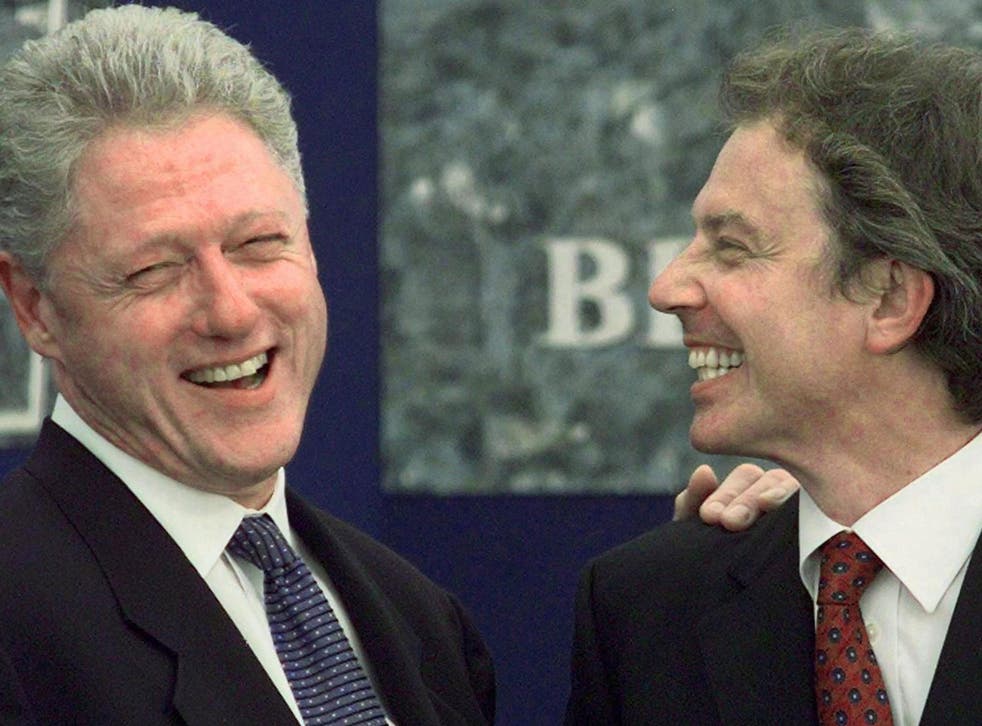 Imagined conversations between Bill Clinton and Tony Blair are being shared on social media after more than 530 pages of transcripts from their time in power were released.
The declassified documents emerged on Thursday, revealing phone calls between the then US President and UK Prime Minister from 1997 to 2000.
The pair's self-described "good and strong relationship" is evident throughout, with the discussion of international affairs liberally sprinkled with everyday chit-chat, jokes and well-wishes for each other's families.
Mr Blair was often forced to push the conversations back on track after the US President's tangents, which include asides on cashmere jumpers, golf, bananas and what the former Prime Minister would look like naked.
They inspired comedian Michael Spicer to create some transcripts of his own that imitated the leaders' phone manner so well that many people have mistaken them for the genuine records.
But unfortunately, to our knowledge, President Clinton never beat up a ham, ran bowling competitions for the unemployed, mastered plate spinning or genuinely believed he was talking to Tony "Blare".
Here are Mr Spicer's creations:
But the real conversations between the two leaders sometimes threatened to become even more bizarre.
Here is an excerpt from a chat on 4 February 1999, when they discuss Vice President Al Gore's visit to the UK.
"Nice to hear your voice," Mr Clinton began, telling Mr Blair "Al" had a fantastic time.
"He also liked it when he went into (John) Prescott's office and the only decoration was a bowl of bananas," he continued.
"I heard all about it. He was very happy."
The Prime Minister said he would get it "sorted out" but Mr Clinton cut back in with: "My staff won't let me talk to you unless I have a banana at hand. I'm sitting here with a banana; it's a big, ugly, brownish one."
Tony Blair: A career of controversies

Show all 11
"Now Bill," Mr Blair replied with a smooth put-down: "I thought we should have a word about Kosovo."
In another exchange, the US President jokingly offered to babysit Mr Blair's forthcoming baby. "We'll put you down on the babysitting list now, mate," Mr Blair jokingly replied.
Mr Clinton once told him he had a "choirboy look" and, on another occasion, gave strict conditions for the Prime Minister's stay at the White House.
"As long as you don't parade around naked before the bath," he said. "You're too young and too trim."
Other surprising topics that deviated from matters of state included discussing the merits of tea with Steven Spielberg versus coffee with billionaire Ron Burkle, Pink Panther films and Mr Clinton asking if he can be made an honorary UK citizen with Scottish estate "next door to a good golf course".
The files, covering calls between 1997 and 2000, can be read on the Clinton Presidential Library website here.
Join our new commenting forum
Join thought-provoking conversations, follow other Independent readers and see their replies