Top Ukip official Matthew Richardson forced to apologise after 'unforgivable' anti-trans rant and 'she-males' slur
Matthew Richardson says his views on transphobia have changed since the speech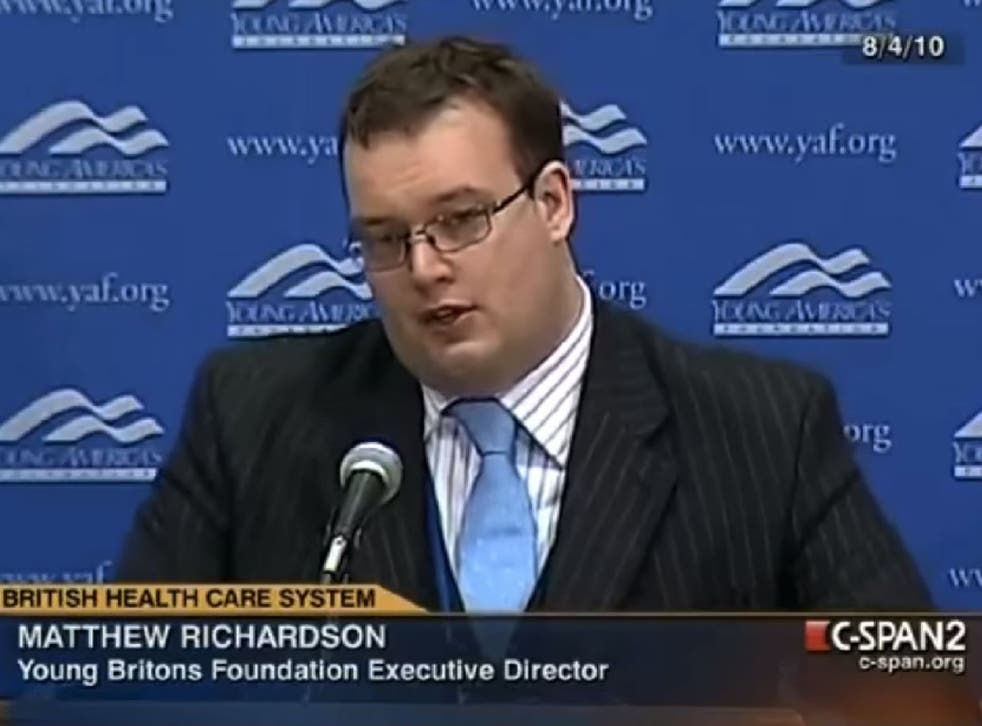 A top Ukip official has apologised after recordings emerged of him referring to transgender women as "she-males", claiming he is "horrified" by the remarks.
Matthew Richardson, Ukip's party secretary and a close ally of Nigel Farage, branded trans women undergoing surgery "she-males" and said the NHS should not help people who needed gender reassignment surgery.
He blamed "socialists" who he said supported people whose gender needed to be reassigned.
"Socialists think that if somebody wants to reassign their gender the state should pay, they think that's how the world works]," he told an audience of several right-wing groups in the United States.
"So if you love she-males come to the United Kingdom, if you love freedom – stay here [the United States]."
Mr Richardson told The Independent that he made the speech six years ago and, at the time, "didn't even know what transphobia was".
"I was barely conscious of the concept of transsexuality and gender dysphoria let alone the associated serious mental and physical health consequences," he said.
"Over the last six years through my own experience, meeting transgendered people and from learning through the advocacy of groups like Stonewall I have learned about these things and I realise that that kind of thing is not acceptable. I had forgotten that I had said that, and I am horrified 6 years later that I did."
The recordings originate from a speech made in 2010 to the Young America's Foundation Conservative Student Conference in Washington DC, and came to light after they were obtained by the Sunday Mirror newspaper.
Mr Richardson is the party's secretary and a member of its executive council, and is a close ally of Nigel Farage.
In a statement issued through the Ukip press office, Mr Richardson said he had forgotten that he made the comments and that his views on trans people had changed.
Ukip's confusing policies

Show all 7
When approached by The Independent for comment, Stonewall said it did not generally campaign on transgender issues and was mainly focused on issues regarding sexual preference.
Campaigners for trans rights reacted angrily to the comments and said any apology needed to be backed up with actions.
Stephen Whittle, the head of legal services for the charity Press For Change, which advocates for people who change their gender, told The Independent the speech was "unforgivable" and "ignorant almost beyond belief".
"Whilst transphobia is never acceptable, PFC works by making friends and not by making enemies. PFC is always willing to participate in dialogue, but we would expect to see change followed by material action, not just more talk," he said.
The apology comes only days after a Green Party parliamentary candidate profusely apologised for appearing to question the gender identity of trans people.
Transphobic hate crimes soared in 2014, according to some of the UK's biggest police forces. The Metropolitan Police saw offences against transgender people increase by 44% in 2014 with 95 crimes recorded, up from 66 in 2013 and 59 in 2012.
Register for free to continue reading
Registration is a free and easy way to support our truly independent journalism
By registering, you will also enjoy limited access to Premium articles, exclusive newsletters, commenting, and virtual events with our leading journalists
Already have an account? sign in
Join our new commenting forum
Join thought-provoking conversations, follow other Independent readers and see their replies