Tyga: 14-year-old girl who 'received messages from Kylie Jenner's boyfriend' hosts press conference
Tyga's manager said he contacted Miss O'Malia for business purposes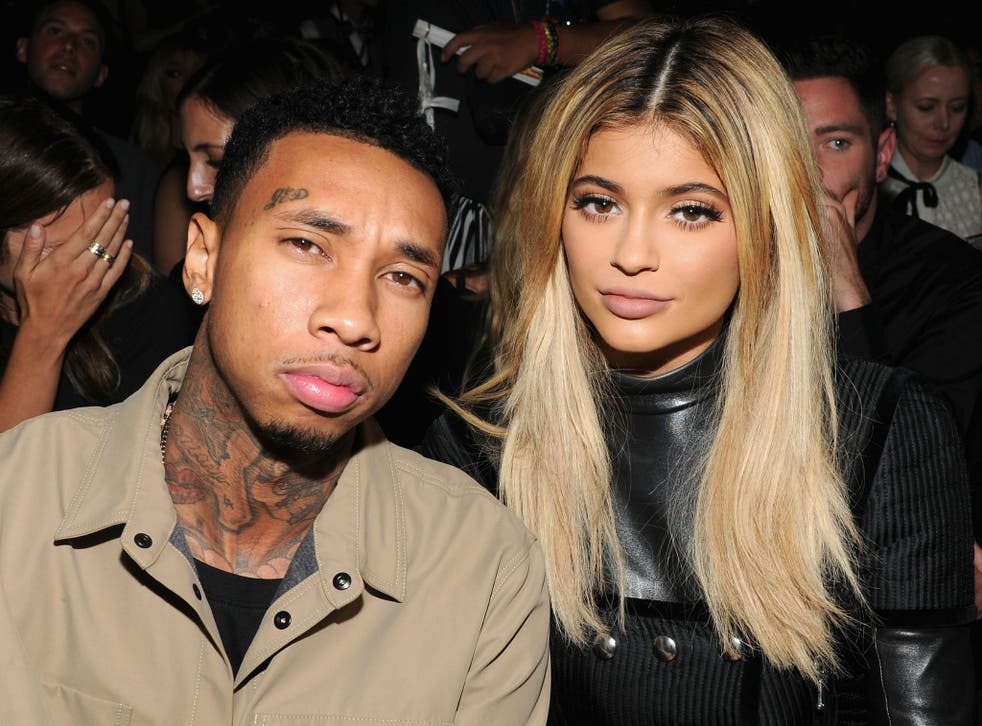 Molly O'Malia, 14, has responded to a US magazine's claim that she had some sort of relationship with the rapper Tyga by holding a press conference.
Appearing alongside her lawyer Gloria Allred, who has a previous string of celebrity clients and currently represents some of the Bill Cosby accusers, Miss O'Malia was visibly emotional as she discussed the article's impact.
The front page of OK! Magazine USA shows reality TV star Kylie Jenner, Tyga's girlfriend, along with the headline "Tyga In Love With Underage Teen!". Inside the publication, screen grabs of the Instagram private messages are shown.
Tyga Admits to Contacting Teenage Girl; Claims He Thought She Was 17
Visibly upset at the conference, Miss O'Malia claims Tyga initiated conversations with her over Instagram, conversations she says she initially believed would be about her music.
According to TMZ, Ms Allred said her client was forced to make her identity known following the magazine's claims.
People news in pictures

Show all 18
"I'm very upset that a story about Tyga, Kylie Jenner and me was published by OK! magazine and I want people to know the truth," she said, "The truth is that Tyga contacted me first, he direct messaged me on Instagram, I knew who he was but I was surprised that he was contacting me."
The 14-year-old proceeds to say how she believed the 26-year-old was contacting her about her music but claims he did not acknowledge this in the initial or subsequent message, something she says she found "strange".
"I began to feel uncomfortable when he asked me to FaceTime with him. He asked me to FaceTime three times but I didn't do it. Because of my discomfort of why he wanted to communicate with me, I quickly stopped responding."
Crying, while Ms Allred placed a comforting arm around her, Miss O'Malia reads: "I never sent the communication between Tyga and me to OK! magazine and I don't know how they obtained them. I would never have allowed OK! magazine or any other magazine to use them. It is also upsetting to me that OK! magazine never even contacted my Mum or me to check the facts to see if what they were publishing was true.
"I'm speaking out today because I don't want what happened to me to happen to any other young girl."
Ms Allred reportedly criticised the magazine, claiming repercussions meant people figured out the pixelated image was Miss O'Malia and have since "hounded" her.
The lawyer also said Miss O'Malia's mother believes it to be "completely inappropriate for an adult male to communicate with her 14-year-old daughter, ask for her phone number and ask when she is coming to L.A", reports People.
Tyga has since responded to TMZ through his manager who reportedly told the gossip website that the rapper contacted Miss O'Malia because she had a "pretty strong musical following online" and that the conversation was for business purposes. TMZ are also reporting that the messages indicated Miss O'Malia to be 17.
The Independent has contacted a spokesperson for Tyga and Jenner for comment.
Register for free to continue reading
Registration is a free and easy way to support our truly independent journalism
By registering, you will also enjoy limited access to Premium articles, exclusive newsletters, commenting, and virtual events with our leading journalists
Already have an account? sign in
Register for free to continue reading
Registration is a free and easy way to support our truly independent journalism
By registering, you will also enjoy limited access to Premium articles, exclusive newsletters, commenting, and virtual events with our leading journalists
Already have an account? sign in