King Edward VIII: Uncle who encouraged young Queen's Nazi salute 'plotted with Adolf Hitler to regain throne'
Edward VIII and Wallis Simpson met Hitler in Germany in 1937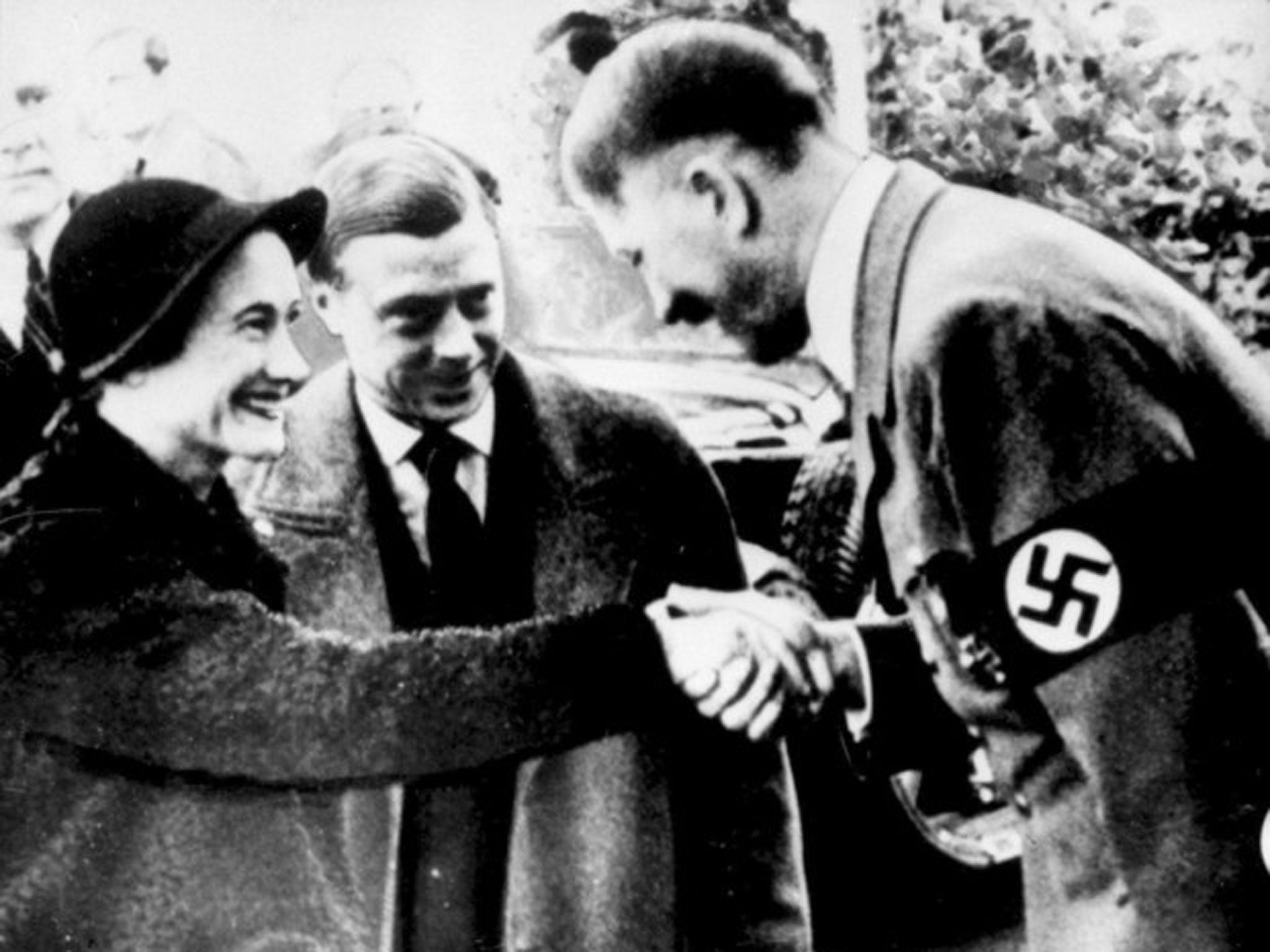 Four years after being filmed performing the Nazi salute with a young Queen Elizabeth, Prince Edward repeated the gesture to Adolf Hitler himself during a visit to Germany.
The Third Reich later plotted to install him as a puppet monarch in the event of a British invasion, with his wife Wallis Simpson allegedly wanting to join him on the throne "at any price".
The emergence of footage showing a young Queen, her mother and uncle has refocused attention on the abdicated king's alleged Nazi links.
Princess Elizabeth, aged six or seven, is seen raising her arm in the salute alongside the Queen Mother, her uncle the Prince of Wales and younger sister Princess Margaret.
Buckingham Palace defended the footage by saying it shows the royal family "playing" and that "no one at that time had any sense how (the salute) would evolve".
The infamous gesture was used widely in Britain to mock Hitler at the time and its performance was not automatically considered an approval of his regime.
The grainy film obtained by The Sun dates from 1933, when Adolf Hitler was gathering power as Chancellor of Germany.
The Nazi Party had gained popular support and would soon hold complete power with its 25-point programme declaring that Jews could not be citizens as they were not members of the "Germanic race".
By the end of the year, crackdowns had been launched on homosexual rights groups, socialists, trade unions and all opposition political parties were banned.
"Un-German" books were burned, newspapers shut down, the Gestapo established and forced sterilisation began.
Although the Holocaust is widely considered to have started several years later, 1933 saw attacks on Jewish businesses, Jews and "non-Germans" being banned from public service and Himmler announced the establishment of the first concentration camp at Dachau.
Prince Edward, who later became King Edward VIII and controversially abdicated to marry American divorcee Mrs Simpson, faced persistent accusations of being a Nazi sympathiser during his lifetime and since his death in 1972.
As the young Prince of Wales, he had close ties to Germany through his mother, a German princess, and the childhood holidays he spent there.
He reportedly admired Hitler's economic and social reforms said suggested Britain should offer the Nazis friendship, upsetting the opposed royal household and British government.
On becoming king in 1936, Edward was said to have wanted to speak privately with Hitler without his government's knowledge, and claimed he would abandon the throne if the then Prime Minister declared war.
After his abdication and marriage, he visited Germany with his wife – then styled the Duke and Duchess of Windsor – in 1937, less than two years before the Second World War broke out.
Edward reportedly wanted to discuss becoming a figurehead for an international movement for peace on Hitler's terms, meeting the Fuhrer at his mountain retreat of Obersalzberg.
He is also said to have met Hitler's deputy Rudolf Hess twice as part of the scheme, which would have seen him re-installed as monarch if the Nazis invaded Britain.
A memo from a Foreign Office informant in 1940 suggested his wife wanted to join him on the throne, "desiring at any price to become Queen".
"The Germans propose to form an opposition government with the Duke of Windsor, having first changed public opinion by propaganda," the memo said.
"The Germans think King George will abdicate during the attack on London."
Evidence also emerged that Edward visited the early stages of concentration camps, although it is not thought evidence of mass murder was made clear to him.
It is evident that the Queen and other members of the royal family did not share her uncle's views.
A spokesperson for Buckingham Palace said it was "disappointing" that the salute footage, believed to be from Her Majesty's personal family archive, had been obtained and "exploited".
"Most people will see these pictures in their proper context and time," a source said.
"This is a family playing and momentarily referencing a gesture many would have seen from contemporary news reels.
"No one at that time had any sense how it would evolve. To imply anything else is misleading and dishonest.
"The Queen is around six years of age at the time and entirely innocent of attaching any meaning to these gestures.
"The Queen and her family's service and dedication to the welfare of this nation during the war, and the 63 years The Queen has spent building relations between nations and peoples speaks for itself."
Additional reporting by PA