Michelle Obama urged to run for president in 2020 after Hillary Clinton's hopes are dashed
Heather Saul
Wednesday 09 November 2016 14:27 Comments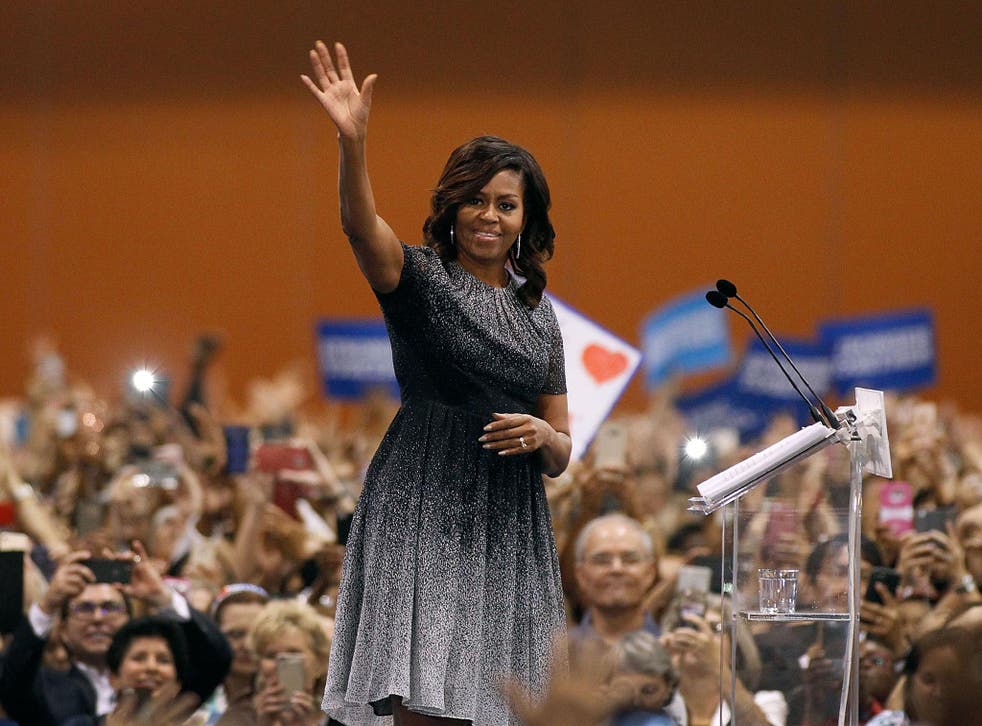 Michelle Obama is being urged to run for president in the next US election after Donald Trump stormed to victory on Wednesday in a seismic result that has shaken up the political system.
The tributes to the First Lady and her husband Barack Obama are already pouring in in the hours since Mr Trump was declared the 45th President of the United States.
Those dreaming of seeing a woman elected had their hopes crushed after Hillary Clinton's shock defeat. The pressure is now piling on Ms Obama to reignite hopes of having the first woman at the helm of the White House by standing in the 2020 election.
What Ms Obama plans to do in the next four years is unclear. She has campaigned for veterans and for access to education for girls as part of her Let Girls Learn initiative and has suggested she may continue this work after Mr Obama leaves office.
She made her mark as First Lady by using her speeches to address difficult issues head on and challenge prevailing attitudes in America at a time of heightened racial tensions and police brutality. Her address at the Democratic National Convention carried particular resonance when she described the significance of her husband being President: "I wake up every morning in a house that was built by slaves. And I watch my daughters, two beautiful, intelligent black young women, playing with their dogs on the White House lawn."
Michelle Obama's inspiring speech at Clinton rally
She tackled Mr Trump's obscene comments about women without hesitation, telling a campaign rally in New Hampshire that she was "shaken to the core" by his remarks. She then took a powerful stance in speeches from there on by refusing to refer to him by name.
Ms Obama built a successful career as a hospital executive before giving it up to become the First Lady, something she was reportedly "very upset" about having to do. The initiatives she launched and engagements she carried out during this period were unpaid and with her husband losing his six-figure income both will need to seek out some form of work.
Donald Trump's most controversial quotes

Show all 14
Mr Obama's legacy was summarised on Tuesday with an electric speech explaining the origins of his electric "fired up, ready to go!" chant used to rouse crowds during his first election bid.
Register for free to continue reading
Registration is a free and easy way to support our truly independent journalism
By registering, you will also enjoy limited access to Premium articles, exclusive newsletters, commenting, and virtual events with our leading journalists
Already have an account? sign in
Join our new commenting forum
Join thought-provoking conversations, follow other Independent readers and see their replies