Vicky Beeching: 'I've been overwhelmed by support from friends and fans'
Christian rock star came out in an exclusive interview with The Independent
Paul Gallagher
Thursday 14 August 2014 15:59 Comments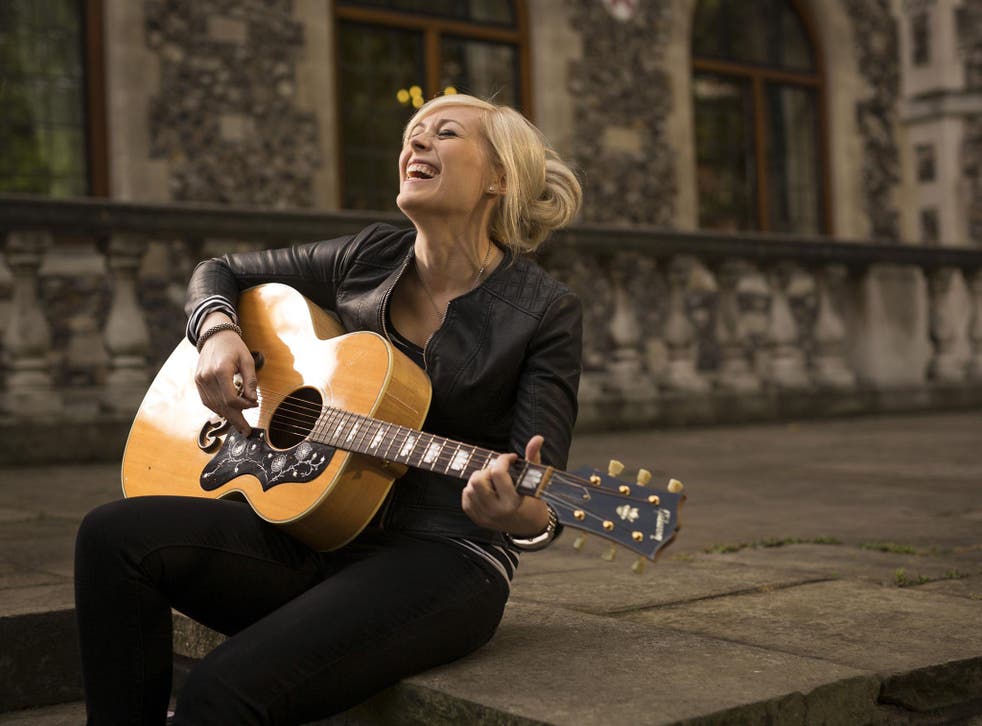 Vicky Beeching said she has been overwhelmed by the support from friends, strangers and fellow Christians following her decision to reveal her sexuality in public for the first time.
The theologian and singer-songwriter came out in today's Independent during an interview in which she discussed candidly the emotional and physical trauma she faced as a teenager trying to reconcile her homosexuality with her religious beliefs. Tweeting a link to the article she said: "It's taken all my courage, and all these years, for me to finally do this interview."
The reaction on social media was almost entirely positive with "brave", "courageous" and "inspirational" the most common responses on Twitter. Many fellow Christians said they hoped Beeching's interview would persuade the Church of England to change its attitude towards gay people - the House of Bishops does not allow clergy to perform same sex weddings and banned same sex marriages between clergy earlier this year.
"I was terrified about the reaction," she said today. "I was literally holding my breath in the moments before the interview was published online, but given how much of a broader audience it has reached with it being on the front pages as well the reaction has been wonderful."
Beeching admitted she had been sent "a wave of nasty stuff" via her Facebook fan page inbox but she was ignoring the comments. She said: "For some reason, those people don't want that kind of comment seen publicly so they have been sending the messages where only I can read them. I'm focusing on the overwhelmingly positive reactions though."
The 35-year-old studied theology at Oxford before signing with EMI as a singer, and moving to Nashville, Tennessee in her early 20s. She spent six years living and touring in conservative US heartlands before returning home after extreme stress over issues surrounding her sexuality brought on a serious health scare. She spent the next 18 months receiving chemotherapy and resolved to come out by the time she was 35.
Beeching also admitted during her interview that only a handful of people knew her sexuality and had only recently told close friends, including Katharine Welby-Roberts, the daughter of Archbishop of Canterbury Justin Welby. The singer had also described one incident where an attempt to "exorcise" her same-sex attraction was made in front of a conference centre of 4,000 people at a bible camp in the UK.
Welby-Roberts tweeted her support for Beeching calling her friend "spectacularly brave and brilliant… Love you and your beautiful face".
Andrew Foreshaw-Cain, one of only two Anglican vicars who have flouted the Church of England's ban on same-sex marriages, said: "It's a wonderful thing Vicky has done - being true to herself and her faith. The abuse she has suffered is not exceptional but the repeated experience of LGBT people from the Church and the inner turmoil is felt by many.
"The Church - and especially its leaders - needs to listen, truly listen, and take note and work to change the culture that allows this. The bishops have said there are going to be 'conversations' lasting two years around the place of LGBT people in the Church. As they delay more young people will be hurt, and damaged by the Church's current position. Thankfully Vicky's faith is robust; for many the hurt and confusion drives them from the Church. The bishops have the ability to stop this now. The question is: do they really want to?"
Beeching said although some friends and family, including her parents, disagreed with her views on the theology around homosexuality she had their "unconditional love" about bringing a future partner home.
She said: "They have assured me they would make a real effort to celebrate that. One friend told me that they thought they had rigid beliefs surrounding sexuality but that I had given them a bit of a paradox. I think that comes through from the reaction of a lot of people who can now put a face and feelings towards homosexuality, rather than discussing it in an abstract way which is what the Church does.
"For some people [attitudes] are so ingrained for them to unlearn their beliefs, but I hope I have thrown a conundrum their way."
Register for free to continue reading
Registration is a free and easy way to support our truly independent journalism
By registering, you will also enjoy limited access to Premium articles, exclusive newsletters, commenting, and virtual events with our leading journalists
Already have an account? sign in
Join our new commenting forum
Join thought-provoking conversations, follow other Independent readers and see their replies