Vladimir Beara: One of the world's finest goalkeepers, who played in the Busby Babes' last game before the Munich disaster
He completed his playing career in Germany, and had notable coaching successes, but it is as an exceptional goalkeeper that he will be best remembered
Thursday 13 November 2014 19:23
comments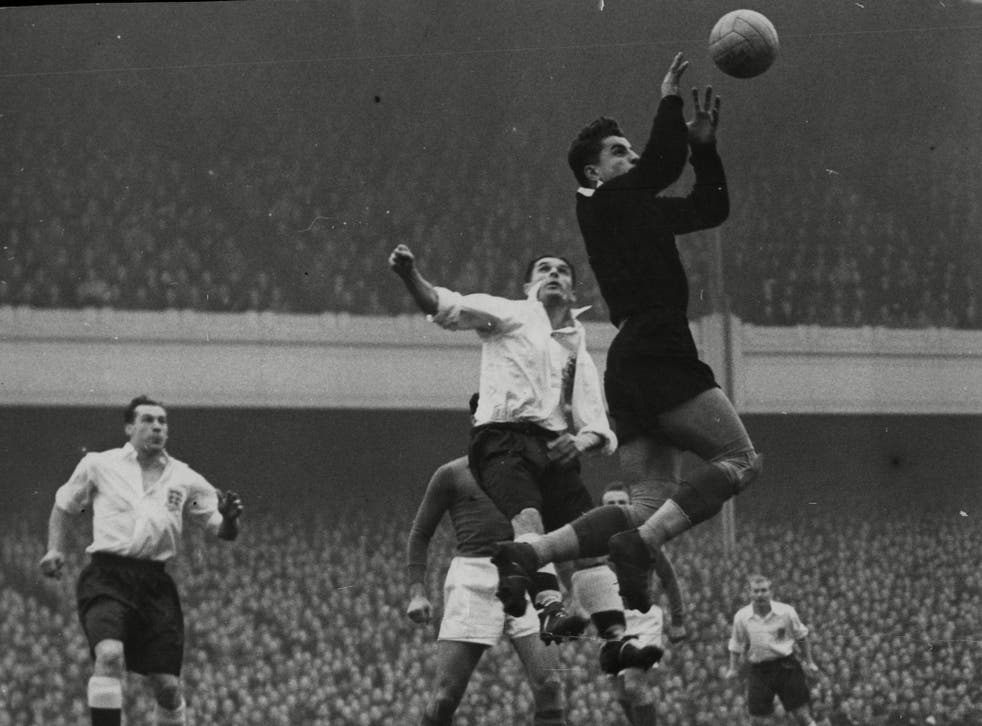 When Lev Yashin was introduced as the world's greatest goalkeeper at the ceremony to anoint him as European Footballer of the Year in 1963, the modest Muscovite begged to differ.
The top man, he maintained, was Vladimir Beara. Yashin's brilliant Yugoslavian contemporary was a majestic performer, his poised and graceful style emanating from an early study of classical dance and a sinuous athleticism which earned him such epithets as "The Ballet Dancer With Hands Of Steel" and "Rubber Man".
Beara was supremely confident. Although he was invariably on his toes, ready to pounce in any direction, no keeper looked more relaxed on his line, and he scorned defensive walls at free-kicks, preferring a full sight of the ball and being able to look his opponent in the eye.
He was unfailingly courageous, ever ready to hurl his body among the flailing boots, and he was a supremely reliable taker of crosses, a skill he attributed to training sessions as a youngster catching balls smaller than a football.
Born into a Serbian family in modern Croatia, Beara joined Hajduk Split at 17 and made more than 300 appearances, helping to lift the Yugoslavian title three times. He won the first of his 59 caps in 1950, underlining his potential in a 2-2 draw with England at Highbury that November, several saves from Nat Lofthouse – who did score twice – almost defying belief.
Yugoslavia were silver medallists at the 1952 Olympics in Helsinki, Beara saving a Ferenc Puskas penalty in the final against a magnificent Hungarian side. He travelled to three World Cups, not playing in Brazil in 1950 but shining four years later in Switzerland, when his team reached the last eight. In Sweden in 1958 he was not at his best, and lost his place for the quarter-final defeat to West Germany.
But Beara, whose status had been underlined by his appearance for the Rest of Europe team which faced England at Wembley to celebrate the FA's 90th anniversary in 1953, remained a star at club level,enjoying three title wins with Red Star Belgrade after joining in 1955.
Although Red Star lost 2-1 to Manchester United at Old Trafford in the first leg of the 1958 European Cup quarter-final, he made a series of astonishing saves, including three from Bobby Charlton, to keep the tie alive. He was on duty for the return leg in Belgrade, which finished 3-3, and was the last game played by the Busby Babes before the Munich disaster.
He completed his playing career in Germany, and had notable coaching successes, including a stint in charge of the Cameroon national team. But it is as an exceptional goalkeeper that he will be best remembered. As the former Arsenal keeper Bob Wilson put it: "He looked as if he would be as happy playing for the Royal Ballet as he was for Yugoslavia."
Vladimir Beara, footballer: born Zelovo, Yugoslavia 2 November 1928; died Split, Croatia 11 August 2014.
Join our new commenting forum
Join thought-provoking conversations, follow other Independent readers and see their replies