'Where are the men in the room?' Iceland's Foreign Minister defends his controversial UN 'men-only' gender equality conference
Minister says 'we all need to be at the table' in the gender equality discussion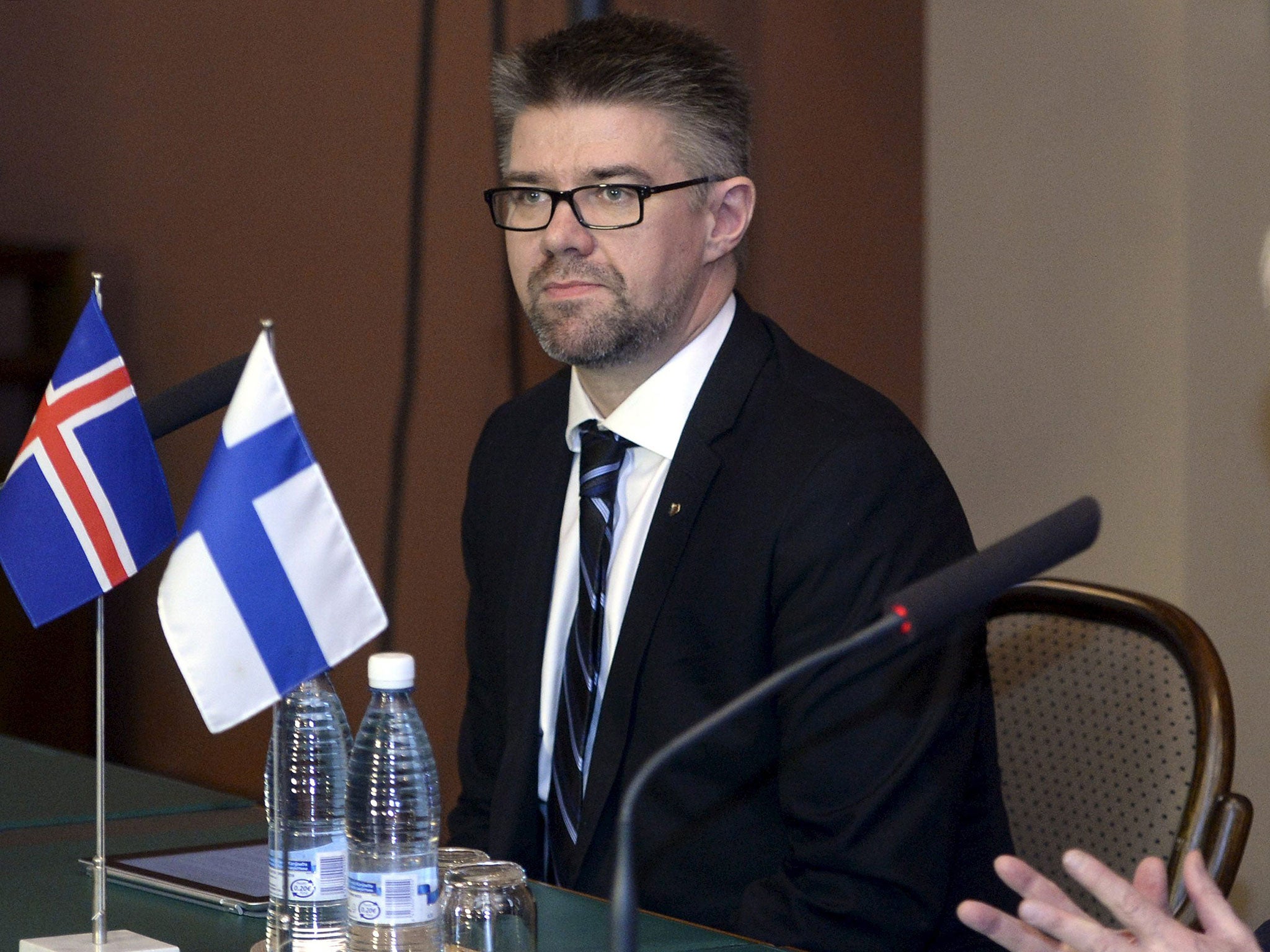 Iceland's Foreign Minister Gunnar Bragi Sveinsson has defended what his critics dubbed a "men-only" UN conference on gender equality, arguing "we all need a seat at the table" in the discussion.
The so-called Barbershop Conference, due to be convened at the UN headquarters in January, attracted a steady stream of criticism almost immediately after it was announced.
It followed Emma Watson's rallying cry for an inclusive gender discussion in her HeforShe speech, where the actress invited men to join the fight for gender equality.
A convention where representatives from UN member states would be encouraged to meet and engage in a 'men-to-men' discussion about violence against women was Iceland's response to her call.
It was promoted as a contribution to the campaign, but the idea of attempting a progressive discussion about gender equality and violence against women without any kind of female perspective left some people scratching their heads.
Many accused Mr Sveinsson of simply taking the barbershop, a space its own website describes as a place where "behaviours and attitudes about gender relations, including what it means to be a man, are learned and reinforced", and providing it with a bigger platform from which to continue.
Answering his critics in an interview with The Independent, Mr Sveinsson explained most of the negative reactions he received as a "miss-understanding" over whether women would have a place at the conference.
Instead of being banned from the conference, he claimed women were welcome to attend all Barbershop seminars and workshops.
Mr Sveinsson said: "What is a barbershop? It's a place where men meet, where they get their hair cut or beard cut. What do they discuss? Politics, probably women and you know, their status and so on.
"We want to take the barbershop into a bigger room. Think of these typical stereotypes that are discussed in a locker room or barbershop - we have to try to change the discussion that we have in there."
One of three parts would be where as many men from UN member states as possible are being encouraged to attend and discuss violence against women and gender equality – but Mr Sveinsson insists women can also attend this, if they wish.
"If you are going to fight for gender equality, or stop violence against women, you have to take the discussion to the men and the boys," he said. "Why not encourage them to speak together?
"We have a lot of meetings and seminars on gender equality where the house is full of women, but just a few men. If you want to change something, you have to have the guys in the room."
While Mr Sveinsson has faced much criticism for his male-centred discussion on violence, he does speak from a unique perspective. As Iceland's Foreign Minister, he is part of a government in a country rated the best for gender equality in the World Economic Forum's 2013 Gender Gap Index out of over 100 states – including the UK, which fared poorly in comparison. The conference is being held jointly by Iceland and Suriname, the country ranked the worst in the report.
Iceland is also home to Vigdis Finnbogadottir, the first democratically elected female head of state and a key figure of the Icelandic women's movement. Finnbogadottir, who spent 16 years in office, recently called for "men in top positions around the world" to meet regularly to discuss gender equality.
Finnbogadottir claimed that if the world could get its leading men to a male conference like the Nordic Gender Equality Co-operation convention she was speaking from, "attitudes would change quicker".
Mr Sveinsson says his conference is a continuation of her push for discussions between men, describing the workshops in the Barbershop as a "method" of trying to move forward on gender issues.
Andri Luthersson, Iceland's Director of Information at the Ministry for Foreign Affairs added: "This is not a new idea. Throughout her long career, she was driving this vehicle and asking how we can draw men into the gender discussion, and also asking: 'Where are the men in these meetings?'"
Speaking after the conference was announced, Dyan Mazurana, an author of a report on peace, women and security for the UN Security Council claimed it demonstrated a "lack of awareness of the history of the exclusion of women from decision making".
But Mr Sveinsson argues the conference will not be a place where men try to speak for women, but rather a space for men to understand more about the problems within their own behaviour.
In a bid to address this, he says another part of the conference will be a seminar asking the question: "What is a man?" In this part, men will be expected to discuss how masculinity is constructed in society, and what men can do to work towards achieving gender equality.
"To be a man today is not the same as 40 years ago," he said. "There have been very big changes in three or four decades. It is a long journey that we are on, to fix things, to change.
"We want to start a serious dialogue between men about their role and their contribution to changing this situation [of gender inequality] that we are facing globally. We are not going to preach something or try to take over the gender equality fight and we never would. We just think that if you are going to make some progress, you have to include men."
Mr Sveinsson said he has received negative and positive ("mostly positive") responses from both men and women's groups after the Barbershop Conference was announced. Any negative responses, he insisted, were due to the aforementioned "miss-understanding" that women were excluded from the conference.
Mr Luthersson added: "Excluding women – that was never the point. This is not men only.
"In one part, we will have focused discussions in smaller moderated groups on things like female genital mutilation, violence against women and the different kinds of violence. The aim is to get men to speak about why things are the way they are, and think how they can change their attitudes."
He was keen to stress that the conference is merely a starting point for talking about gender equality issues. "Hopefully we will see in the future when we have a conference on gender equality or issues, we will see the room not only full of women, but also men," he said.
"Gender quality is not only a women's issue – it's a basic human right, and we all need to be at the table.
"This is about changing the barbershop conversation in the barbershop itself."
Join our commenting forum
Join thought-provoking conversations, follow other Independent readers and see their replies