Why Jeannette Bougrab, the girlfriend of late Charlie Hebdo editor 'Charb', has been ordered to stay away from his funeral
'We didn't do a press release to announce our relationship but we weren't hiding it,' she told Paris Match. 'My daughter called him dad.'
Jenn Selby
Tuesday 13 January 2015 11:04 Comments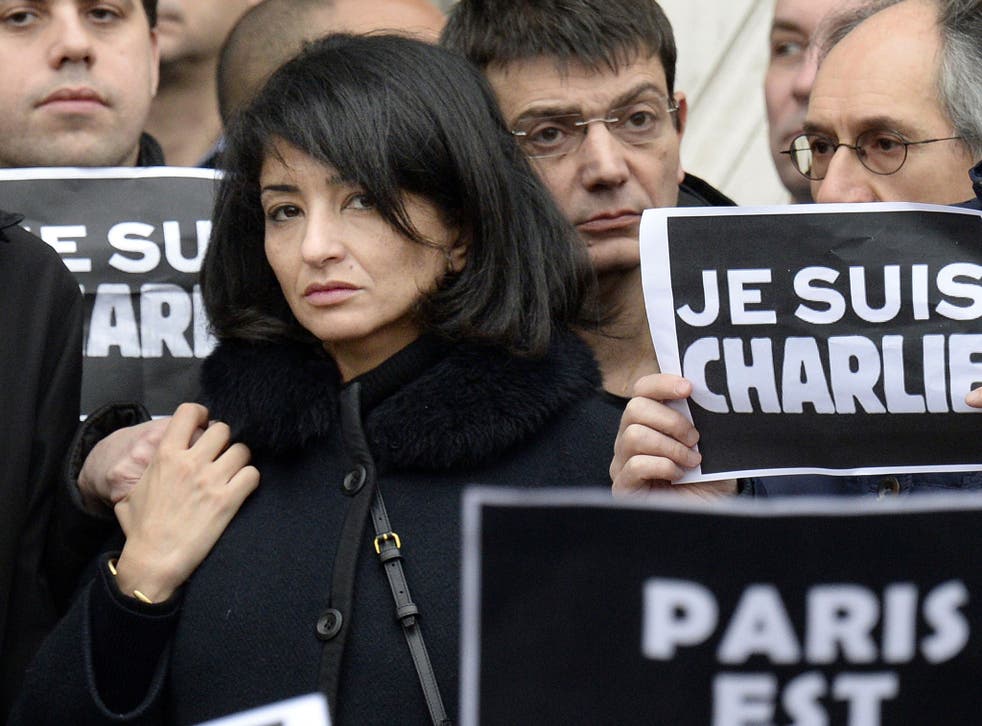 Grief-stricken lawyer Jeannette Bougrab quickly became the face of Parisian mourning after the offices of French satirical magazine Charlie Hebdo were attacked by Islamic extremists last week.
Through tears, the girlfriend of its late editor Stéphane 'Charb' Charbonnier, gave a series of interviews to TV reporters at the scene of the shooting that claimed the lives of 10 journalists and two police officers.
"My companion is dead because he drew in a newspaper," she said.
"He never had children because he knew he was going to die. He lived without fear but he knew he would die."
However, she has since declared that she will not be attending the funeral of her lover, after his family denied the two were ever in a committed relationship and ordered her to stay away from the ceremony.
Laurent Charbonnier, Charb's brother, issued the following statement on behalf of the family on Saturday: "We formally deny any rational commitment from Charb with Jeannette Bougrab. We do not want her to express herself in the manner in which she has done.
"We ask for respect for our family's mourning."
"In the morning I was with his parents at the Forensic Institute to see the body of my companion," Bougrab stated in response.
"But now I've agreed to remove myself and I will not go to his funeral. I do not have the strength to fight for that. I am bruised and defeated.
"But they won't take away my fight for secularism."
She added she felt the family had deprived her "of a last reunion with my love".
"By doing that they've killed him a second time."
Speaking to Paris Match shortly after hearing Laurent's words, the adoptive mother-of-one said:
"Human nature is ugly. We loved each other because we were both independent personalities.
"We didn't do a press release to announce our relationship but we weren't hiding it. He had met my mother, my daughter called him dad."
Several friends of the couple have since substantiated her claims.
Bougrab, the daughter of French Algerian immigrants, was once a junior minister in Nicholas Sarkozy's government. Her right-wing political persuasion stood at odds with that of Charb's, who was staunchly left wing.
In pictures: Charlie Hebdo demonstration, Paris

Show all 20
Her decision comes as over 3.7million joined in the largest peaceful protest in French history over the weekend.
Leaders from countries across Europe linked armswith French president Francios Hollande as they led the marches in Paris in memory of the 17 who died in the attacks.
David Cameron, Spanish prime minister Mariano Rajoy, Israeli prime minister Benjamin Netanyahu, Palestinian president Mahmoud Abbas and Queen Rania of Jordan were all among those who attended.
Charlie Hebdo's first issue since the attacks has been published. The magazine's cover features a crying cartoon of the Prophet Mohamed with the caption 'Je Suis Charlie'.
Register for free to continue reading
Registration is a free and easy way to support our truly independent journalism
By registering, you will also enjoy limited access to Premium articles, exclusive newsletters, commenting, and virtual events with our leading journalists
Already have an account? sign in
Join our new commenting forum
Join thought-provoking conversations, follow other Independent readers and see their replies