Yvonne Craig: Ballerina who went on to become the high-kicking Batgirl in the camp 1960s television series Batman
As Batgirl, Craig was introduced to appeal to young girls as a role model and men over 40 as a sex symbol
Thursday 20 August 2015 23:49 BST
Comments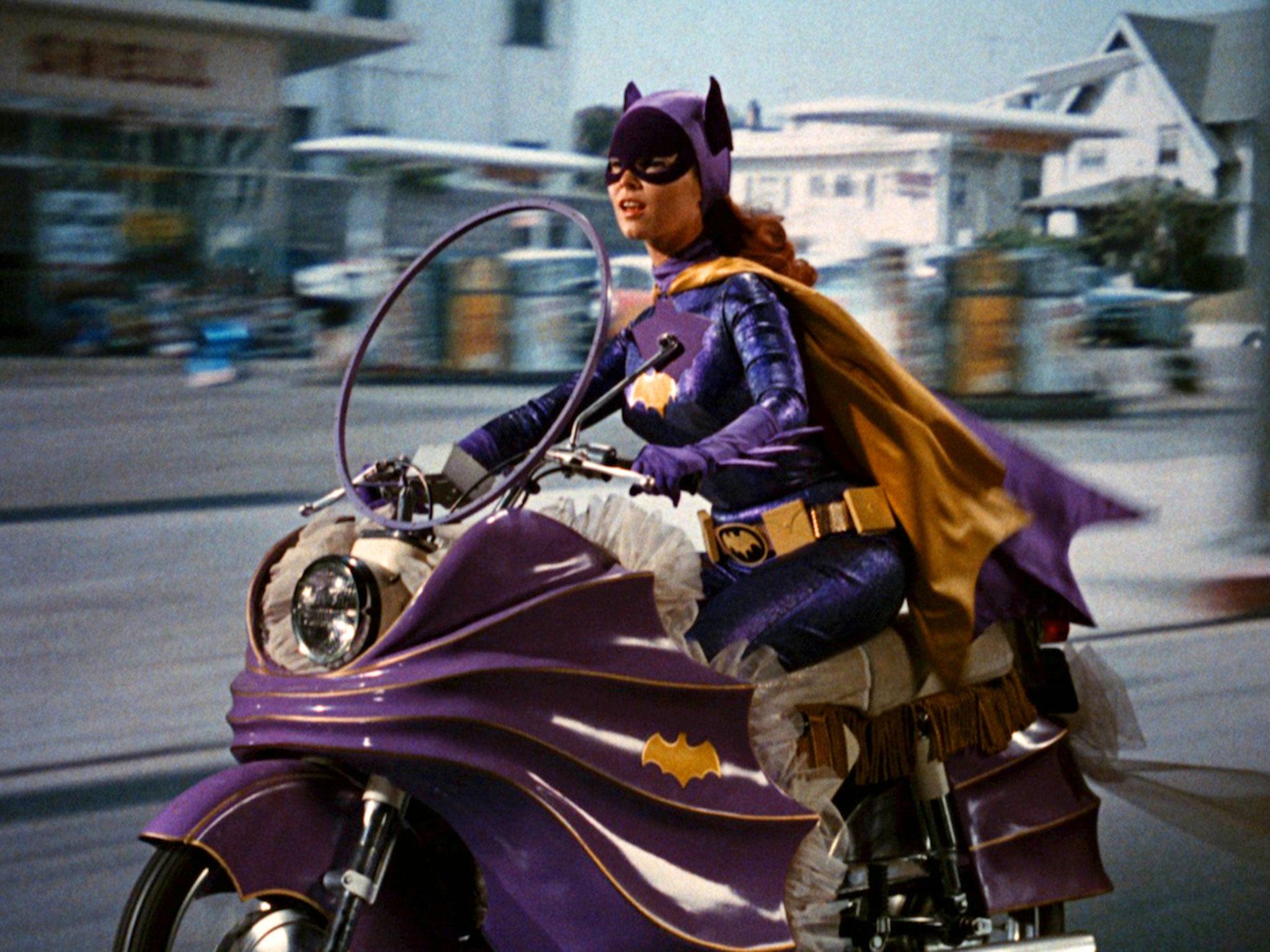 Yvonne Craig achieved her childhood ambition to be a professional ballerina and shared the screen with Elvis Presley, as well as his bed, but she gained her greatest fame playing Batgirl in the camp, tongue-in-cheek 1960s television series Batman, based on the DC Comics cartoon strips created by Bob Kane.
The programme began in 1966 and Craig was brought in for the third and final run (1967-68) in an attempt to boost flagging ratings. As Batgirl, alter ego of librarian Barbara Gordon, daughter of Gotham City's Police Commissioner James (played by Neil Hamilton), she was introduced to appeal to young girls as a role model and men over 40 as a sex symbol.
Although the high-kicking female superhero failed to halt the decline, she cut a colourful dash as she performed her own stunts and delivered "pows" and "zaps" alongside Adam West and Burt Ward as the caped crusader and his sidekick. Batgirl also had her own cantankerous sidekick, a parrot called Charlie, and rode a purple motorcycle with white lace trim.
"They had taken off the shock absorbers to put on the bat wings," she recalled of the Batgirl Cycle. "So, whenever I went over a bump, it was like jumping off a table stiff-legged." Batgirl was one of TV's first live-action female superheroes, seen a decade ahead of Lynda Carter's Wonder Woman. In 1972 she reprised Batgirl for a US Department of Labor public service announcement advocating equal pay for women.
An appearance in Star Trek in 1969 as Marta, a green-skinned Orion slave girl who wants to kill Captain Kirk and tries to lure him with a seductive dance, cemented Craig's place in cult television history and she remained in demand at fan conventions for most of her life.
She was born in Illinois, moving to Columbus, Ohio, and Dallas when her father, a tool and diemaker, switched jobs. She danced from the age of 10 and was spotted at the Edith James School of Ballet by the Russian ballerina Alexandra Danilova, who helped her gain a scholarship to the School of American Ballet in New York, and she was the youngest member of the touring Ballet Russe de Monte Carlo at 17.
Three years later, when Craig was losing her solos and there were rifts within the company, she headed for California and started acting. Her break came in 1957 when director John Ford's son Patrick, a producer, gave her a leading role in The Young Land. She played the love interest of Pat Wayne, son of John, in a Western that also starred Dennis Hopper, but the film was not released until 1959, so she was first seen on screen in the teen drama Eighteen and Anxious (1957).
She was also cast as a femme fatale trying to seduce the jazz drummer of the title in the biopic The Gene Krupa Story (1960), a student befriending Bing Crosby's restaurateur in the musical comedy High Time (1960) and a prisoner of war suffering a miscarriage in a Japanese camp in Seven Women from Hell (1961).
Then came Elvis: in It Happened at the World's Fair (1963) the singer tries to seduce Craig while chasing her around a couch, while in Kissin' Cousins (1964) she is one of the distant cousins being romanced by him. Real-life romance between Elvis and Craig blossomed briefly in 1962.
Before Batman, Craig also appeared alongside Frankie Avalon in Ski Party (1965), ballet-danced during a passionate scene with James Coburn in the James Bond parody In Like Flint (1967) and starred as a Pulitzer Prize-winning scientist in the unintentionally funny low-budget sci-fi film Mars Needs Women (1967).
She appeared in additional footage for two Man from UNCLE films in 1966, when each were made for cinema release from two of the television episodes. In One Spy Too Many, she played the niece of UNCLE chief Mr Waverly, flirting with Napoleon Solo, and in One of Our Spies Is Missing she was the espionage agency's secretary. She was also seen as a character kidnapped by THRUSH, its adversary, in a 1965 episode of the series. There were many bit parts on television, including six different roles (1959-62) in the sitcom The Many Loves of Dobie Gillis, four (1960-64) in 77 Sunset Strip and three (1969-72) in Love, American Style.
By the end of the 1970s, roles were drying up and Craig became a real estate agent. Later, she and her sister Meridel set up a business producing pre-paid phone cards as fundraisers for charities, as well as promotional ones for the 1995 film Clueless, and Daffy Duck and Bugs Bunny cards for Warner Bros stores. There was a return of sorts to the screen for Craig when she voiced Grandma (2009-11) in the Nickelodeon cartoon series Olivia.
Her first husband was the singer Jimmy Boyd, who had a hit aged 13 with "I Saw Mommy Kissing Santa Claus". Craig's autobiography, From Ballet to the Batcave and Beyond, was published in 2000. She died of breast cancer that spread to the liver and is survived by her second husband, Kenneth Aldrich.
ANTHONY HAYWARD
Yvonne Joyce Craig, actress and ballerina: born Taylorville, Illinois 16 May 1937; married 1960 Jimmy Boyd (divorced 1962), 1988 Kenneth Aldrich; died Pacific Palisades, California 17 August 2015.
Join our commenting forum
Join thought-provoking conversations, follow other Independent readers and see their replies