Queen Mary 2, the largest and most expensive ocean liner ever built celebrates tenth birthday
Liner's captain is seen posing under the ship's hull a mile off Bali during its 10th anniversary round-the-world voyage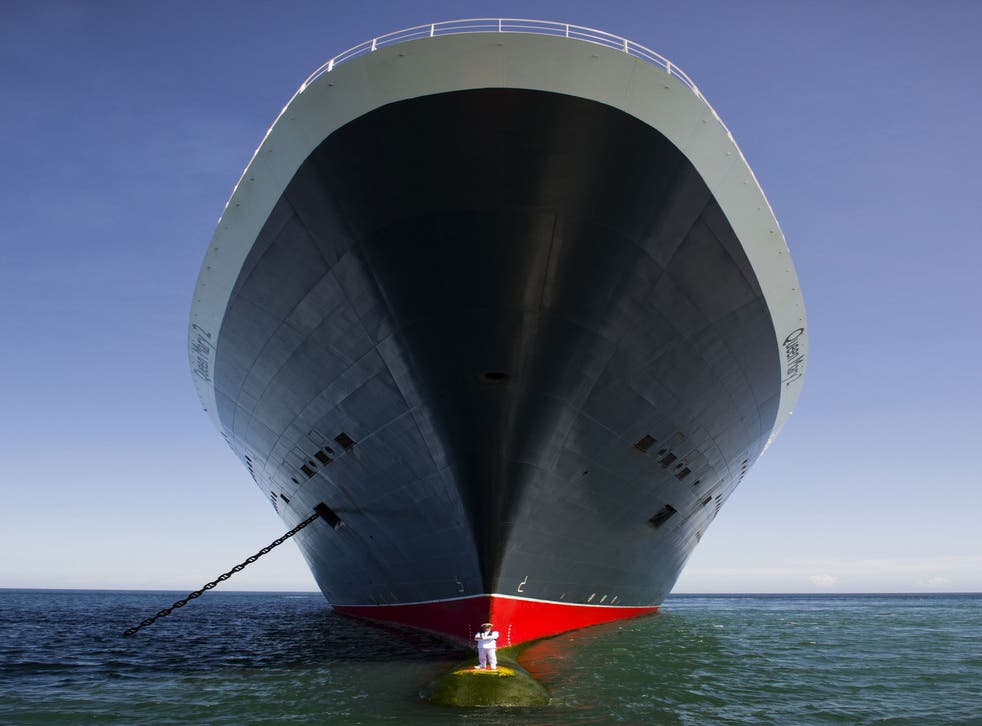 The captain of the Queen Mary 2 transatlantic ocean liner has celebrated its tenth anniversary by posing for photos standing under the ship's soaring hull.
Captain Kevin Oprey is seen proudly perching on the vessel's bulbous bow, an underwater structure that minimises the creation of bow waves around the liner when it is on the move.
Built by Alglo-American shipping firm Cunard Line as a successor to the Queen Elizabeth 2, its maiden voyage was in 2004.
The ship remains the biggest, fastest and most expensive ocean liner ever made. At 151,200 tons, the Queen Mary 2 accommodates 2,620 passengers and 1,253 crew. It cost £460 million to build and has a max speed of over 30 knots.
Designed by British naval architects, the liner was constructed across the channel in France.
Marking its anniversary year, the liner is currently on a round-the-world voyage and is seen here moored a mile off the coast from Benoa harbour on Indonesia's resort island of Bali.
In pictures: Cunard's flagship Queen Mary 2 - the largest and most expensive ocean liner ever built

Show all 4
The ship will make her 10th call at Sydney on March 14 after circumnavigating Australia. She will then head north towards China, Vietnam, Thailand and Singapore before turning west for Sri Lanka and Dubai.
Register for free to continue reading
Registration is a free and easy way to support our truly independent journalism
By registering, you will also enjoy limited access to Premium articles, exclusive newsletters, commenting, and virtual events with our leading journalists
Already have an account? sign in
Register for free to continue reading
Registration is a free and easy way to support our truly independent journalism
By registering, you will also enjoy limited access to Premium articles, exclusive newsletters, commenting, and virtual events with our leading journalists
Already have an account? sign in
Join our new commenting forum
Join thought-provoking conversations, follow other Independent readers and see their replies