Police defend use of snipers for anti-austerity protest outside Conservative conference
The rifles were used 'purely for observation'
Tom Brooks-Pollock
Monday 05 October 2015 11:19 Comments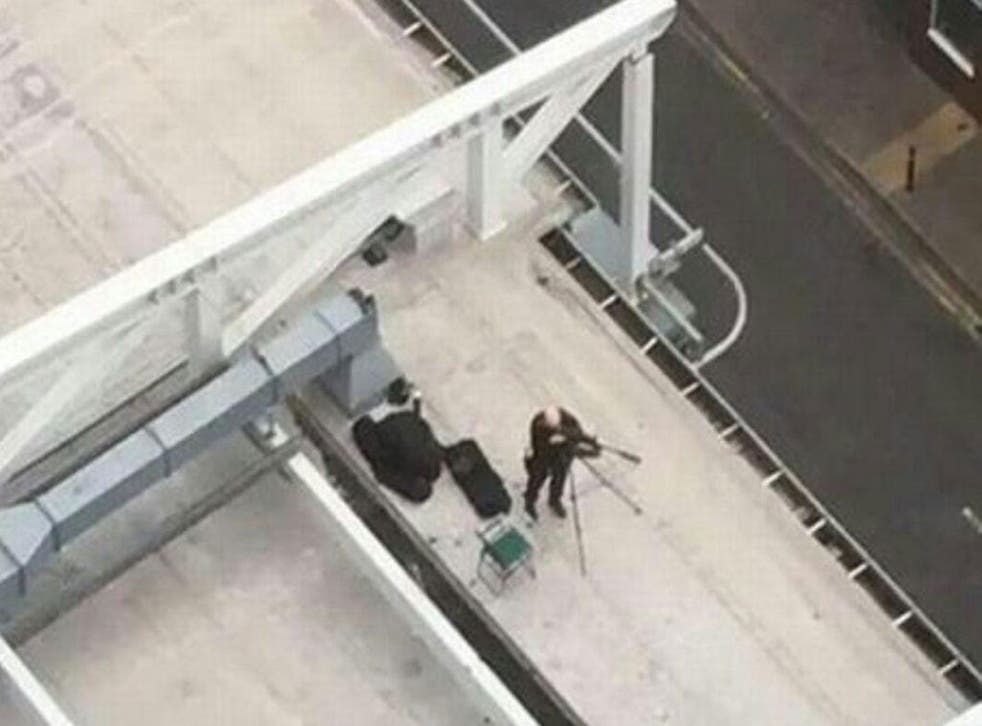 Police have defended their use of snipers posted on rooftops during the Conservative Party Conference as anti-austerity protesters marched below - saying they were there "purely for observation".
Pictures were posted on social media of a marksman, wielding a rifle, on the top of a building in Manchester city centre.
On the streets below, up to 60,000 people, including singers Billy Bragg and Charlotte Church, were protesting against the Government's cuts to public spending.
The picture showed a sniper on the roof of the Great Northern cinema and car-park complex. The Manchester Evening News reported that another took up position on another unnamed building in the centre of Mancester.
Greater Manchester Police said the marksmen were part of the "ongoing observation" of the march and were that guns were used because of their "powerful site", not to shoot at people.
But it provoked a sardonic response from protesters and others on social media.
A Greater Manchester Police spokesman said: "It is an ongoing observation of the biggest march that has ever been in Manchester because of the Tory Party conference.
"But they are there purely for observation and supporting the police at the march as it's a major public event.
"They are high up for that reason, to observe. And they [the guns] are used for their powerful sight, which is stronger than any pair of binoculars. They are not there to shoot people."
A 40-hour anti-austerity "protest rave" was shut down by police on Sunday morning.
Register for free to continue reading
Registration is a free and easy way to support our truly independent journalism
By registering, you will also enjoy limited access to Premium articles, exclusive newsletters, commenting, and virtual events with our leading journalists
Already have an account? sign in
Join our new commenting forum
Join thought-provoking conversations, follow other Independent readers and see their replies