The man who fused east and west: Arata Isozaki wins Pritzker Prize in architecture
"Possessing a profound knowledge of architectural history and theory, and embracing the avant-garde, he never merely replicated the status quo," said the Pritzker jury. Amy Qin reports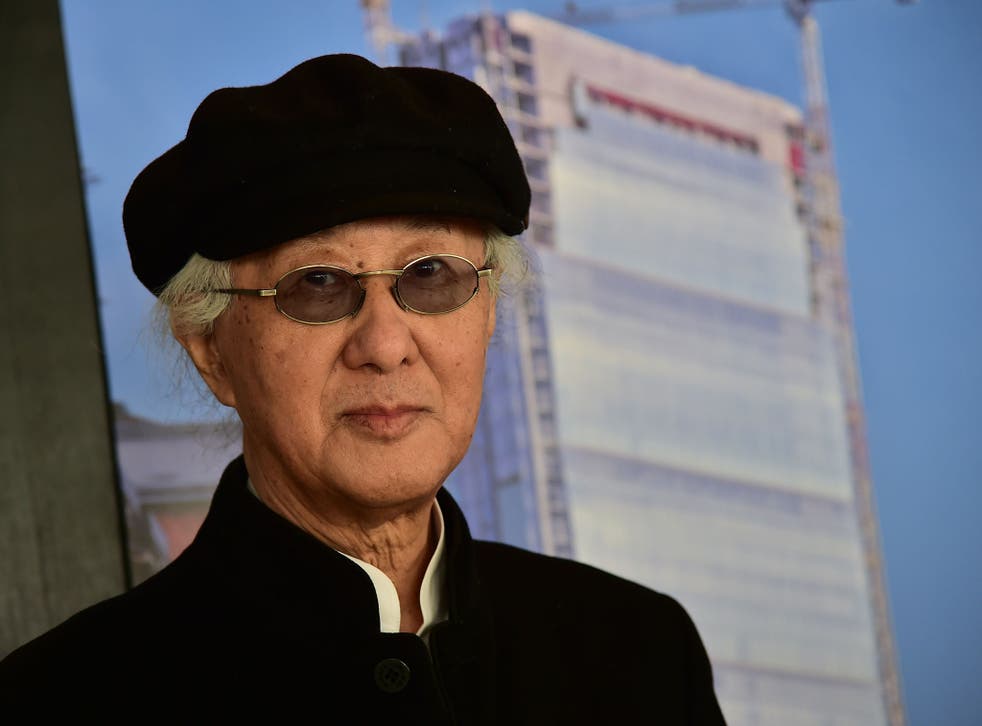 He has been called the "emperor of Japanese architecture" by his peers and "visionary" by critics. Now, the internationally renowned architect Arata Isozaki can add yet another tribute: the 2019 Pritzker Architecture Prize.
The announcement on Tuesday of architecture's highest award was seen by many as a long overdue honour for this 87-year-old architect, urban designer and theorist, who is credited with fusing east and west, modern and postmodern, and global and local in a visually diverse body of work that symbolised Japan's global influence. Isozaki's buildings, of which there are more than 100, include the Museum of Contemporary Art in Los Angeles, the Palau Sant Jordi in Barcelona and the Qatar National Convention Centre in Doha.
At his modest apartment in Naha, the capital of Okinawa prefecture, Isozaki said he was "overjoyed" to receive the prize.
"It's like a crown on the tombstone," he joked, flashing his trademark sense of humour.
Dressed in a mud-dyed silk kimono with a folding fan tucked into his obi and his unruly white shoulder-length hair combed back behind his ears, Isozaki reflected on a six-decade career blending architecture with visual art, poetry, philosophy, theatre, writing and design.
"My concept of architecture is that it is invisible," he said. "It's intangible. But I believe it can be felt through the five senses."
Crucial to Isozaki's avant-garde approach to architecture is the Japanese concept of ma, signifying the merging of time and space, which was the subject of a travelling exhibition in 1978.
"Like the universe, architecture comes out of nothing, becomes something and eventually becomes nothing again," Isozaki said. "That life cycle from birth to death is a process that I want to showcase."
His commitment to the "art of space" was in part what led the Pritzker jury to select Isozaki as its 46th laureate and the eighth from Japan. He will receive the award at a ceremony in France in May.
"Possessing a profound knowledge of architectural history and theory, and embracing the avant-garde, he never merely replicated the status quo," said the Pritzker jury, which also noted Isozaki's support for young architects. "But his search for meaningful architecture was reflected in his buildings that to this day, defy stylistic categorisations, are constantly evolving, and always fresh in their approach."
Born in Oita on the island of Kyushu in 1931, Isozaki came of age in a postwar Japan that was "in complete ruins," with an emperor demoted and social customs in flux.
"Air bombardment had destroyed many of the cities, buildings had vanished and there was only rubble on the ground," he wrote. "However, Japan had already assimilated western modernization by that time. The only possible choice I had was to start from the ruins — the degree zero where nothing remained."
After graduating from the architecture department at the University of Tokyo in 1954, Isozaki apprenticed with Kenzo Tange, the 1987 Pritzker Prize winner known as the father of postwar Japanese architecture.
California Crazy: American Pop Architecture

Show all 11
Isozaki has said that because of the political and economic uncertainty of the period, he "could not dwell upon a single style." As a result, he said: "Change became constant. Paradoxically, this came to be my own style."
The young architect rode the building wave of postwar Japan, showing the influence of Le Corbusier and Louis Kahn as well as that of Tange in works such as the Oita Prefectural Library (1962-66), the Museum of Modern Art in Gunma (1971-74) and the Kitakyushu Municipal Museum of Art in Fukuoka (1972-74).
It was during this time that Isozaki honed his ability to blend architectural styles and invent new forms by joining simple geometric shapes in powerful ways, while maintaining an exacting attention to detail and refinement.
"Unlike those American postmodernists who believed that classicism held the key to a usable past, Mr Isozaki appeared to understand that no amount of historical excavation could uncover a firm foundation on which to build the present," critic Herbert Muschamp wrote in 1993. "He perceived that a time that had lost its faith in the future had also lost its grip on the past."
Another constant was his playful approach to architecture. Seen from above, the cylindrical roof of the Fujimi Country Club (1973-74) in his hometown, Oita, appears in the shape of a giant question mark, a reflection of Isozaki's befuddlement with his country's obsession with golf.
"The client didn't say a word," Isozaki laughed, a mischievous twinkle in his eye.
His first overseas commission came in the 1980s when he was selected to design the Museum of Contemporary Art, Los Angeles, or Moca, still the architect's best known work in the United States.
"At the time, Moma" — the Museum of Modern Art in New York — "was so popular, I sensed that Los Angeles really wanted to surpass it," Isozaki said. "So instead of showcasing the artwork in a dark area with artificial light like Moma did, we destroyed this concept and totally turned it upside down."
Completed in 1986, the sunken red Indian sandstone-clad museum in downtown Los Angeles features a barrel-vaulted library and a series of glass pyramid skylights that were intended to let natural light stream down into galleries.
"Not since the French architectural visionaries of the 18th century has an architect used solid geometric volumes with such clarity and purity, and never with his sense of playfulness," critic Joseph Giovannini wrote in 1986.
The project catapulted Isozaki onto the international stage, paving the way for a stream of global commissions including the Team Disney building in Florida, the China Central Academy of Fine Arts Art Museum in Beijing and the Sant Jordi stadium (designed for the 1992 Olympics).
In 2013, he designed with Anish Kapoor the Ark Nova, an inflatable concert hall that travelled between regions affected by the 2011 tsunami in Japan.
While his best-known projects are in cities, Isozaki said last week that he was "more nostalgic about the rural projects". Asked to pick a favourite, he named the Domus Museum (1993-95) in A Coruña, Spain. Built atop a rocky outcrop by the Bay of Riazor, the museum features a curved slate-clad facade that resembles a sail billowing in the wind.
"Mr Isozaki's is an architecture that thrusts aside the shopworn debate between modernism and postmodernism, for it is both modern and postmodern," critic Paul Goldberger wrote in 1986. "Modern in its reliance on strong, self-assured abstraction, postmodern in the degree to which it feels connected to the larger stream of history."
In 2017, Isozaki donated his vast collection of books and quietly moved with his partner, Misa Shin, from Tokyo to Okinawa in search of warmer climes. The couple rented a nondescript apartment with a view of the sea in a peaceful residential neighbourhood. The neighbours have no idea that living in the peach-coloured walk-up is a bona fide starchitect.
Despite having moved to what might be called the Florida of Japan, Isozaki said he has no immediate plans to retire. Recent building booms in the Middle East and Asia – and China, in particular – have allowed the architect to finally realise ideas for urban planning that he first conceptualised in his unbuilt project "City in the Air" (1962), in which envisioned a multilayered city hovering above the traditional city. The opportunities were exciting.
Isozaki cited a poem he wrote early in his career called "Incubation Process" (1962), describing it as his first architectural work. The poem was raw and unrefined, he said, but after 60 years, he still holds on to its essential ideas.
"Urban planning which doesn't include the idea of destruction," the poem reads in part, "should be carried out in nursing homes."
© New York Times
Support free-thinking journalism and attend Independent events
Register for free to continue reading
Registration is a free and easy way to support our truly independent journalism
By registering, you will also enjoy limited access to Premium articles, exclusive newsletters, commenting, and virtual events with our leading journalists
Already have an account? sign in
Register for free to continue reading
Registration is a free and easy way to support our truly independent journalism
By registering, you will also enjoy limited access to Premium articles, exclusive newsletters, commenting, and virtual events with our leading journalists
Already have an account? sign in
Join our new commenting forum
Join thought-provoking conversations, follow other Independent readers and see their replies