Queen's Speech: What's in it – and just how Tory are the next 12 months going to be?
This week the Queen's Speech will set out the first fully Conservative programme for 19 years. Just how blue will it be?
John Rentoul
,
Tom Brooks-Pollock
Wednesday 27 May 2015 09:31 Comments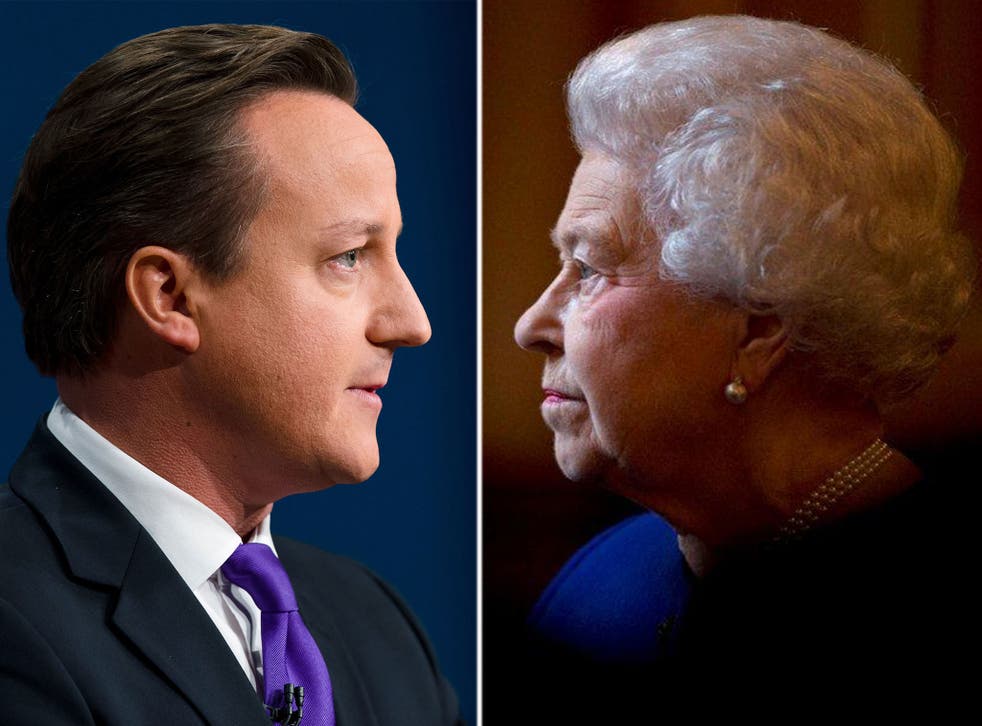 The State Opening of Parliament sets out the Government's agenda for the coming year - in the first fully Conservative Queen's Speech since the fag-end of the John Major government, on 23 October 1996.
So just how "true blue" will the new laws be? Will the Queen's Speech throw red meat to backbenchers and Tory right-wingers, or speak to the "one-nation" vision set out by David Cameron on the steps of No 10 on the morning after his surprise election victory?
Here's what will be on the PM's mind - with laws ranging from "very blue" to "not so blue" and from the straightforward to the complicated ...
EU Referendum Bill
Blue rating: 9/10
Headache or Chillax? Moderate headache.
Easy to get through the Commons - now that Labour has accepted there should be a vote - but may face trouble in the Lords.
EU migrants, except Irish citizens will be denied a vote - as will 16 and 17-year-olds, prompting Labour to declare that it will join forces with the Scottish National Party and the Lib Dems to table amendments to extend the franchise to younger voters.
Blue rating: 10/10
Headache or Chillax? Serious headache.
Fiendishly complex legally, and opposed by liberal "Runnymede" Tories, led by former leadership candidate David Davis MP.
The Tory manifesto promised to "break the formal link between British courts and the European Court of Human Rights, and make our own Supreme Court the ultimate arbiter of human rights matters in the UK".
Childcare Bill

Blue rating: 3/10
Headache or Chillax? Chillax.
The Tories have promised to double "free" childcare for three and four-year-olds from 15 to 30 hours per week.
It's expensive - £350m when fully implemented, they say - but who can oppose motherhood and apple pie? Should be fairly easy to pass, especially as Labour's manifesto carried a similar pledge.
Inheritance-tax cut
Blue rating: 8/10
Headache or Chillax? Chillax.
One of a number of measures, like the "Snooper's Charter", blocked by the Lib Dems while they were in coalition, that the Tories can now press ahead with now they have a majority.
The manifesto pledges to increase the IHT threshold for couples from £650,000 to £1 million. Could be in the budget in July.
Communications Bill
Blue rating: 7/10
Headache or Chillax? Painful headache.
The so-called "Snooper's Charter", obliging communications companies to retain for 12 months information such as social media messages, voicemail and calls made on applications such as Skype.
Like with inheritance tax, it was blocked by the Lib Dems under the coaliton. And like with the planned repeal of the Human Rights Act, civil libertarians are very unhappy.
Volunteering Bill

Blue rating: 2/10
Headache or Chillax? Chillax.
The Prime Minister may hope we've forgotten his expensive pledge to give us paid time off - three days per year - to do three days' paid leave. It would be open to all public sector workers and private sector workers in companies of more than 250 employees.
That's around 15 million workers. Business groups mostly backed the plans when they were announced during the election campaign, so the measure should be fairly straightforward politically. But companies and the government will have to pick up the bill - and isn't 'paid volunteering' an oxymoron?
Enterprise Bill
Blue rating: 10/10
Headache or Chillax? Light chillax.
To cut red tape (so they claim) but also to require 40% of trade unionists to vote for a strike before it can go ahead.
No Government has ever pledged not to cut red tape, and few have ever opposed them doing so. What it means in practice is unclear. But the unions, and Labour, are strongly opposed to making public sector strikes more difficult.
Free vote on Hunting Act
Blue rating: 7/10
Headache or Chillax? Chillax.
Easy to hold - but hard to predict the outcome. The SNP will abstain, but on an issue of conscience like this it's hard to tell which way the vote will go.
Labour's ban on hunting with dogs was popular in the country at large, but crushingly unpopular in the rural areas that it directly affected - prompting the Tories to pledge to undo it. Most Tories are in favour of repeal - but will that be enough.
As revealed by the Independent on Sunday, it is unlikely to be in the Queen's Speech, as Cameron scrambles to find a "middle way" solution, anathema to Labour and anti-hunting groups. But legislation is expected before Christmas.
Housing Bill
Blue rating: 7/10
Headache or Chillax? Definite Chillax.
Plan to extend right-to-buy to housing association tenants.
Popular on the Tory benches and with all the talk of "aspiration" from the Labour leadership candidates, will they really go hard in opposing it? But opinion polls showed that large majorities of voters are opposed.
Just like in the '80s, the policy could be useful for boosting so-called "blue collar Conservatism" among upwardly mobile working-class voters, though.
Ministerial pay-freeze
Blue rating: 6/10
Headache or Chillax? Walk-in-the-rose-garden chillax.
Easy win to save money - though not much, only £4 million over the Parliament - and say "we're all in this together" to pave the way for further cuts to working-age benefits.
By 2020, it will mean that ministers' pay will not have increased for a decade, prompting "quiet fury" in the ministerial ranks, according to the Mail on Sunday.
"Uber" Bill
Blue rating: 2/10
Headache or Chillax? Mild neuralgia.

Plan, backed by Mayor Boris and London cabbies, to regulate mini-cabs more tightly by restricting the number allowed on the road.
Black cab drivers say they are being put out of business by booking apps such as Uber. But the company has hit back, claiming in the Independent on Sunday that limits would increase pollution and congestion, as customers are forced back into their cars and prices rise. They claim this is what happened when similar restrictions were introduced in Berlin.
Devolution Bill
Blue rating: 3/10
Headache or Chillax? Painkillers required.
To enact recommendations of the Smith Commission on Scotland, plus more devolution to Wales and to city mayors. There's wide agreement on principles but it will be a nightmare in practice.
Holyrood will be able to set income tax rates and bands, keep some of the VAT they collect and set some welfare benefits. But Nicola Sturgeon wants more. The city mayors proposals are crucial to George Osborne's "northern powerhouse" vision, but risk creating a hotch-potch of devolution across England. And what of English Votes for English Laws?
Counter-Terrorism/Anti-Extremism Bill
Blue rating: 5/10
Headache or Chillax? Could go either way.
Annual - mostly ineffective - event since the Blair years.
Measures to be included this time include "extremism disruption orders" against "preachers of hate". These are judge-approved bans on extremists broadcasting, protesting in certain places and posting on social media. Premises used by extremists could also be closed down.
Freedom of speech concerns have been raised - not least by erstwhile culture secretary Sajid Javid - about the role of Ofcom in "censoring" extremist messages before they are broadcast.
Adoption Bill
Blue rating: 1/10
Headache or Chillax? Mild headache.
Merging services - by setting up new regional agencies - to speed up adoptions. The idea being that the agencies are more likely to match parents and children quicker than local authorities as they can look further afield.
The BAAF adoption and fostering charity has called for "greater clarity" on how the proposals would work, describing the proposals as "major change" to adoptions services.
Bill to ban tax rises
Blue rating: 8/10
Headache or Chillax? Major chill.
Election campaign pledge - one of the Tories' loopier ones - to ban rises in income tax, national insurance, and VAT for five years. That's most of the tax base.
But surely it would politically toxic for opposition parties to make a fuss about this. And largely pointless, as the Tories will be in power anyway.
What does five more years of the Tories mean for Britain?

Show all 8
Register for free to continue reading
Registration is a free and easy way to support our truly independent journalism
By registering, you will also enjoy limited access to Premium articles, exclusive newsletters, commenting, and virtual events with our leading journalists
Already have an account? sign in
Join our new commenting forum
Join thought-provoking conversations, follow other Independent readers and see their replies