Revealed: Humbled Tory donor's links to the man who broke the Bank of England
Ian Taylor's Vitol has links with George Soros, best known as the man who 'broke' the Bank of England
Jim Armitage
Thursday 29 September 2016 12:07 Comments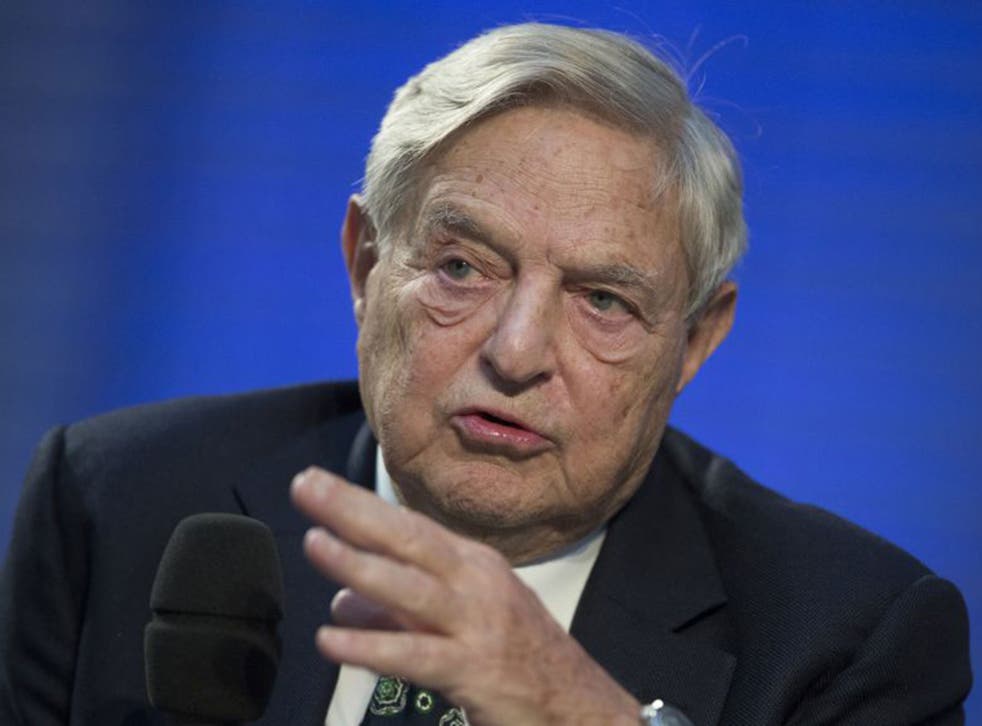 As the row erupted around David Cameron's plan to give a gong to Vitol boss Ian Taylor in August, most outside the wealthy world of oil trading will have scratched their heads and asked "who?"
Those in the know, however, were shocked. After all, this was the executive whose oil trading giant has been behind possibly more controversies than even Glencore, that other controversial commodities trader.
From claims of tax avoidance to kickbacks in Iraq, to doing business with a Serbian warlord, on the rare occasions this most private of companies has hit the headlines, it has rarely been in a good way.
As the newspapers began digging up such tales from the past, Conservative donor Taylor wisely requested his name be withdrawn from the honours list.
However, the episode highlighted to an unknowing public just how well-connected Vitol, and Taylor, are.
Because, make no mistake, be it politicians, oil explorers or — in the case of Libya — anti-Gadaffi militiamen, Vitol's connections with anyone who might help it get an oil deal done are unrivalled.
In the industry, this much is well-known. But what is less commonly realised is quite how closely Vitol's connections run with the world's most famous financial trader, the billionaire philanthropist George Soros — a man whose interests push hard for clean corporate behaviour.
Vitol's links to the Hungarian famed for breaking the Bank of England have been extending dramatically as the company seeks to use deep-pocketed partners to spread its financial risks around the world.
Power play that left workers less than happy
Some workers say that the Immingham power plant, one of the biggest of its kind in Europe, has not been the happiest of places to work at since Vitol and Soros took charge.
Says one: "When Vitol took over three years ago, Ian Taylor came to the site and told us how much better off we would be under the Vitol flag, but it didn't take three months before people started leaving.
"It is how I imagine working in Victorian times to have been. The management team lord it over everyone and if they could get away with it, we'd be doffing caps to them."
He adds that the plant is more "money-driven" and staff contracts have been changed to be more bonus-focused.
He also claims that a major failure has been reported to the Health and Safety Executive in the past few weeks.
Vitol denies staff are paid commission and says safety is of an industry-leading standard. The incident reported to the HSE did not involve any injuries, it adds.
Ownership of the plant is complex, held through multiple companies and a tax-efficient limited liability partnership.
But the most recent accounts suggest the takeover has been lucrative, with a £140 million dividend paid in one year alone.
The two LLP owners paid just 4.7% tax on profit from those dividends.
One Immingham firm reports that £432 million of the plant's £502 million turnover came from "arm's-length" energy trading deals with Vitol.
Vitol says the complex ownership structure was in place when it bought the plant and denies it was designed to cut its tax bill.
From Africa to Australia and even the UK, Soros's Quantum investment fund and Vitol have been quietly striking partnership deals worth hundreds of millions of dollars as part of an apparent push by Vitol to spread its influence beyond its traditional oil trading to other parts of the energy chain.
Take the UK, for example. When the US owner of Lincolnshire's vast Immingham Combined Heat and Power plant was looking for an exit in 2013, Vitol stepped in. The price was never disclosed but accounts now put the giant, gas-powered plant's value at £733 million.
Vitol bought the operation, and then turned to Soros to take on part of the risk.
The latter's Quantum fund now directly owns more than 13% of the installation, and is thought to hold a further stake indirectly through its investment in one of Vitol's many offshore subsidiaries, VIP Power Sarl.
Quantum's stake in this critical piece of UK energy infrastructure has never been reported.
Five thousand miles away, in Nigeria, Taylor recently completed another major Vitol deal. This time it was for the creation of a huge new company called OVH Energy, which will own some 350 service stations in Nigeria as well as 84,000 tonnes of fuel-storage capacity.
Again, the transaction was worth hundreds of millions of dollars and, again, the identities of its underlying investors are not widely known.
Stock Exchange statements regarding the transaction mentioned Vitol's partner in the deal, London-based Helios Investment Partners.
One of the investors in each of Helios's three investment funds is Soros's Quantum fund. Vitol says it only dealt with Helios staff, and not Quantum or Soros, on the deal but the connection remains nonetheless. Helios declined to comment.
It was not the first time Soros and Vitol had invested together in Africa. Again in a joint venture with Helios, Vitol bought Shell's African downstream oil franchise Vivo Energy, which works in 16 African countries, operating 1650 service stations and supplying jet fuel to airports across the continent.
In Australia, too, Vitol and Soros seem to be working hand in glove. This time, it involves another former Shell business, Viva Energy Australia.
A further massive operation, including more than 900 service stations and a refinery and port in Geelong, it was bought in 2014 for $2.6 billion (£2 billion) through the offshore Vitol Investment Partnership in which Taylor's operation partners up with a select few wealthy backers.
It is claimed that Soros' Quantum is a key one. Vitol would not confirm Soros's involvement.
Soros is, of course, a big wheel in the world of corporate transparency. The NGOs backed by his philanthropic organisation Open Society Foundations regularly campaign for businesses to be more transparent, particularly around complex ownership structures that may facilitate tax avoidance or other forms of corruption, largely in poor, mineral-rich countries.
However, you could argue the opaque nature of offshore structures such as those used by Vitol to invest in places like Kazakhstan are precisely the type such initiatives are aimed at countering. Vitol invests in the region partly through a Dutch company called Ingma. It is co-owned by two offshore vehicles, the ownership of which is unclear.
Vitol strenuously denies claims that Kazakh President Nursultan Nazarbayev, his son-in-law Timur Kulibayev or others owing their positions to them are beneficiaries, but refused to identify who they actually are.
It says the Ingma structure complies with Dutch disclosure rules, and that Vitol complies with anti-bribery and corruption legislation.
Soros himself does not comment on his Quantum fund's own investments, and declined to comment for this article.
Which makes one wonder — who is the least forthcoming about their business dealings, Soros or Vitol?
Register for free to continue reading
Registration is a free and easy way to support our truly independent journalism
By registering, you will also enjoy limited access to Premium articles, exclusive newsletters, commenting, and virtual events with our leading journalists
Already have an account? sign in
Join our new commenting forum
Join thought-provoking conversations, follow other Independent readers and see their replies