Rex Tillerson urged to raise Russian meddling in Mexico election on upcoming trip to region
One expert says it is 'absurd' to bring this up when the Trump administration will not admit Russia interfered in the US election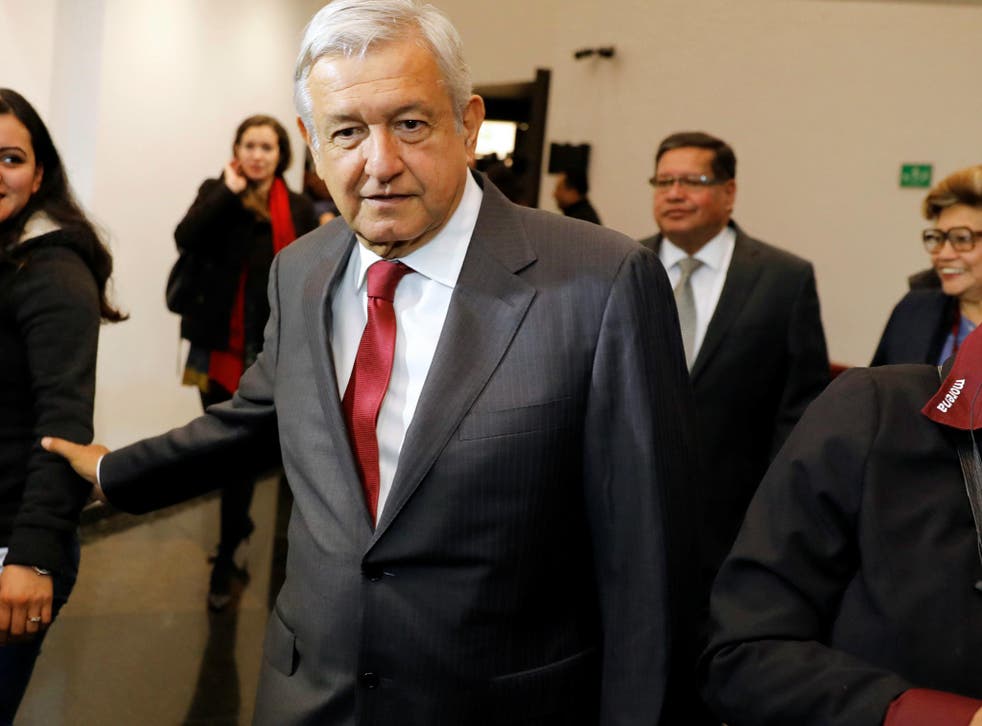 A bipartisan team of US Senators has asked Secretary of State Rex Tillerson to discuss possible Russian meddling in the upcoming Mexican election on his trip there next week.
Republican Senator Marco Rubio and Democratic Senator Bob Menendez wrote in a letter to Mr Tillerson that they are "increasingly concerned" about Russian interference in Latin American elections, particularly the July 2018 presidential elections in Mexico.
"Weak electoral systems can be easily exploited and manipulated by malicious actors like Russia," wrote the Senators.
The Kremlin has repeatedly denied interference in any foreign election.
They added that the US Agency for International Development (USAID) continue to provide technical assistance and monitoring to strengthen electoral systems in the region.
The request comes just a few weeks after White House National Security Adviser HR McMaster said in a speech at a Washington DC think tank on 7 January: "You've seen actually initial signs of it in the Mexican presidential campaign already."
"As you see, this is really a sophisticated effort to polarise democratic societies and pit communities within those societies against each other and create crises of confidence and to undermine the strength within Europe," Mr McMaster said, particularly referring to the French and German elections in 2017.
But, as Dr Tony Payan, Director of the Mexico Center at Rice University in Houston, Texas, told The Independent there has been no evidence of actual Russian tampering in the Mexican electoral process that has been presented.
US border patrol guards kick over water left for migrants near Mexico border
"One can conclude, if Russia interferes [with the Mexican election]" it would be to "deepen US isolationism" and Mexico or its society would not actually be its target, Mr Payan explained.
US President Donald Trump's relationship with Mexico has been strained, at best, since he was on the campaign trail in 2016 and repeatedly claimed America's southern neighbor would pay for a nearly 2,000 mile border wall to stem illegal immigration into the US.
The US President also claimed that the North American Free Trade Agreement (Nafta) - a $1.2 trillion trade pact - was "unfair" and a "bad deal" for American manufacturing workers.
It is "absurd American politicians are concerned...and strange" with Russia possibly interfering, Mr Payan said.
The Trump administration itself has "damaged" the bilateral relationship and "done enough" to isolate itself, but now it "wants to put the blame on Russia," he said.
Mr Payan also noted the administration's unwillingness to admit that Russia actually interfered with the US election.
Congress and the FBI, through special prosecutor Robert Mueller, are continuing to investigate the alleged meddling and any possible collusion between members of Trump's campaign team and Russian officials.
World news in pictures

Show all 50
While Mr Payan does not doubt Russia's "long, long history of misinformation," ability, and perhaps motivation, to undermine western democracies he questions the US motivation for bringing this up with Mexico.
He argued that Mr Tillerson's discussion could be seen as interference in and of itself given the candidate the US does not want in office, Andrés Manuel López Obrador, is actually ahead in the polls at the moment.
While there are no inherently anti-American candidates in the election, Mr Payan said one reason for Mr Tillerson to bring up Russia would be to sway the public away from Mr López Obrador since he would put "Mexico first," just as Mr Trump puts "America first" in his foreign policy.
The current leading candidate would likely also pose a threat to the administration's designs to protect the Mexico as a market for American exports - specifically in the energy sector - because he wants to develop Mexico's own natural resources and agriculture industries.
"Is that American or Russian interference?" Mr Payan asked.
To wit, Mr López Obrador posted a video to Twitter at the busy pot of Veracruz in which he said: "I'm standing here waiting for the Russian submarine...It will be bringing me Moscow's gold."
Mr López Obrador "then mocks Javier Lozano, one of the [opposition party's] spokesmen, who this week warned against possible Russian intervention in Mexico's electoral process and said "I am now Andres Manuelovich," the Washington Post reported.
Mr Tillerson is set to travel to Mexico next week. The election will take place on 1 July.
Register for free to continue reading
Registration is a free and easy way to support our truly independent journalism
By registering, you will also enjoy limited access to Premium articles, exclusive newsletters, commenting, and virtual events with our leading journalists
Already have an account? sign in
Register for free to continue reading
Registration is a free and easy way to support our truly independent journalism
By registering, you will also enjoy limited access to Premium articles, exclusive newsletters, commenting, and virtual events with our leading journalists
Already have an account? sign in
Join our new commenting forum
Join thought-provoking conversations, follow other Independent readers and see their replies