Russia accuses Britain of staging suspected Syria chemical weapons attack
'We have irrefutable evidence that the special services of a state which is in the forefront of the Russophobic campaign had a hand in the staging'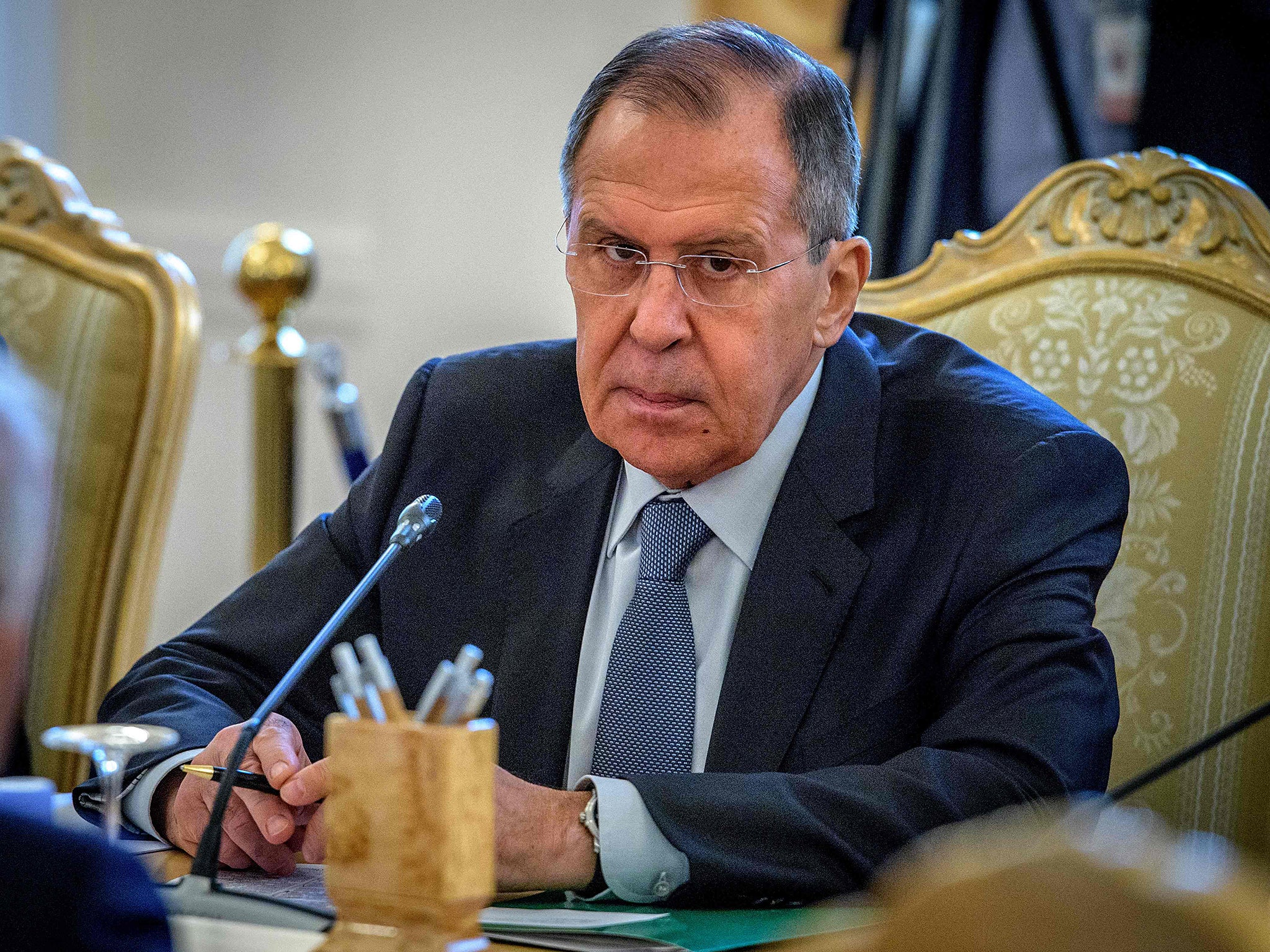 The Kremlin has accused Britain of staging the Douma chemical atrocity to manufacture a pretext for Western military action in Syria and dupe the international community into turning against the Assad regime's chief ally Russia.
The dramatic escalation in the confrontation between London and Moscow came on a day which started with the Russian foreign minister Sergei Lavrov declaring that it has proof that a foreign intelligence service was involved in the attack. This was followed by Russia's ambassador to Britain claiming that a Syrian emergency aid group which has received UK funding could have been responsible. Hours later came the formal charge of British culpability from the Kremlin, with the promise that the supposed evidence will be made public.
Mr Lavrov maintained, "we have irrefutable evidence that the special services of a state which is in the forefront of the Russophobic campaign had a hand in the staging" of the attack. Speaking at the embassy in London, ambassador Alexander Yakovenko maintained that the White Helmets, volunteers carrying out search and rescue after air strikes, were involved, adding: "I am naming them because they have done things like this before. They are famous for staging attacks in Syria and they receive UK money".
Then General Igor Konashenkov, spokesman at the defence ministry in Moscow charged: "We have evidence that proves Britain was directly involved in organising this provocation."
No evidence had been produced by the Kremlin so far to back up the claim of British involvement and the White Helmets have been routinely accused in the past, again without evidence, by the Syrian regime and their allies of being rebel fighters using their aid work as cover.
The UK, however, has been accused by Russia since the attempted murders in Salisbury of former MI6 agent Sergei Skripal and his daughter Yulia of orchestrating a "Russophobic campaign" which has led to the expulsion of Russians working under diplomatic accreditation from Western capitals.
Mr Yakovenko held "the Syrian government had been warning for at least a month that rebels are prepared to stage a provocation with chemical weapons in this very area". He blamed "notorious groups" like the White Helmets which have received support of the UK government and have been proved more than once to have staged attacks, he said.
The narrative of the Syrian regime and Russia appeared to be contradictory with some accounts claiming that the rebels had staged their own chemical attack while others held that Russian chemical monitors who had visited Douma have found no sign of contamination. The Russian defence ministry has produced "testimony" from medical workers in Douma that a team with video cameras had entered medical facilities and started a panic by claiming there had been a chemical attack.
Alexander Yakovenko: No evidence Syrian government was behind chemical attack
Condemning what he termed as military action based on a falsehood, Mr Lavrov said: "God forbid something adventurous will be undertaken in Syria similar to the Libyan or Iraqi experience." A number of references were made at the Russian embassy press conference to Britain's part in the Iraq invasion,m with a montage of Tony Blair's speeches in which he stated his form belief in 2003 that Saddam Hussein had weapons of mass destruction to admitting later that they had not actually existed.
Moscow, in a statement via the embassy accused the UK of hypocrisy over Douma, saying that it supported an independent investigation while, at the same time, there were "worrying reports about London pressing ahead with preparations for the military action against Syria".
It said: "Military strikes may be used to cover up all evidence, or lack thereof, on the ground. Such a decision, if it's taken, is in violation of the international law and the Charter of the United Nations may well mark the latest in a series of the reckless military actions of the UK. The infamous aggression against Iraq in 2003 immediately comes to mind when the then prime minister, Tony Blair, deliberately misinformed the Parliament and the public. It is well known how it ended, with the Chilcot inquiry delivering a condemnatory verdict."
World news in pictures
Show all 50
Inspectors from the Organisation for the Prohibition of Chemical Weapons (OPCW) are due in Douma to collect samples which will then be analysed back in Turkey or Jordan. The US Fifth Fleet the naval force for the region which may be needed if there is a substantial military operation, is not due to be off Syria until early next week.
Meanwhile French president Emmanuel Macron, who was one of the early drum beaters for military action, and claims that his government has proof of chemical attack in Douma, said he wants more dialogue with Russia after a telephone call with Vladimir Putin to "maintain and step up to bring peace and stability back to Syria".
Join our commenting forum
Join thought-provoking conversations, follow other Independent readers and see their replies