Salman Rushdie: The authors boycotting event awarding Charlie Hebdo a prize for free speech are 'pussies'
Several authors will withdraw from the PEN American Center gala in protest at the decision to award the magazine
Adam Sherwin
Monday 27 April 2015 18:11 Comments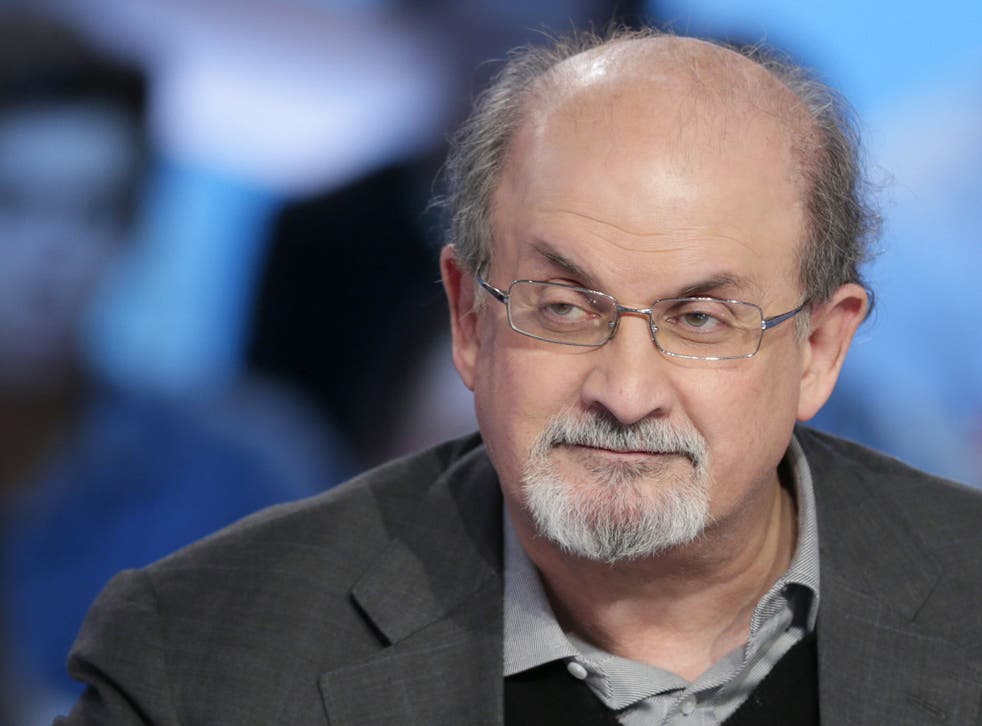 Salman Rushdie has accused fellow authors, including Peter Carey and Michael Ondaatje, of being "pussies" for boycotting an event organised by the free-speech organisation PEN at which the French satirical magazine Charlie Hebdo is to be given an award.
The Booker Prize winner Carey, The English Patient author Ondaatje and at least four other writers will withdraw from the PEN American Center gala in New York next week, in protest at the decision to give the Freedom of Expression Courage award to the magazine.
Carey, joined in opposition to the award by Francine Prose, Teju Cole, Rachel Kushner and Taiye Selasi, questioned whether the January attack on the magazine's Paris offices, in which 12 staff were killed, was a "freedom-of-speech issue" for the human rights organisation to be "self-righteous about".
He added: "All this is complicated by PEN's seeming blindness to the cultural arrogance of the French nation, which does not recognize its moral obligation to a large and disempowered segment of their population."
However Salman Rushdie, a former PEN president who lived in hiding for years after a fatwa in response to his novel The Satanic Verses, was highly critical of the authors who withdrew in protest at the magazine's cartoons, which offended many Muslims.
"The award will be given. PEN is holding firm. Just 6 pussies. Six Authors in Search of a bit of Character," tweeted Rushdie.
Although Carey and Ondaatje were friends, they had got this issue "horribly wrong." Rushdie said: "If PEN as a free speech organisation can't defend and celebrate people who have been murdered for drawing pictures, then frankly the organization is not worth the name. What I would say to both Peter and Michael and the others is, I hope nobody ever comes after them."
The authors had made themselves "fellow travellers" of a "fanatical Islam, which is highly organised, well-funded, and which seeks to terrify us all, Muslims as well as non-Muslims, into a cowed silence," Rushdie claimed.
The honour is due to be presented to Gerard Biard, Charlie Hebdo's editor in chief, and Jean-Baptiste Thoret, a staff member who arrived late for work on Jan 7 and missed the attack. More than 60 leading writers are due to host the gala, celebrating "artistic achievement and expression" but the award split the PEN membership.
Charlie Hebdo: The first edition since the Paris massacre

Show all 15
Ms Prose, a former PEN American president, said she was in favour of "freedom of speech without limitations" and that she "deplored" the January shootings, but added that giving an award signified "admiration and respect" for the magazine's content.
Ms Kushner said she was withdrawing out of discomfort with what she called the magazine's "cultural intolerance" and promotion of "a kind of forced secular view."
PEN published a blog defending the award, titled Rejecting the Assassin's Veto. The organisation said it was "sorry not to see those who have opted out of the gala, but we respect them for their convictions."
In a powerful defence of its position, PEN argued: "We do not believe that any of us must endorse the content of Charlie Hebdo's cartoons in order to affirm the importance of the medium of satire, or to applaud the staff's bravery in holding fast to those values in the face of life and death threats. There is courage in refusing the very idea of forbidden statements, an urgent brilliance in saying what you have been told not to say in order to make it sayable.
PEN believes that "Charlie Hebdo's intent was not to ostracize or insult Muslims, but rather to reject forcefully the efforts of a small minority of radical extremists to place broad categories of speech off limits—no matter the purpose, intent, or import of the expression."
Others receiving awards at the gala include playwright Tom Stoppard, Azerbaijani journalist Khadija Ismayilova and Penguin Random House CEO Markus Dohle.
The Hebdo boycott is the largest protest the PEN American Center has faced since Norman Mailer infuriated many writers when he invited the Republican Secretary of State George P. Shultz to address the annual Congress of International PEN in 1986.
PEN Hebdo award
No
Peter Carey – Booker Prize winner in 1988 for Oscar and Lucinda and again in 2011 for True History of the Kelly Gang, who has appeared on two Australian postage stamps in a series dedicated to "Australian Legends."
Michael Ondaatje - Toronto-based writer who shared the 1992 Booker Prize for The English Patient. His 2000 novel Anil's Ghost, set in Sri Lanka, tells the story of a young female anthropologist investigating war crimes for an international human rights group.
Francine Prose – Author of twenty works of fiction, Prose is a former president of PEN American Center, and a member of the American Academy of Arts and Letters and the American Academy of Arts and Sciences.
Yes
Salman Rushdie – Satanic Verses author and fatwa survivor has no qualms over recognising Charlie Hebdo: "It is quite right that PEN should honour their sacrifice and condemn their murder without these disgusting 'buts'."
Maureen Freely - President of English PEN, author of Enlightenment, exploration of the persecution of writers in Turkey and translator for novelist Orhan Pamuk, who was prosecuted for insulting Turkishness.
Tom Stoppard – Playwright who examined persecution under Communist regimes will attend PEN Gala and receive special award for artistic achievement and defense of creative expression from actress Glenn Close.
Register for free to continue reading
Registration is a free and easy way to support our truly independent journalism
By registering, you will also enjoy limited access to Premium articles, exclusive newsletters, commenting, and virtual events with our leading journalists
Already have an account? sign in
Join our new commenting forum
Join thought-provoking conversations, follow other Independent readers and see their replies