A leap into the unknown: Cloned eventing horse Tamarillo is groomed for success
The legendary animal is arguably the most storied horse of any kind to be replicated to date - but some equine experts question the practice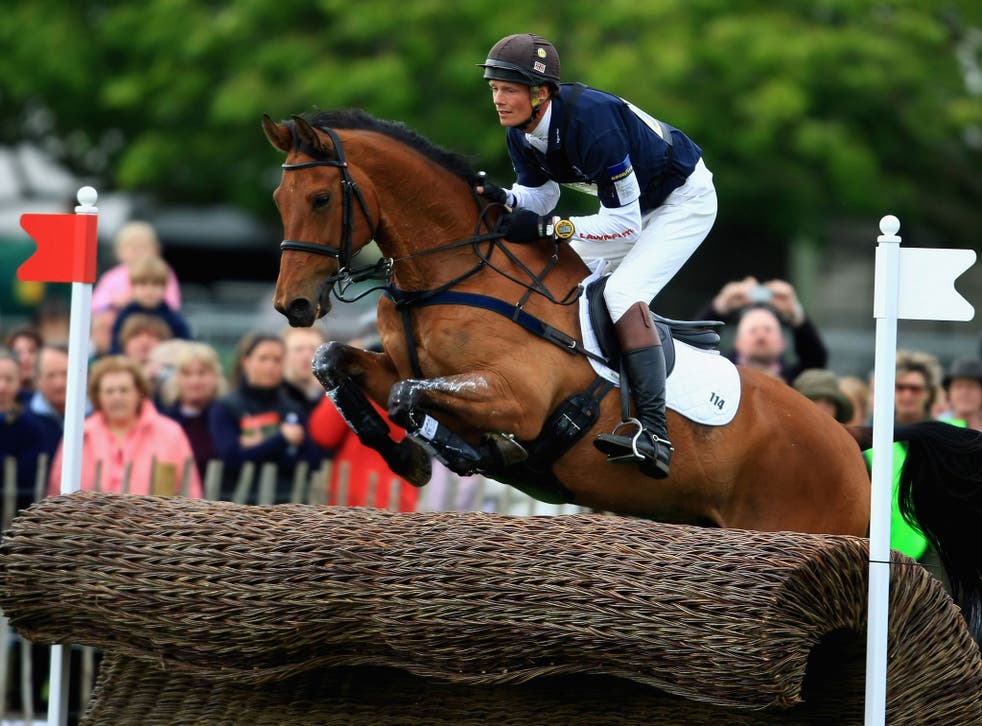 To the layperson, Tamarillo probably looks like any other horse; but not to aficionados of eventing, the mixed equestrian discipline that requires competitors to show an extraordinary blend of courage, discipline and grace. To his owners, MW and Finn Guinness, Tamarillo has always been different. "I knew he was going to win everything from the beginning," said MW. "He was famous for this graceful movement. He had fans all over the world."
He stands out, the experts say, for his speed, his endurance, and his lightness in the dressage part of the sport. (That's the bit with the dancing horses, particularly popular during last summer's Olympics.)
As much as anything else, Tamarillo was popular with fans for his personality and his charm. "He's exceptionally beautiful, and he has a real intelligence," says Lucy Higginson, editor of Horse and Hound magazine. "You needed an absolutely world-class rider to bring the best out of him – he was an exciting horse to watch because you never quite knew if he was going to bubble over. He was a complicated hero."
With just such a rider, William Fox-Pitt, Tamarillo had huge success, winning Badminton and Burghley horse trials, two of the biggest events in the sport. He had been in with a shout of an Olympic medal in Athens in 2004 when disaster struck – a chipped bone in one of his back legs as he completed a flawless cross-country round.
Tamarillo is retired now, but that injury remains a source of regret to those who love him. Little wonder that they would like nothing better than to breed from the horse, and see if an heir could match, or better, his achievements.
There's just one problem: Tamarillo can't breed. Like most stallions that take part in eventing, he was gelded – castrated – to avoid the kind of hormonal flightiness that can make for an uncontrollable competitor. When they saw how talented he was, the Guinnesses had hopes of breeding a sibling from his mother, Mellita.
"I adored her," says MW. "She was the best horse I ever rode." But then Mellita died. MW says she cried for a year. The hopes of another Tamarillo had gone.
Or so you would think. In fact, there is a foal in New Jersey that proves this is not the case. He is said to move just like Tamarillo. He even shares a distinctive white "sock" on his left hind leg. And, although he is 21 years younger, he is the older horse's identical twin.
The foal – tentatively named Tomatillo, another variety of tomato – is a clone. Bred in secrecy, his existence was revealed today by Horse and Hound magazine. The similarities are said to be uncanny. "It's spooky how like Tam he is," William Fox-Pitt told the magazine.
"You see this little boy darting around while all the other horses are standing still. He's a clown, just like Tam. He's still doing that at 21."
Kathleen McNulty, owner of Replica Farms, the company that produced the animal, called him "amazing". "He's so smart," she says. "In the 30 years I've been breeding I'd have to say this is one of the best foals I've ever seen," she said. Although there are hundreds of cloned horses and other animals, Tomatillo is only the second eventing horse to be cloned from a British original; and Tamarillo is arguably the most storied horse of any kind to be replicated to date.
Furthermore, the idea is gaining in currency. The International Federation for Equestrian Sports reversed their position and approved the right of clones to participate last year. In the US, the governing body of quarter horse racing – sprinting contests over very short distances between small animals – lost a legal challenge to their ruling against clones, setting a legal precedent that could conceivably affect thoroughbred racing in the future.
But some in the equestrian community are uneasy, and the RSPCA is against cloning. "There's huge potential for some of the animals involved to suffer unnecessary pain and distress," says Dr Nikki Osborne, senior scientific officer at the charity.
The process to produce a viable foetus is known as somatic-cell nuclear transfer. Tissue is taken from the original horse's neck; the genetic material is injected into a donor mare's unfertilised egg. When that has developed into an embryo, it is inserted into a surrogate mare, which carries the foal to birth.
Dr Osborne says that the donor and surrogate mares can be caused to suffer by the process, and says that she is "quite categorical that the process cannot be justified".
Replica Farms dispute that assessment and insist that the technique is not cruel. So do the Guinnesses. Finn, who has a PhD in epigenetics, has long had a personal interest in the field.
The process is also not cheap: a syndicate of investors shared the £104,000 cost of producing Tomatillo. That means that cloning is always likely to be more for the purposes of breeding than competition.
But although Finn Guinness says he doesn't want to put the horse into competition, MW won't rule it out.
Of course, it's not as simple as a scientific story, or even a sporting one: for those who do clone their horses, there's enormous emotional baggage attached, as well.
"When the people who clone the horse see their baby for the first time. They can't believe it," says Ms McNulty. "They say 'oh my god – it's the same face staring back at me.' It's uncanny, but it's joyous."
Horses for courses: Cloning in other equestrian sports
Polo
The technique is highly popular in Argentina, the world capital of polo. Although the authorities have approved the process, the first crop of clones have yet to reach the right age for competition. One has already sold for more than half a million pounds.
Equestrianism
The world governing body approved the practice last year, a decision that reversed its previous position. It said cloning was not unfair because the genetic match is not 100 per cent and much of a horse's performance is based on training, conditions, and the rider. 2016 will be the first Olympics for which clones are eligible. The practice is more common in showjumping and dressage than eventing.
Thoroughbred racing
In the US, the Jockey Club has ruled that clones cannot even be registered, much less entered into competition. It also prohibits artificial insemination, insisting strictly on naturally born animals. The same rules apply in the UK.
Quarter horses
A Texas court ruled that the American Quarter Horse Association, which governs the short-distance sprint sport, was in breach of anti-monopoly laws by barring clones from its registry after the owners of about 20 such horses brought a case.
Join our new commenting forum
Join thought-provoking conversations, follow other Independent readers and see their replies