Albert Einstein's theory of happiness sold for $1.5m
'A calm and modest life brings more happiness than the pursuit of success combined with constant restlessness,' reads one of the notes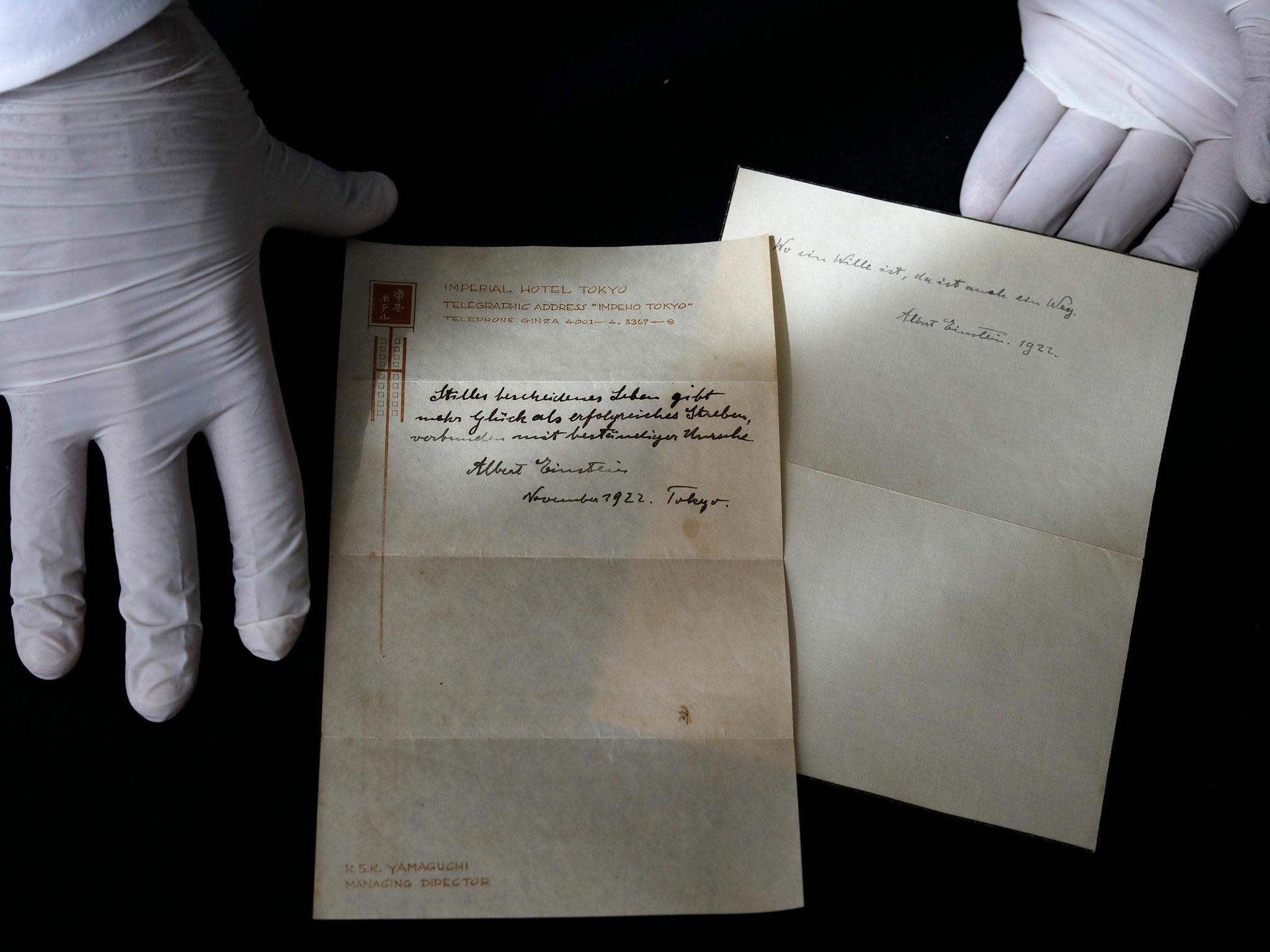 Albert Einstein might be famed for his theory of relativity but it is his theory of happiness which has just been sold at an auction for a whopping $1.56m (£1.19m).
The acclaimed theoretical physicist's two notes which outline his pointers for living a happy and fruitful life went on sale in Jerusalem 95 years after they were written.
The notes were penned during Einstein's trip from Europe to Japan to deliver a series of lectures in November 1922. It was on this trip that the 43-year-old was informed he had been bestowed with the highest accolade in his field – the Nobel Prize in physics.
Feeling flattered but also overwhelmed by the throngs of Japanese people who rushed to see him, Einstein attempted to make sense of his feelings from his room at the Imperial Hotel in Tokyo.
After the messenger arrived with a delivery, the Nobel laureate composed two brief notes and bequeathed the messenger with them. According to the seller of the letters, Einstein said the notes could in the future potentially be worth a great deal more than the spare change he might have handed over instead.
Science news in pictures
Show all 20
"A calm and modest life brings more happiness than the pursuit of success combined with constant restlessness," reads one of the autographed notes which was jotted down on Imperial Hotel Tokyo stationery.
According to the Winner's Auctions and Exhibitions website, the letter had initially been estimated to sell for between $5,000 and $8,000 but went for a staggering $1.56 million. The bidding is said to have begun at $2,000 and went on for about 25 minutes.
On the other, written on a blank piece of paper, Einstein wrote: "Where there's a will there's a way."
That note sold at auction for $240,000 despite originally being estimated to sell for a high of $6,000.
The buyer and the seller's identity has not been made public.
Einstein was a non-resident governor of Jerusalem's Hebrew University and when he died in 1955, he left the institution his archives, thus meaning it became the owner of the world's most sizeable collection of his documents.
Join our commenting forum
Join thought-provoking conversations, follow other Independent readers and see their replies