Bronze Age saw flourishing drug trade, opium discovered in ancient vase reveals
Chasing the flagon: Findings add fuel to longstanding debate about true purpose of containers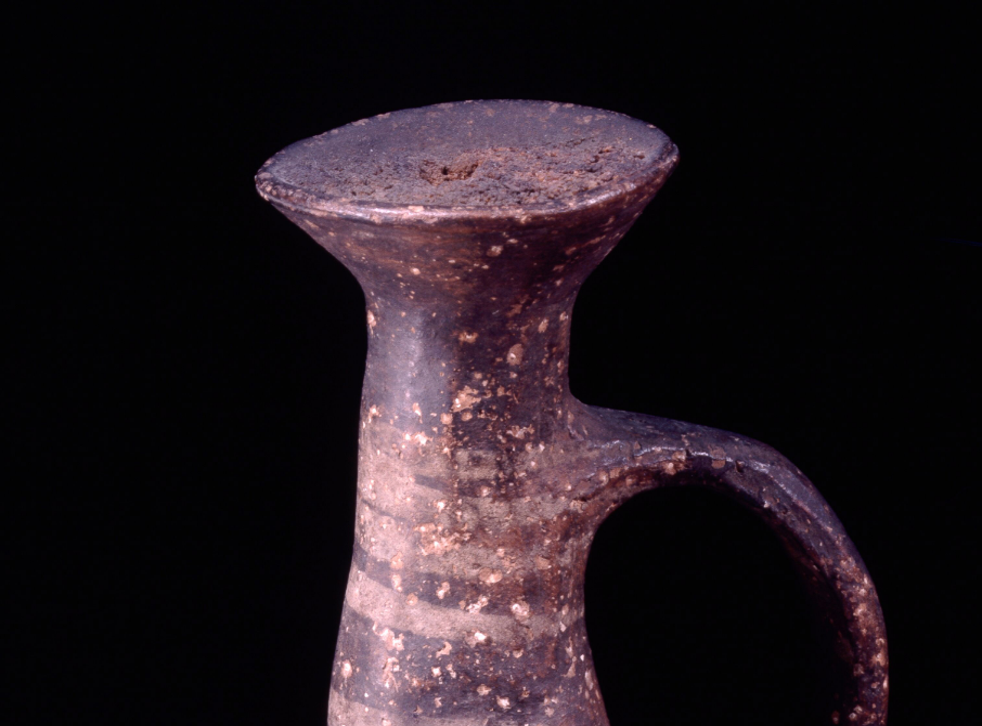 The opium trade was flourishing in the eastern Mediterranean as far back as 3,600 years ago, according to scientists who have found deposits of the drug in late Bronze Age vases.
Researchers at the British Museum and the University of York found opium alkaloids preserved inside a Cypriot "base-ringed juglet" from the museum's collection – the first time dependable chemical evidence has been produced to link the opium poppy with the distinctive containers which were widely traded in the area between 1650-1350 BC.
Though the juglets have long been associated with opium due to their distinctive shape when inverted – which resembles a poppy seed head – no definitive proof of the connection had been found, despite several previous attempts.
The design of the base ringed juglet is believed to have been a form of bronze-age branding for commercial purposes.
Recent work had questioned the association between the vessel and opium, with alternative theories suggesting they could have contained aromatic oils.
But the museum said the discoveries from this juglet could be consistent with either theory as the opium alkaloids were detected in a residue of degraded plant oil. This might mean that the juglet held poppyseed oil rather than pure opium.
The discovery of the oil "implies that the substance was not consumed as a narcotic but instead used for anointing or perfumery in which the psychoactive properties of the opium ingredient might only have symbolic significance", the museum said.
Dr Rebecca Stacey, who led the work at the British Museum said: "It is important to remember that this is just one vessel, so the result raises lots of questions about the contents of the juglet and its purpose – the presence of the alkaloids here is unequivocal and lends a new perspective to the debate about their significance."
The team now wants to apply their techniques to other examples.
Professor Jane Thomas-Oates, head of the Centre of Excellence in Mass Spectrometry at the University of York, said: "We've established a rigorous method for detecting opiates in this kind of residue – the next analytical challenge is to see if we can succeed with less well-preserved residues."
The juglet is a "very rare example of a sealed vessel with contents preserved inside", the museum said. This exceptional preservation combined with a newly developed analytical method were both key to the success of the research team.
Looted treasures returned to Afghanistan by British Museum

Show all 23
Hartwig Fischer, director of the British Museum, said: "We are always looking to learn new details from the past, and our scientific research team take a dynamic approach to learning from our collection.
"Thanks to a collaboration with our colleagues at the University of York, we have unlocked new information from this historic object that I am delighted we are sharing with the public today."
Register for free to continue reading
Registration is a free and easy way to support our truly independent journalism
By registering, you will also enjoy limited access to Premium articles, exclusive newsletters, commenting, and virtual events with our leading journalists
Already have an account? sign in
Register for free to continue reading
Registration is a free and easy way to support our truly independent journalism
By registering, you will also enjoy limited access to Premium articles, exclusive newsletters, commenting, and virtual events with our leading journalists
Already have an account? sign in
Join our new commenting forum
Join thought-provoking conversations, follow other Independent readers and see their replies