Can you see the 'ancient land sculptures' in these Google Earth images of Britain?
Ancient Britain enthusiast Richard Darlow claims discovery of new giant artworks could revolutionise understanding of UK ancestors - and how they really worshipped dragons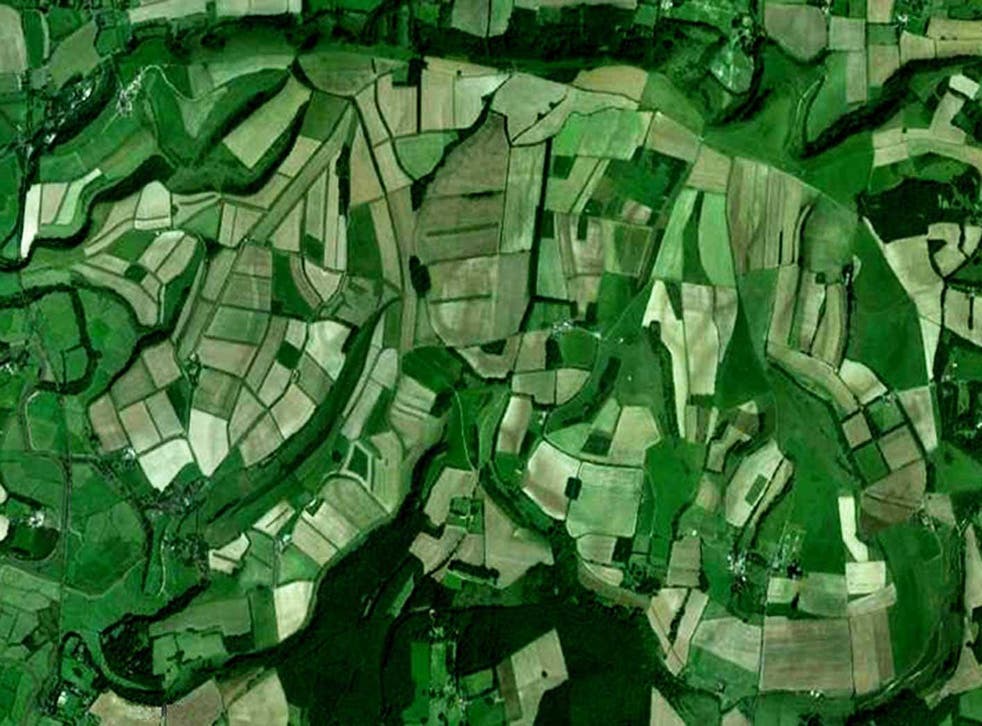 An enthusiastic amateur historian claims to have discovered a range of giant sculptures that were carved into the British countryside up to 3,000 years ago.
Richard Darlow said he had found up to 40 sites across England and Wales where field systems, hedge lines and trees combined to form mythical creatures such as dragons and giants, as well as women, dogs and pigs.
The author and ancient British history buff came across the land formations while using Google Earth to study better-known Celtic artwork such as the Long Man of Wilmington and the White Horse of Uffington.
And he suggests those smaller chalk sculptures were in fact just markers to indicate the presence of the much larger pieces, some of which he believes are up to seven miles long.
Mr Darlow has produced an e-book revealing his 20 "finest and most interesting" finds, in a bid to persuade the public that his discoveries are more than just a series of Rorschach tests across the rolling hills of the UK.
He told The Independent the sculptures, many of which feature dragons, could have widespread implications for our understanding of ancient Britain, and suggested it was "incredible" no one had found them before.
Giant land sculptures discovered across England and Wales

Show all 11
"Dragon culture in ancient Britain was widespread, and we've always interpreted the story of St George slaying the dragon as a symbol for the new doing away with the old religion," he said.
"Yet with the discovery of these sculptures, the symbol begins to speak more loudly – there actually was worship of dragon entities going on, and it was a major part of the culture.
"I hadn't considered before, seriously, that there was a dragon-worshipping culture here – even though I've used such terms in my writing. Yet now, it is obvious that is what they were doing, and that's what they were making sacrifices to."
The White Horse of Uffington, Mr Darlow says, was in fact intended to be the White Dragon – and it points to a much larger dragon made up of the undulating hillside, stretching away for 11km and best viewed from more than 30,000 feet.
Another remarkable specimen, which Mr Darlow has taken the liberty of naming as Ceridwen the Cadbury Lady, takes as its starting point the unmistakable ancient hill fort of Cadbury Castle.
He has not investigated the sites in his book in person – but he has some theories as to how they might have been created, possibly "by an oxen-drawn ground-trawling device of great weight, designed to cut flat slices out of the earth".
"Presumably somebody also had the power of flight, in a balloon at least, to ascend to the heights necessary to view and oversee the shaping of these sculptures," he suggests.
Mr Darlow said he welcomed others to get on Google Earth and explore the British countryside themselves for evidence of more ancient giants.
"Anyone can get out on Google Earth and start looking themselves. It is there, it is part of our cultural landscape, it is for people to see and I encourage people to look or themselves."
Join our new commenting forum
Join thought-provoking conversations, follow other Independent readers and see their replies