Druids take up arms over display of bones at Stonehenge
King Arthur Pendragon says 'the spirit of Arthur has returned to have the ancients reinterred at Stonehenge'
Oscar Quine
,
Ian Johnston
Friday 20 December 2013 19:50 Comments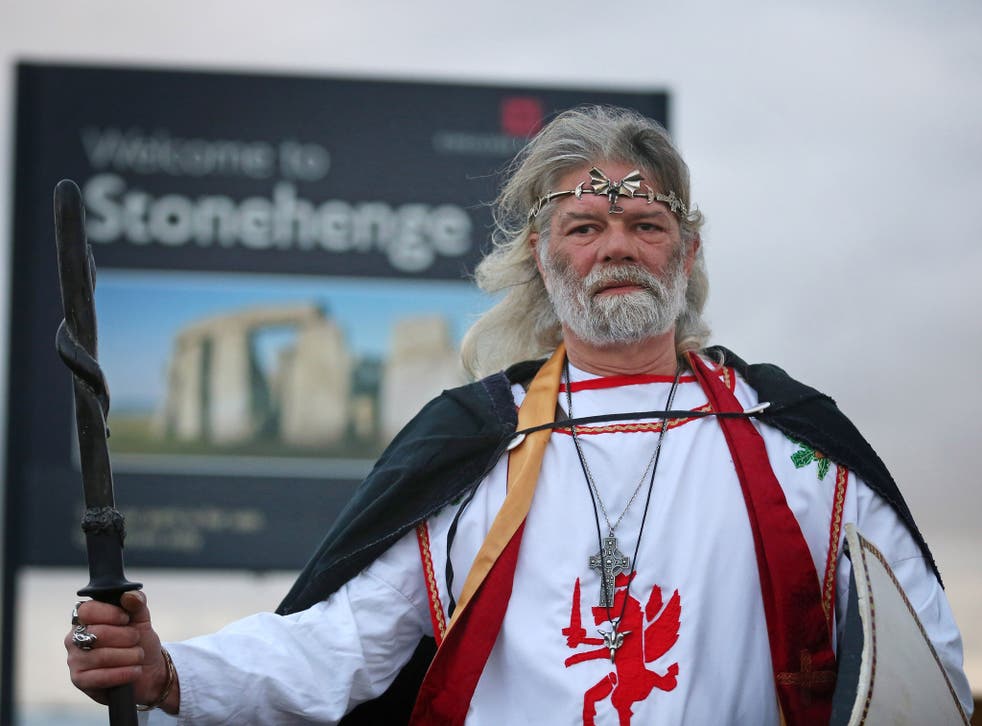 The sun will today make its lowest pass across the winter sky, glinting off the roof of Stonehenge's newly opened £27m visitor centre. As it does, a mile-and-a-half away from the low-slung, post-modernist building designed by architects Denton Corker-Marshall, up to an estimated 2,000 druids will gather among the prehistoric rocks to celebrate the Winter Solstice.
King Arthur Pendragon says that this year, alongside the blessings, prayers and healings, members of the Council of British Druid Orders (CBDO) – of which he is Battle Chieftain – may be driven to hitch up their robes and embrace "direct action" in the next stage of their dispute with English Heritage over the public display of excavated human remains inside its shiny new building.
"If English Heritage thinks I'm going to go quietly into the night then they're mistaken," says Pendragon. "They've picked on the wrong druid."
Born John Timothy Rothwell, Pendragon, 59, whose father was a sergeant in the Army, changed his name by deed poll 27 years ago after a friend told him he embodied the spirit of the legendary king. The conversation confirmed Pendragon's long-held suspicion, and he is now the leader of what is believed to be the largest druid order in the world. He says he could summon its "thousands" of members at will with a "call to arms". For Pendragon, their cause is clear: "The spirit of Arthur has returned to have the ancients reinterred at Stonehenge."
Experts believe two of the three sets of remains on show at Stonehenge are 5,000 years old, while the third is thought to be 500 years younger. Their excavation was overseen by Mike Parker Pearson of the UCL Institute of Archaeology, who says the skeletons belonged to members of a royal line, the priest caste – or even the builders or architects of Stonehenge itself.
Despite the ancient nature of the contested remains, Pendragon has embraced the technological age.
"I'll be getting in contact via email with all the tour companies that use Stonehenge and encouraging them not to come," he says. "I'll also be carrying on a picket at the new visitor centre and I'm not ruling out direct action on a number of the places involved, which includes English Heritage's head office. We've already done a protest outside their regional office in Bristol and I intend to do protests outside Salisbury Chapel's museum and the Duckworth Museum, which owns the remains."
Many of his fellow druids are veteran activists, having been involved in the Newbury Bypass, Twyford Down and Manchester Airport protests. The CBDO, says Pendragon, will be prepared step up its action in the New Year: "If you hear about druids chaining themselves to things, it will probably be us," he says.
English Heritage said yesterday it was working with police to accommodate the CBDO's protest, adding that a request made by Pendragon in September to replace the real remains with replicas was considered "very carefully" before being rejected.
"English Heritage believes that authenticity is important to tell England's story," it said in a statement. "We use real objects and artefacts because we believe they are the best way for people to come close to history. We only use replicas when the real item is not available. Research shows that the vast majority of museum visitors are comfortable with, and often expect to see, human remains as part of displays.
"Stonehenge is the focus of a ceremonial and ritual landscape shaped over 1,500 years. The exhibition puts at its centre the people associated with it and as such, the remains have a rightful place in the exhibition."
The new visitor centre, which opened last week, replaced a "temporary" structure built in 1968 that was only designed to accommodate 100,000 people a year – a tenth of the number that visit the 4,500-year-old stone circle.
Pendragon, who lives in Salisbury with his druid priestess wife, says he wears full robes at all times, with some exceptions.
"I don't robe up to go down the shops and I don't robe up when I'm riding my motorcycle, which is really the modern iron steed. There's no difference from what I do now to what the ancient Arthurs did. I'm still riding around the country, banging heads together. As far as I'm concerned there are three Arthurian ages. There's a pre-Roman, archetypal Welsh Arthur, a post-Roman, Dark Ages Arthur, and a post-Thatcher Arthur. That's me."
Whatever has come to pass among the hallowed stones by sunset today, Pendragon says that he is prepared for a long battle. "You've got to remember that Arthur, long before Schwarzenegger, was the guy to say: 'I'll be back'."
Read more:
Register for free to continue reading
Registration is a free and easy way to support our truly independent journalism
By registering, you will also enjoy limited access to Premium articles, exclusive newsletters, commenting, and virtual events with our leading journalists
Already have an account? sign in
Join our new commenting forum
Join thought-provoking conversations, follow other Independent readers and see their replies