Archaeologists race to uncover secrets of mysterious ancient fort before it collapses into sea
Iron age site has been occupied by Romans, used as Second World War defences and formed part of a golf course
Harry Cockburn
Tuesday 20 August 2019 14:37 Comments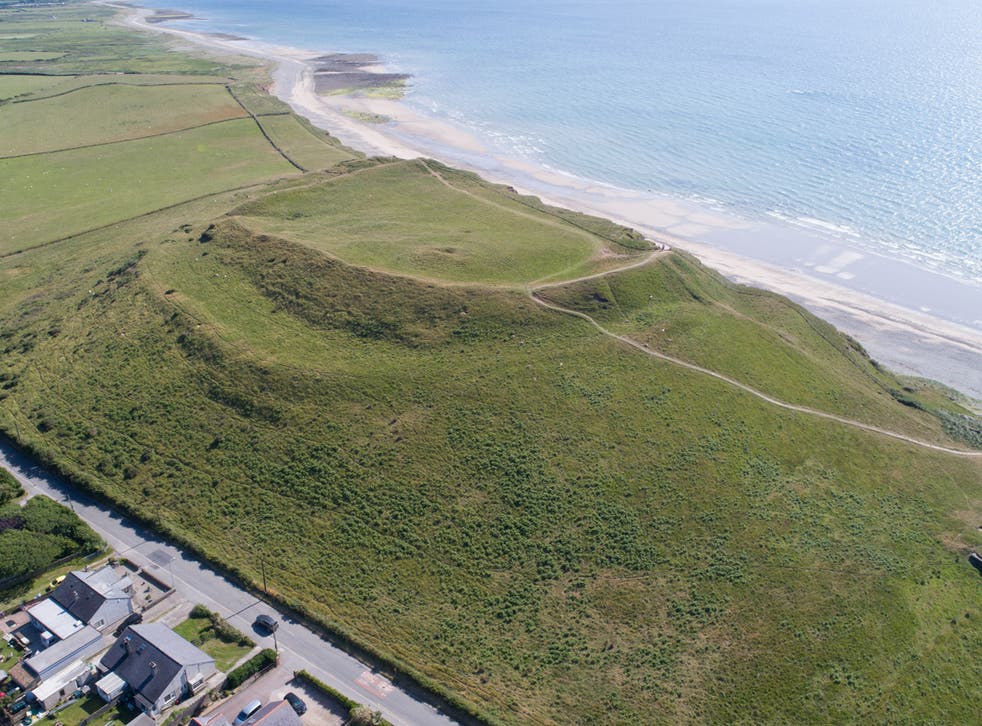 A fort which has stood for well over 2,000 years is finally about to succumb to invasion – by the sea – prompting a race against time for archaeologists to uncover its mysteries.
Dinas Dinlle, near Caernarfon in north Wales, is believed to have been built in the Iron Age, but was later inhabited by the Romans. The land near the site is rapidly eroding and will eventually be entirely lost to the sea.
A dig is underway at the National Trust-owned site, but comes to an end on Tuesday.
The hillfort is built on an unusual hill of glacial drift sediments and overlooks the sea and the Caernarfonshire coastal plain, and in recent history was used in the Second World War pill box and observation post, and has latterly formed part of a golf course.
According to archaeologists from the Royal Commission on the Ancient and Historical Monuments of Wales, which is leading the work at the site with funding from the EU, the fort was originally entirely enclosed, but the majority of the defences on the western side have already been lost to the sea.
Britain's oldest tree: 3000 year old Fortingall Yew

Show all 8
Using Ordnance Survey mapping, the team has calculated between 20 and 40 metres of the western side of the fort has been lost since 1900.
Peat deposits at the foot of the cliff below the hillfort have led scientists to estimate the sea would have been a kilometre away 4,000 years ago.
But recently, greater levels of erosion have been seen at the southern end of the fort where considerable impacts were recorded in February this year.
Part of the current work on the fort is to assess the impact of climate change on the structure.
Rising sea levels, the drying out and desiccation of soils, flooding and more frequent storms all present "significant challenges" to Dinas Dinlle, hastening the erosion of the monument, the team said.
The site has been laser scanned and surveyed by drone to provide accurate monitoring of the rate of erosion.
The current dig is examining "numerous possible roundhouses and other anomalies within the interior of the fort".
Previous archaeological activity turned up Roman coins, an intaglio (a carved gemstone worn in a ring) and bits of pottery, indicating it was likely inhabited during the Roman occupation of Britain.
"There is a possibility that the prominent, squarish stone mound inside the fort is the remains of a building or tower; could it be a Roman pharos or lighthouse? Early medieval occupation of this prominent site is also very likely," the team said.
National Trust Llyn operations manager Andy Godber told the BBC: "Dinas Dinlle encapsulates the risk to our coastline from climate change."
Register for free to continue reading
Registration is a free and easy way to support our truly independent journalism
By registering, you will also enjoy limited access to Premium articles, exclusive newsletters, commenting, and virtual events with our leading journalists
Already have an account? sign in
Join our new commenting forum
Join thought-provoking conversations, follow other Independent readers and see their replies