King Tutankhamun was mummified with an erect penis to 'quash religious revolution'
The ancient Egyptian pharaoh was buried with an erect penis, no heart and covered in black oils to make him appear as the god Osiris, new study claims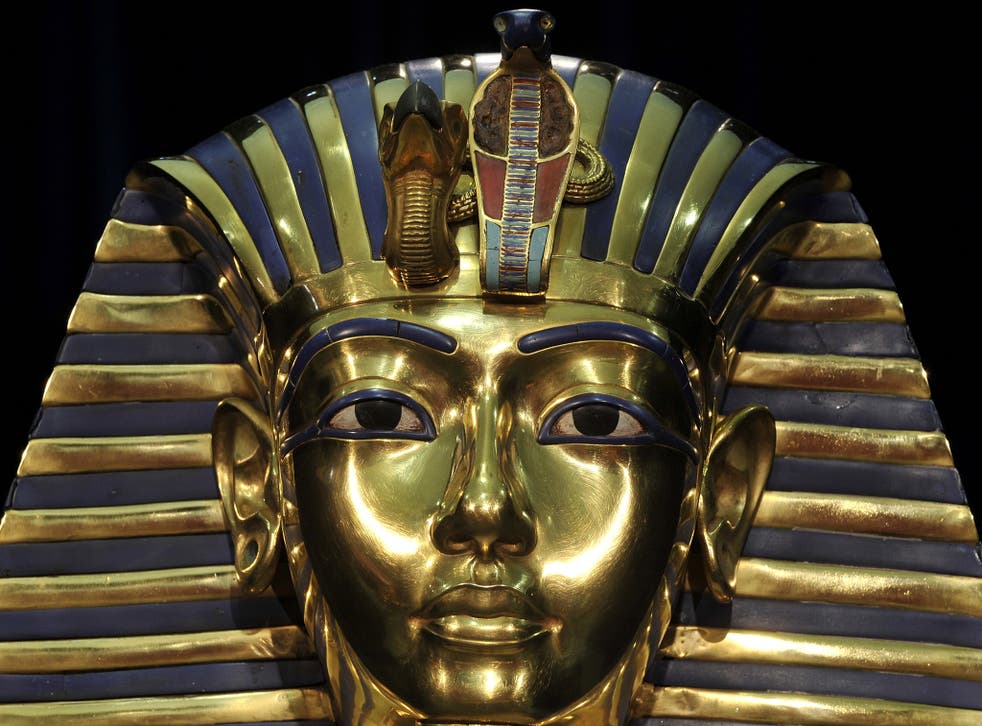 The world's most famous mummy - ancient Egyptian pharaoh Tutankhamun - was buried with his penis stood up at a 90 degree angle in order to help quash a religious revolution started by his father, a new study suggests.
Egyptologist Salima Ikram, a professor at the American University in Cairo, has argued that the unusual burial of King Tut was an attempt to make him appear as Osiris, the god of the afterlife, to counter attempts by King Akhenaten to establish a monotheistic religion.
It is widely accepted that Akhenaten had moved to install the worship of the Aten or sun disc as the one god during his rule, going as far as disbanding priesthoods of all other gods and destroying imagery.
His son, Tutankhamun, however disagreed with his father's new religion and during his rule - which began when he was 10 and ended when he died aged 19 - had worked to reverse the changes and return Egypt to the traditional religion of worshipping a variety of gods.
It was an attempt by his priests to continue this endeavor in his death that may have led to him being mummified with an erect penis, Prof Ikram speculates. The upright body part broke off after the discovery of the tomb, with some speculation that it was stolen.
King Tutankhamun in pictures

Show all 7
"The erect penis evokes Osiris at his most powerfully regenerative moment," she wrote in the journal Études et Travaux.
Speaking to the LiveScience website, she added: "As far as I know, no other mummy has been found thus far with an erect penis."
As well as the erect penis, two other unusual features of King Tut's burial, previously thought to be the result of a botched burial, further support Prof Ikram's argument.
Firstly, his body and coffins were covered in an abnormally thick layer of black oils and resins, which may have even led to his body catching alight - this could have been an attempt to make skin a dark colour similar to that Osiris was depicted with, she said.
"The mass of oils and resins applied to Tutankhamun's body might also allude to the black color associated with Osiris as lord of the land of Egypt, dark with the rich soil of the inundation, and the source of fertility and regeneration," Prof Ikram wrote.
Secondly, King Tut was buried without a heart - not an uncommon practice - but unusually, there was no scarab beetle placed there to replace it as was standard practice. This, Prof Ikram argues, could have alluded to the death of Osiris when he was a man - his brother Seth is said to have cut him apart and buried his heart.
"Tutankhamun is shown as a fully fledged Osiris — not simply a wrapped mummy," she said. "This representation of the king as Osiris is unique in the Valley of the Kings: Other tombs show the king being embraced by Osiris or offering to him."
The Egyptologist also notes that she is not the first to liken the mummy of Tutankhamun to Osiris - the similarities to images of the god were first noted by Howard Carter soon after he discovered the tomb.
"Perhaps Carter's emphasis in his notes during the unwrapping and examination of the mummy is more correct than even he thought: the king was indeed being shown as Osiris, more than was usual in royal burials," Prof Ikram added.
Register for free to continue reading
Registration is a free and easy way to support our truly independent journalism
By registering, you will also enjoy limited access to Premium articles, exclusive newsletters, commenting, and virtual events with our leading journalists
Already have an account? sign in
Register for free to continue reading
Registration is a free and easy way to support our truly independent journalism
By registering, you will also enjoy limited access to Premium articles, exclusive newsletters, commenting, and virtual events with our leading journalists
Already have an account? sign in
Join our new commenting forum
Join thought-provoking conversations, follow other Independent readers and see their replies