What is a sinkhole – and what should you do if one appears outside your house?
Sinkholes are caused by erosion in porous rock and can build up over time or appear suddenly
Hardeep Matharu
Thursday 01 October 2015 16:11 Comments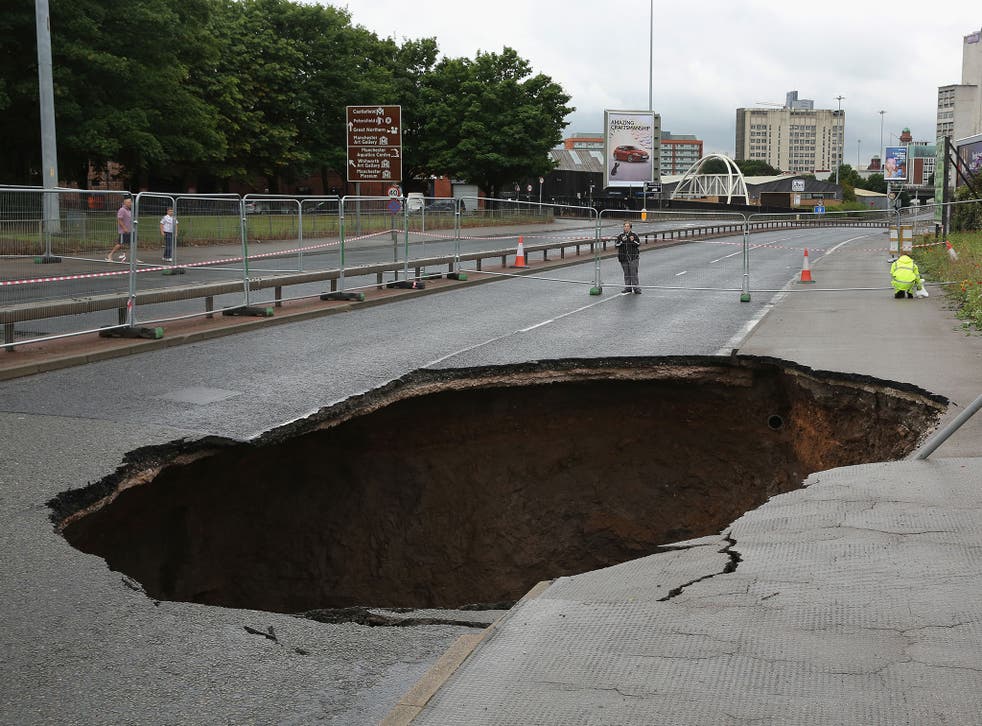 Residents of a quiet street in St Albans were shocked when they woke to find a 65ft-wide and 33ft-deep sinkhole in their road.
The giant crater led to the evacuation of 10 people and gas and electricity supplies were cut off to more than 50 properties while emergency crews assessed the damage.
Hertfordshire Council said it "had no reason to suspect" the hole – which it was notified about as a much smaller hole on Monday – would collapse, and that it was due to be filled in this morning.
But what is a sinkhole and what should you do if one suddenly appears outside your house?
Incidences of sinkholes are increasing in the UK, while the issue has proved deadly in the US where, in 2013, the sleeping body of Florida resident Jeffrey Bush, 36, was swallowed up by a 20ft sinkhole which opened up within his bungalow. His body was never recovered.
A sinkhole is a hole in the ground created by erosion and the drainage of water. Some can be large enough to swallow entire buildings.
They typically occur in areas where the rock beneath the surface of the land is porous, usually when it is made of limestone, sandstone or another soft rock.
Water builds up in the rock, which gradually erodes it until it collapses.
Although sinkholes are often caused by natural processes, they can also be triggered by human activity.
According to the British Geological Survey, they can appear following heavy rain or surface flooding, are caused by leaking drain pipers or burst water mains, building works, or changes in the water table level and even mining.
There are two basic types of sinkholes – those that are created slowly over time (a cover-subsidence sinkhole) and those that appear suddenly (a cover-collapse sinkhole).
If a sinkhole appears which could threaten a house or a large structure, individuals must leave surrounding properties immediately and report the problem to the emergency services.
If the sinkhole occurs in the middle of the road, as was the case in St Albans, the area should be cordoned off immediately.
Sinkholes which appear manageable in size and do not seem to be impacting on any other structure can be filled in.
If a sinkhole occurs on private property, it is the homeowner's responsibility and they will need to check whether the cost of any damage and repairs related to it can be claimed as part of their insurance.
A spokesman for the London Fire Brigade said the appearance of sinkholes can be very unpredictable and it is difficult to specify precautionary measures.
He added: "In London we have urban search and rescue crews specifically trained to deal with people who are trapped underneath rubble. A delegation from the LFB and fire crews across the country went out to Nepal earlier this year."
Register for free to continue reading
Registration is a free and easy way to support our truly independent journalism
By registering, you will also enjoy limited access to Premium articles, exclusive newsletters, commenting, and virtual events with our leading journalists
Already have an account? sign in
Join our new commenting forum
Join thought-provoking conversations, follow other Independent readers and see their replies