Prehistoric standing stone discovered by archaeologists in Switzerland
Suspected menhir believed to be between 4,000 and 5,000 years old
Caroline Mortimer
Tuesday 24 October 2017 17:36 Comments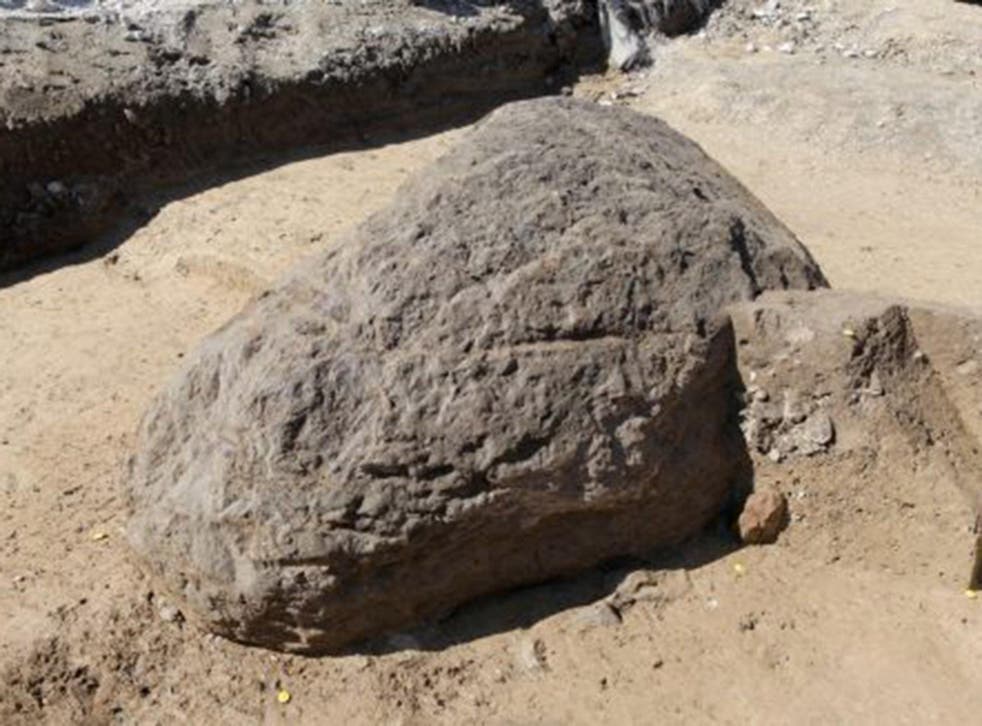 Archaeologists in Switzerland have found a large standing stone they believe may been part of a place of worship during the early Bronze Age.
The stone, thought to be a menhir, was found during an excavation of a Bronze Age settlement in the village of Breitnacher, south of the capital, Bern.
The oval-shaped sandstone is two metres tall by 1.3 metres wide and weighs about two to three tonnes. It narrows on one side to form a slight tip.
Archaeologists estimate it to be between 4,000 and 5,000 years old.
Marks on the ground suggest it once stood vertically and could have been a monolith or part of a series of standing stones like Stonehenge.
The excavation site uncovered the remains of a Bronze Age city that is believed to be around 3,500 years old as part of a preliminary archaeological survey before the building of a new housing complex.
The researchers raised the possibility that it was originally somewhere else and moved to the town, or that — due its proximity to the remains of Bronze Age homes — it could have been the reason the settlement was built there.
The menhir is one of only 15 found in Switzerland to date and archaeologists are particularly excited about the discovery, as very little is known about the people who were living in the area at the time.
World news in pictures

Show all 50
In a statement, the Canton of Bern Archaeology Department, which is leading the excavation, said: "To date, only about fifteen isolated menhirs have been discovered in Switzerland. These are usually simple blocks from one to four metres high. The best example of the canton of Bern is for the moment in Sutz-Lattrigen, on Lake Biel.
"The discovery of a menhir at Kehrsatz would therefore be an event."
It said they would be able to confirm whether or not it is a menhir by examining the site for any other stones with similar surrounding markings.
"This discovery would be all the more interesting because, with the exception of a few isolated finds, very little is known about the Stone Age settlement around the city of Bern," it added.
Register for free to continue reading
Registration is a free and easy way to support our truly independent journalism
By registering, you will also enjoy limited access to Premium articles, exclusive newsletters, commenting, and virtual events with our leading journalists
Already have an account? sign in
Join our new commenting forum
Join thought-provoking conversations, follow other Independent readers and see their replies