Pyramids of Giza: Technology may unlock secrets of Egypt's Wonder of the Ancient World
Experts will use radiography, drone-mounted scanners and thermal imaging in an attempt to answer a question that has puzzled Egyptologists for centuries: how these huge structures were built without the aid of modern technology
Ruth Michaelson
Giza
Sunday 25 October 2015 22:47 Comments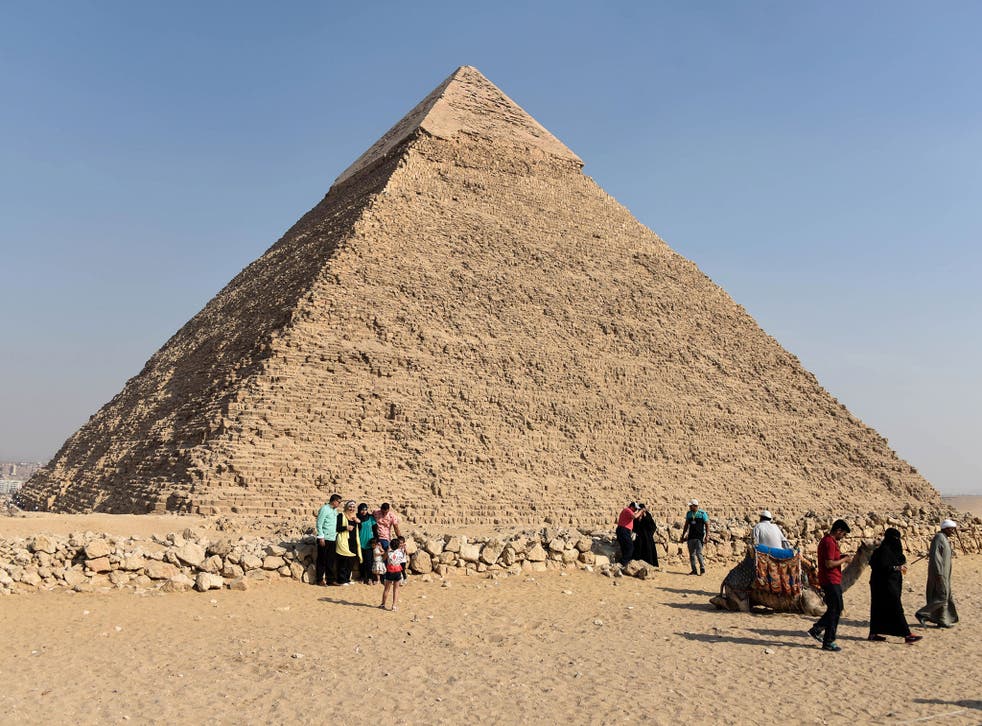 Egypt is hoping to uncover the secrets of the only remaining Wonder of the Ancient World – and save its struggling tourism industry in the process.
Throughout 2016, a team of scientists, engineers and architects from Egypt, France and Japan will survey the famous Pyramids of Giza in search of hidden chambers inside the ancient structures. The Scan Pyramids Project is also looking to answer a question that has puzzled Egyptologists and engineers for centuries: how these huge structures were built without the aid of modern technology.
The team will use non-invasive technologies such as radiography, drone-mounted scanners and thermal imaging to survey the pyramid complex, both to create three-dimensional models of the exterior and to examine the internal structures. The Japanese KEK particle physics institute and the University of Nagoya will use muon radiography, a technique used to scan active volcanoes in Japan, to search for undiscovered voids.
Of particular interest is the Khufu or Cheops Pyramid – the largest of the three main pyramids and the only remaining Wonder of the Ancient World.
"I think it's a noble endeavour," Professor Salima Ikram, of the American University in Cairo, said. "With the effects of climate change [on the pyramids], it's good to have a record of the current state."
The initiative is not the first in recent times to try to unlock the secrets of the ancient structures: in 1985, the French architects Gilles Dormion and Jean-Patrice Godin led a failed investigation to prove the existence of a hidden network of passages within the Khufu Pyramid. "Previous expeditions in the 1980s didn't have the technology we have today," said Hisham Zazou, Egypt's Minister of Tourism.
Mr Zazou was also frank that the project could entice tourists back to Egypt, after years of political instability decimated a once-thriving industry. With tourism representing more than 10 per cent of Egypt's GDP, Mr Zazou "swore an oath" to the Egyptian people that the project would drum up business.
Register for free to continue reading
Registration is a free and easy way to support our truly independent journalism
By registering, you will also enjoy limited access to Premium articles, exclusive newsletters, commenting, and virtual events with our leading journalists
Already have an account? sign in
Join our new commenting forum
Join thought-provoking conversations, follow other Independent readers and see their replies