Expert didn't feed any rice to infant children because of risk from naturally occurring arsenic
'Knowing that rice can contain elevated levels of arsenic, my family chose to pursue other types of infant cereals
Ian Johnston
Science Correspondent
Friday 17 February 2017 22:16 Comments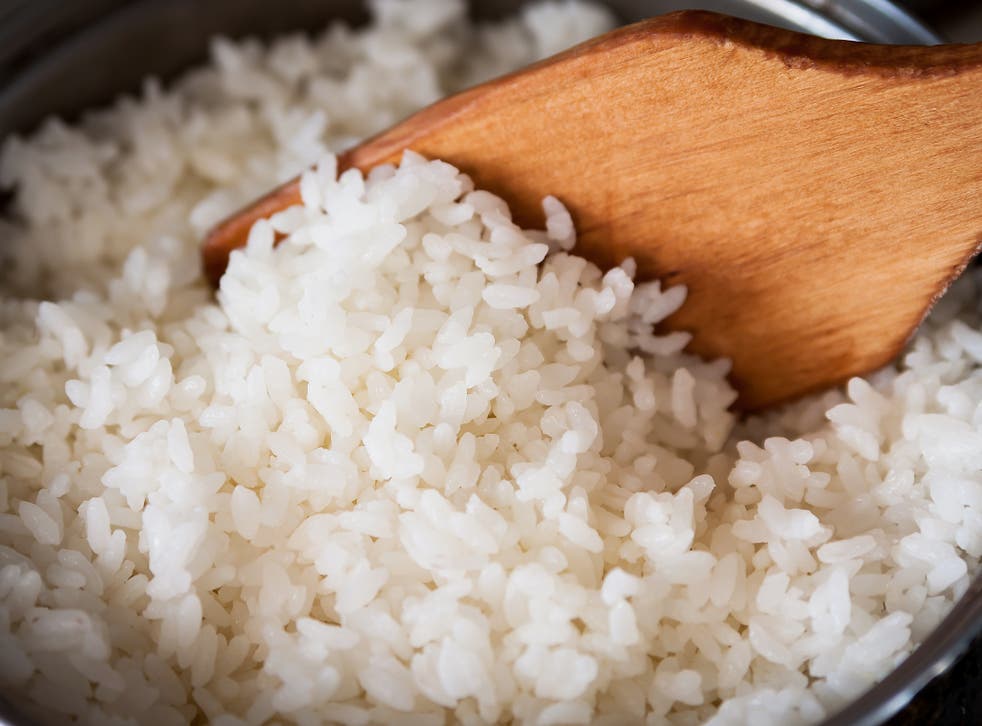 A leading expert on the risks of arsenic in food has said his two children were not given any rice to eat when they were babies because of the potential health effects.
Arsenic, the 20th most common element in the Earth's crust, can be absorbed naturally by plants from the soil and the potentially deadly toxin is also found in fossil fuel emissions, which can contaminate crops.
Researchers are becoming increasingly concerned by the potential health effects of low levels of arsenic in food.
While there is not enough to kill someone in the same way as the poison itself, it has been linked to cancer, heart and lung disease, diabetes, poor brain function in children, and a reduce immune system after extended exposure through diet.
Rice is particularly prone to the problem, partly because of the way it is often grown in flooded paddy fields, which increases the rate of absorption from the ground. Not all rice is affected — only crops grown in areas with high arsenic concentrations in the soil.
Infants are thought to be particularly at risk from arsenic in food, which is a problem as rice syrup is used in many products and some baby formula is made with rice.
Dr Keeve Nachman, of Johns Hopkins University in Baltimore, who was involved in an international research project looking at the risks and government policies about the issue, revealed at the American Association for the Advancement of Science's annual meeting that his own children were not given rice when they were babies.
"I have two young children and I was in the process of working on various projects on dietary arsenic exposure [when they were born]," he said.
"Knowing that rice can contain elevated levels of arsenic, my family chose to pursue other types of infant cereals."
But he added: "We do have rice in our diet now."
Dr Nachman said it had been difficult to come up with a figure of how much arsenic it was safe to consume in food.
But he also said that "total avoidance" of dietary arsenic was "completely impossible".
Health news in pictures

Show all 40
And so instead he and other experts recommended that people adopt a "prudent avoidance approach", in which they make sure they are not consuming too many foods like rice that can contain higher amounts of arsenic.
He pointed people to a website called Arsenic and You, which lists some of the foods concerned and offers alternatives.
It suggests gardeners in areas with high levels of arsenic in the soil should limit the amount of lettuce, radishes, broccoli, Brussels sprouts, kate and cabbage they eat from their gardens.
It also recommends children should only have between about 120ml and 180ml of fruit juice a day with apple and pear juice among those juices with higher arsenic levels.
Parents might also decide to "avoid juice altogether" and get their children to eat whole fruits instead, the website adds.
Register for free to continue reading
Registration is a free and easy way to support our truly independent journalism
By registering, you will also enjoy limited access to Premium articles, exclusive newsletters, commenting, and virtual events with our leading journalists
Already have an account? sign in
Join our new commenting forum
Join thought-provoking conversations, follow other Independent readers and see their replies