UK Covid-19 vaccinations: Latest figures
Scientists address concerns over AstraZeneca vaccine and blood clot reports
Experts remain insistent that jab is safe to use and any associated risk is outweighed by benefits of vaccination against Covid-19
After the trials and tribulations of the past four months, the AstraZeneca vaccine is facing yet another major hurdle which threatens to derail immunisation programmes across the world.
Investigations are under way to determine whether the jab is linked to rare blood clots that have been recorded in some recipients.
The condition generating alarm is called cerebral venous sinus thromboses (CVST), when blood clots in the veins that run from the brain, sometimes culminating in death.
In the cases of concern, which appear to be more prevalent in women under 60, this has been combined with thrombocytopenia, where a patient also presents abnormally low levels of platelets.
These thromboembolic events have been recorded across Europe. The UK's medicines regulator said last week it had identified 30 cases out of more than 18 million administered doses of the vaccine. Seven of the cases were fatal.
Read more:
On the continent, higher rates of incidence have been recorded, possibly because mainland Europe has given the AstraZeneca vaccine to more people under 60 than Britain.
The European Medicines Agency has previously said it expects to see 4.8 cases of CVST per million doses of the AstraZeneca vaccine. This compares to 0.2 cases per million with Pfizer, and 0 cases for Moderna (which has not been rolled out on the same scale).
Some countries have already taken action, limiting use of the vaccine to older age groups. Nonetheless, establishing and determining causation remains challenging.
Ultimately, it is too early to draw definitive conclusions given the early nature of the data – yet scientists insist that the vaccine remains safe. So what has been said?
Professor Adam Finn, a member of the Joint Committee on Vaccination and Immunisation, said it was vital to keep using the AstraZeneca vaccine as society opens up, in order to help stave off rising infection rates.
The "risk-benefit is very strongly in favour of receiving the vaccine," he told BBC Breakfast – though he insisted the reports were being investigated "very seriously".
"As time goes forward, we will have much more flexibility about who can be offered what," he added.
"We are seeing another vaccine coming in (Moderna), and further vaccines are approaching licensure, and I know that the UK has made contracts for quite a wide range of different vaccines."
Dr Maggie Wearmouth, another member of the JCVI, told the Daily Telegraph that "perhaps slowing things down" with the rollout "until we're absolutely certain" might be wise.
"The issue is about safety and public confidence," she said. "We don't want to cover anything up that we feel that the public should be knowing.
"We're not here to blindly follow targets or due dates. We will do what is necessary."
Professor Calum Semple, a member of the government's Scientific Advisory Group for Emergencies (Sage), said he was "not worried one little bit" about headlines around the AstraZeneca vaccine.
"I'll take [it] myself, I'm 53, my risk of death from Covid is about one in 13,000, for me it's a no-brainer, I need to have the vaccine," he told LBC Radio.
"This vaccine is safe. What do I mean by safe? You can look right, look left, look right again, cross a road, it's safe to cross because you don't see any cars (but) you can trip, you can stumble.
UK news in pictures

Show all 50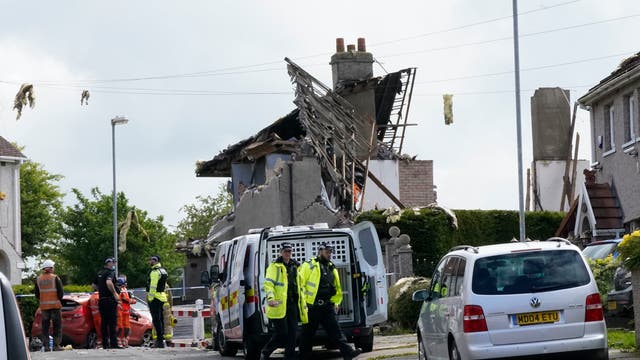 "Nothing is risk-free, but is the vaccine safe? I would say yes."
Last week, chief medical officer Chris Whitty said it was "unproven" if the vaccine was causing the blood clots, but urged the public to "keep an open mind and assume they may well be until it's actually proven otherwise".
For anybody who has a significant risk of getting Covid, such as the elderly and those with comorbidities, the "risk benefit is wildly in favour of vaccination", he added.
"The closer you get to someone who's right down at 20 and otherwise blameless in their health, the more you have to think through these really very rare side effects, the risk benefits might get closer to parity."
GP Dr Ellie Cannon, who regularly appears on TV to offer medical advice, told the BBC the rate for CVST was around one in 2.5 million people.
She said that, in contrast, among 2.5 million 40-year-olds with Covid "we would expect around 2,000 deaths", adding the risk of a clot was "incredibly rare".
Join our new commenting forum
Join thought-provoking conversations, follow other Independent readers and see their replies