Christmas dinner on the International Space Station: What do the astronauts eat?
Astronauts have to make do with roast turkey and potatoes in plastic pouches - but at least they get to celebrate Christmas twice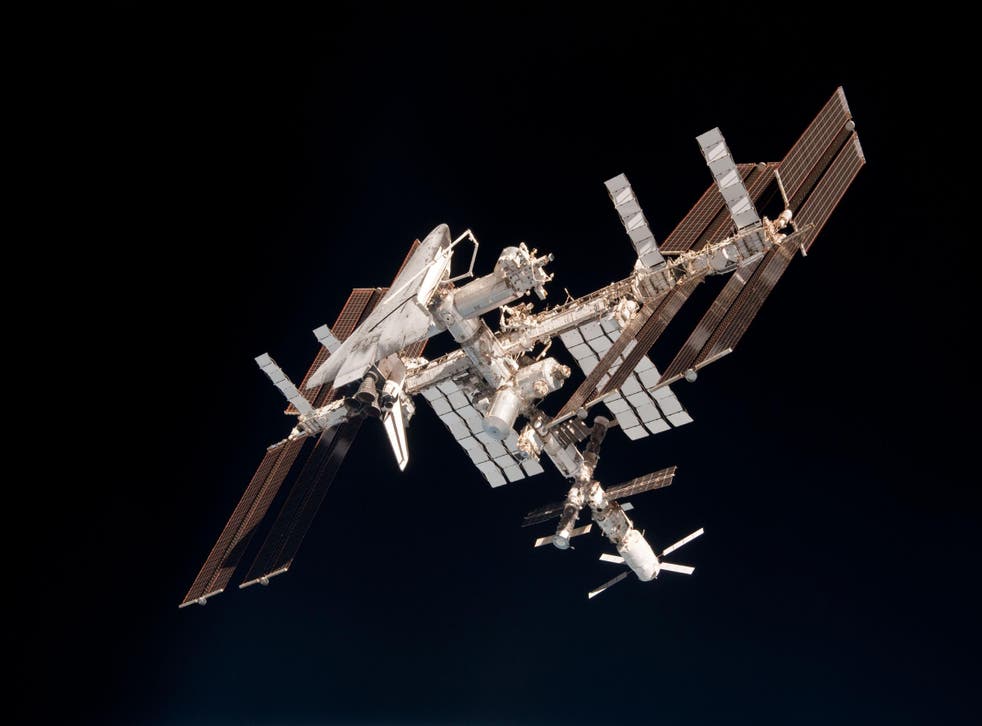 As you tuck into your dinner on Christmas Day, spare a thought for the six astronauts currently on board the International Space Station (ISS), who will be orbiting around the Earth at 4.75 miles per second as the world celebrates below them.
Working on the ISS can be a risky and important job, and the astronauts assigned there conduct wide-ranging research into space and the effects of microgravity every day.
However, Christmas is an important day, and astronauts are typically given some time off from their normal duties to celebrate.
However, given the constraints of living on the space station, it's impossible for the people aboard to tuck into a freshly roasted turkey - but astronaut food has come on leaps and bounds since the mashed-up meals in toothpaste tubes that astronauts ate in the early days of space travel.
Speaking to Smithsonian, Vickie Cloeris, who manages the food on the ISS, said astronauts get a selection of classic Christmas meals to enjoy over the holiday.
Nasa tends to dominate the operations on the ISS, so the Christmas food is more typically American - turkey, green beans, sweet potatoes and cornbread are staples, and they're all served out of small plastic packages that can be heated up in a special onboard oven.
However, Russia also has a strong presence in space, so there is some regional variation - Cloeris said the Russians have some "really good mashed potatoes," as well as excellent cranberry sauce.
On top of this usual food, astronauts get to take up a 'bonus box' for every month they are set to be in orbit.
There are restraints on what astronauts can bring with them, but if they want a special Christmas dish, nuts or a certain type of sweet, they can take that up with them when they launch.
Unfortunately, the tradition of being unhealthy over Christmas doesn't work too well on the space station - astronauts have to be in peak physical condition. The experience of being in zero-gravity can severely weaken astronauts' bones, so very salty foods, which can exacerbate this problem, are off the menu.
Alcohol is also considered a serious safety hazard by Nasa - so Tim Peake, the first fully-fledged British astronaut, will have to forgo the great British Christmas tradition of drinking on the big day.
Interestingly, many astronauts report their tastes and favourite foods changing while in space - the lack of gravity can play havoc with the senses, and astronauts also typically get blocked noses and congestion while aboard the ISS.
A lot of them say their sense of taste becomes 'dulled' while on board the space station, so classic Christmas dishes might simply not appeal.
It's difficult to be far away from your family on Christmas Day, and being in space is even worse - but there is a positive side.
There are currently three Russian cosmonauts aboard the ISS - Yuri Malenchenko, Sergey Volkov, and Mikhail Kornienko, who is on his 272nd day of an historic year-long stay in space.
The Russians tend to celebrate Christmas according to Orthodox Christian traditions - so when Peake and American astronauts Tim Kopra and Scott Kelly celebrate Christmas on the 25th, they get to look forward to celebrating again with their Russian colleagues on 7 January.
In a Christmas message sent from the ISS, Major Peake told the Earth: "Christmas is traditionally a time for friends and family to get together, and although we can't be with our friends and family this year, we will be orbiting 16 times on Christmas Day and sending all our good wishes to everybody back down on beautiful planet Earth."
Join our new commenting forum
Join thought-provoking conversations, follow other Independent readers and see their replies