Astronomy Photographer of the Year 2014
Otherwise known as 'the best damn photos of space you'll see till 2015'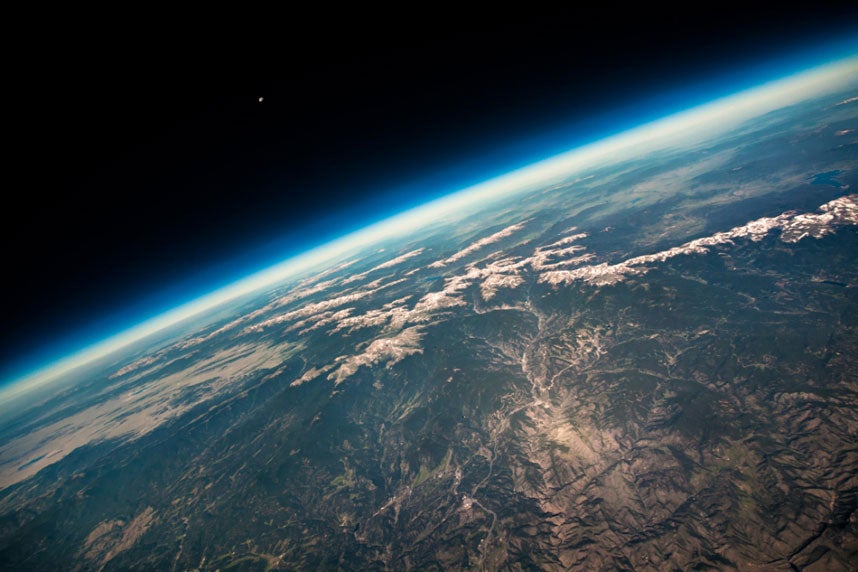 From the impossibly-distant chaos of star-forming hydrogen clouds to a hybrid solar eclipse hanging just above the Kenyan savannah, the winners of the Astronomy Photographer of the Year competition capture the wonders of the Universe from (relatively) near and (relativistically) far away.
The winning shot by British photographer James Woodend shows the Northern Lights reflected in Jökulsarlon lagoon in Iceland; a double-curve of lime green caused by electrically charged particles from the Sun streaking through the atmosphere.
Other shots show Earth from the brink of space ('Moon Balloon' by Patrick Cullis, taken 87,000 feet above the ground) and the firey furred-looking surface of the Sun, twisting under magnetic forces (the winner in the Solar System category by Alexandra Hart).
Chris Bramley, a judge for the competition and editor of the BBC Sky at Night Magazine, said: "This year two things stood out for me while judging: the record-breaking number of 2,500 entries from a truly global community of astrophotographers, and the staggering quality of the images – it was regularly hard to believe that many were taken from the surface of the Earth and not a space telescope orbiting our planet."
Click through the gallery below to see more of these awe-inspiring images.
In pictures: Astronomy Photographer of the Year 2014
Show all 24
2014 Winner's list in full:
Earth and Space
James Woodend (UK) with Aurora over a Glacier Lagoon (Winner and Overall Winner)
Matt James (Australia) with Wind Farm Star Trails (Runner-up)
Patrick Cullis (USA) with Moon Balloon (Highly Commended)
Catalin Beldea (Romania) with Totality from Above the Clouds (Highly Commended)
O Chul Kwon (South Korea) with Venus-Lunar Occultation (Highly Commended)
Deep Space
Bill Snyder (USA) with Horsehead Nebula (IC 434)  (Winner)
David Fitz-Henry (Australia) with The Helix Nebula (NGC 7293) (Runner-Up)
J.P Metsävainio (Finland) with Veil Nebula Detail (IC 1340) (Highly Commended)
Rogelio Bernal Andreo (USA) with California vs Pleiades (Highly Commended)
Marco Lorenzi (China) with At the Feet of Orion (NGC 1999) – Full Field (Highly Commended)
Our Solar System
Alexandra Hart (UK) with Ripples in a Pond (Winner)
George Tarsoudis (Greece) with Best of the Craters (Runner-Up)
Alexandra Hart (UK) with Solar Nexus (Highly Commended)
Stephen Ramsden (USA) with Calcium K Eruption (Highly Commended)
Tunç Tezel (Turkey) with Diamond and Rubies (Highly Commended)
Young Astronomy Photographer of the Year
Shishir & Shashank Dholakia (USA, aged 15) with The Horsehead Nebula (IC 434) (Winner)
Emmett Sparling (Canada, aged 15) with New Year over Cypress Mountain (Runner-up)
Olivia Williamson (UK, aged 10) with The Martian Territory (Highly Commended)
Shishir & Shashank Dholakia (USA, aged 15) with The Heart Nebula (IC 1805) (Highly Commended)
Emily Jeremy (UK, aged 12) with Moon Behind the Trees (Highly Commended)
Special Prize: People and Space
Eugen Kamenew (Germany) with Hybrid Solar Eclipse 2 (Winner)
Julie Fletcher (Australia) with Lost Souls (Runner-up)
Special Prize: Sir Patrick Moore prize for Best Newcomer
Chris Murphy (New Zealand) with Coastal Stairways (Winner)
Robotic Scope Image of the Year
Mark Hanson (USA) with NGC 3718 (Winner)
Join our commenting forum
Join thought-provoking conversations, follow other Independent readers and see their replies