Baboons make vowel sounds similar to humans revealing the evolution of language, study finds
Researchers' analysis of the monkeys' grunts, barks, 'wahoos', 'yaks' and copulation calls could have major implications for the evolution of language
Ian Johnston
Wednesday 11 January 2017 21:49 Comments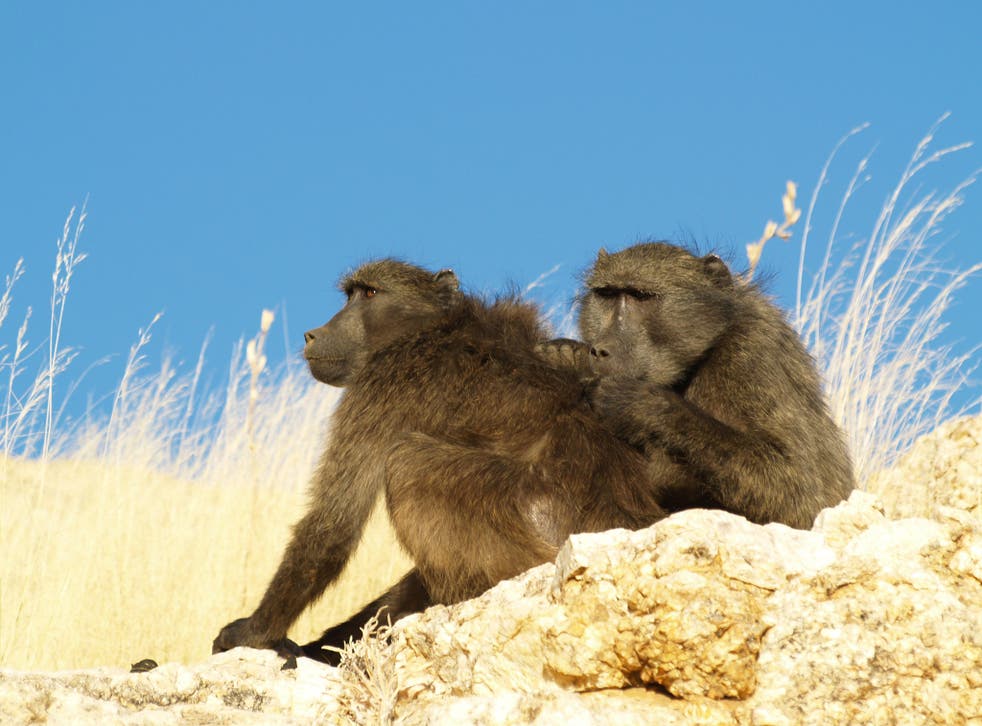 Baboons make five distinct vowel-like sounds much like humans, according to new research which suggests language began to evolve about 25 million years ago, much earlier than previously thought.
It was thought that baboons, a type of monkey, lacked the right kind of larynx to make such a range of sounds.
However an acoustical analysis of their grunts, barks, 'wahoos', 'yaks' and copulation calls found they were capable of remarkably human vocalisations.
Writing in the journal PLOS ONE, Dr Louis-Jean Boë and colleagues said: "Language is a distinguishing characteristic of our species and the course of its evolution is one of the hardest problems in science.
"It has long been generally considered that human speech requires a low larynx, and that the high larynx of non-human primates should preclude their producing the vowel systems universally found in human language.
"Examining the vocalisations through acoustic analyses, tongue anatomy and modelling of acoustic potential, we found that baboons produce sounds sharing the f1/f2 formant [sound frequencies] structure of the human vowels."
They said their research confirmed that hominoids like baboons were capable of making contrasting vowel qualities despite their high larynx.
And Dr Boë, of Grenoble Alpes University, France, argued this had significant implications for the beginnings of the languages spoken by people today.
Previously it was thought that the spoken word originated sometime within the last 70,000 to 100,000 years.
However the researchers wrote in the PLOS ONE paper that their findings suggested "spoken languages evolved from ancient articulatory skills already present in our last common ancestor with Cercopithecoidea, about 25 million years ago".
As part of their work, they listened to some 1,335 spontaneous vocalizations produced by 15 male and female Guinea baboons in different social contexts.
They also studied the anatomy of vocal tracts from two baboons after they had died of natural causes.
Animals in decline

Show all 8
Humans are able to make vowel sounds because they can precisely control the position of the tongue.
The anatomical examinations of the baboons' tongues found they had the same muscles found in humans, suggesting they use a similar technique.
Register for free to continue reading
Registration is a free and easy way to support our truly independent journalism
By registering, you will also enjoy limited access to Premium articles, exclusive newsletters, commenting, and virtual events with our leading journalists
Already have an account? sign in
Join our new commenting forum
Join thought-provoking conversations, follow other Independent readers and see their replies