Baby boomers at risk of becoming problem drinkers in their old age, study says
A survey of pensioners in London found a third of them are regular drinkers
Steve Connor
Monday 24 August 2015 00:18 Comments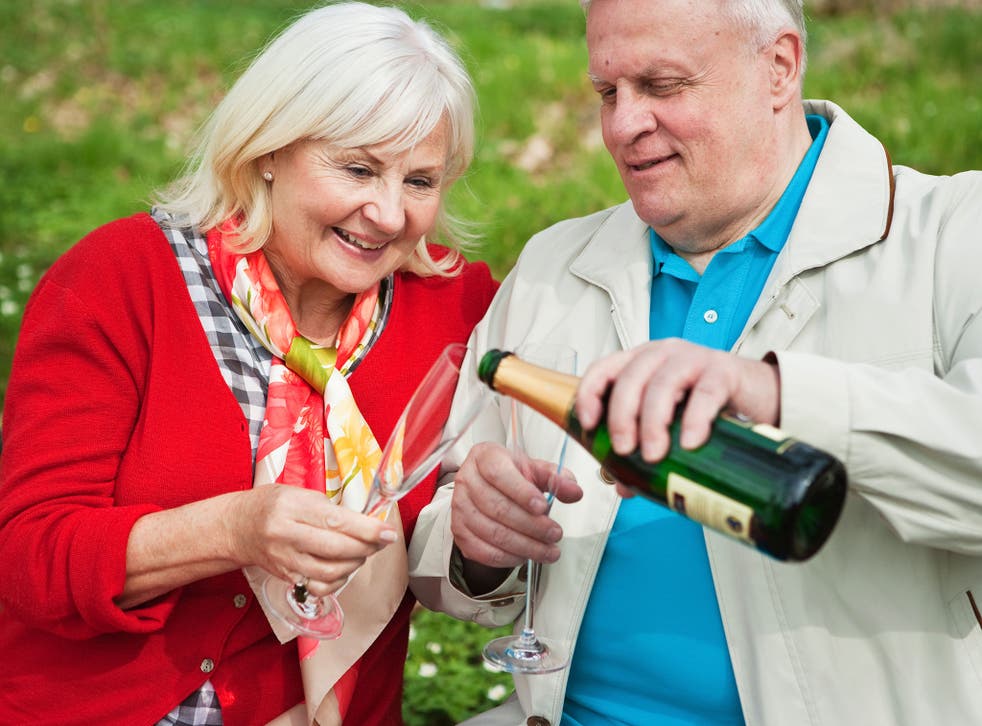 The "baby boomers" are now at risk of becoming problem drinkers in their old age according to a study showing that one in five over-65s who regularly drink alcohol are doing so unsafely.
A survey of nearly 28,000 pensioners in London found a third of them are regular drinkers, and 20 per cent of them are drinking more than the recommended weekly safety limit of 21 units of alcohol for men and 14 units for women.
They found that unsafe drinkers within the age group were more likely to be younger males, white and of higher socio-economic status. Of the 9,248 people in the survey who said they drank regularly, nearly 2,000 were doing so at unsafe levels.
Scientists said that 60 per cent of the regular drinkers and 65 per cent of the heavy, unsafe drinkers were men. People who were ethnically white represented 59 per cent of the study population but accounted for 68 per cent of the regular drinkers and 80 per cent of the unsafe drinkers.
"As the baby-boomer generation become seniors, they represent an ever-increasing population of older people drinking at levels that pose a risk to their health," said Tony Rao of the Institute of Psychiatry, Psychology and Neuroscience at King's College London, and lead author of the study published in the online journal BMJ Open.
"This study shows the need for greater awareness of the potential for alcohol-related harm in older people, particularly those of higher socio-economic status, who may suffer the consequences of ill health from alcohol at an earlier age than those in previous generations," Dr Rao said.
The median alcohol consumption was six units per week for all over-65s who reported drinking. However, the top 5 per cent of alcohol drinkers reported consuming more than 49 units per week for men and more than 23 units per week for women, the study found.
"This research highlights that as GPs we need to be more aware of the risk of older people, especially men, drinking excessively," said Mark Ashworth of King's College London, a co-author of the study.
"Reducing alcohol misuse is important to prevent premature death and serious negative health effects, such as alcoholic liver disease, which are big burden on our health system.
"Alcohol excess carries additional risks in the older population such as falls and confusion," Dr Ashworth said.
"Based on our findings, the elderly who were most at risk were those from the white British population rather than from an ethnic minority, and those who were wealthier and better educated rather than those from a more deprived background," he said.
The researchers warned that the figures for heavy drinking may actually be worse than reported given that most people tend to underestimate how much alcohol they consume each week.
Register for free to continue reading
Registration is a free and easy way to support our truly independent journalism
By registering, you will also enjoy limited access to Premium articles, exclusive newsletters, commenting, and virtual events with our leading journalists
Already have an account? sign in
Join our new commenting forum
Join thought-provoking conversations, follow other Independent readers and see their replies