Beagle 'factory' plan to test coalition's pledge on animals
Activists say vow to cut experiments will be broken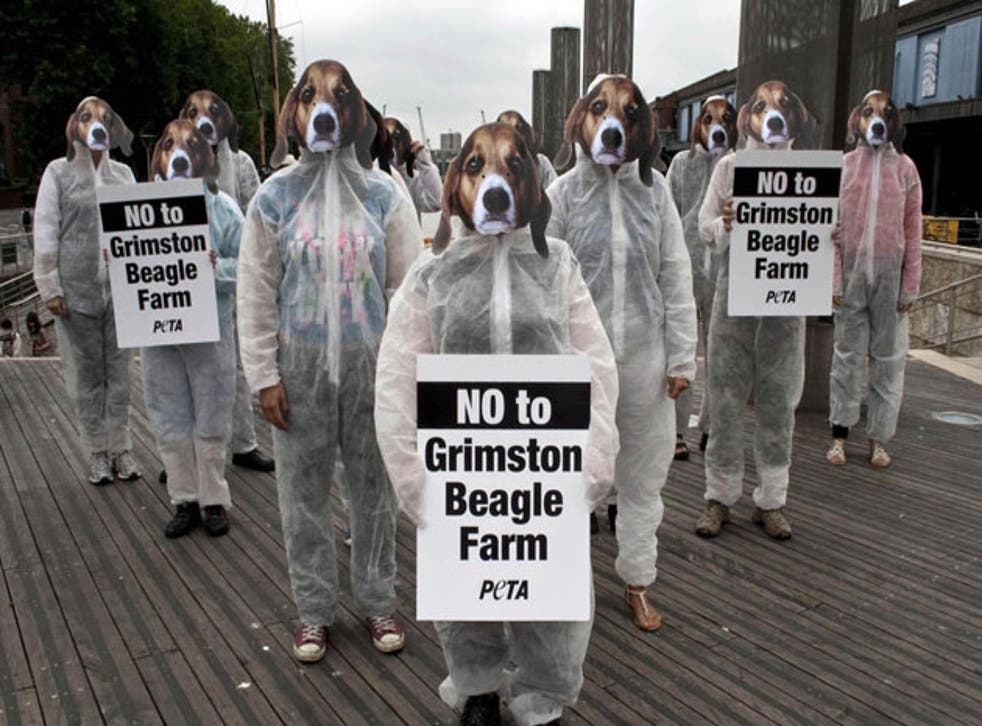 Plans to build Britain's biggest beagle "factory" has prompted protests by animal rights organisations.
Campaigners fear that if the breeding centre – which could hold more than 2,000 beagles bred for scientific experimentation – is allowed to go ahead it will result in government pledges to reduce the numbers of animals involved in experiments being broken.
Tens of thousands of people have objected to plans by a US firm to redevelop a site at Grimston near Hull into what is believed would be the UK's second beagle breeding centre providing dogs for research. Protesters yesterday held demonstrations outside council offices in Beverley, Humberside and the Planning Inspectorate headquarters in Bristol to object to the proposals.
The British Union for the Abolition of Vivisection, which has submitted a petition with more than 28,000 signatures, said the number of dogs used in experiments in the UK may increase due to availability, if the plans are approved. Its chief executive, Michelle Thew, said: "It will make a mockery of the UK's pledge to reduce the number of animals in experiments."
While animal experimentation is at a 25-year high in Britain, with just over 3.7 million scientific procedures started in 2010, the equalities minister Lynne Featherstone pledged earlier this year to "end the testing of household products on animals" and to work to "reduce the use of animals in scientific research". Testing on dogs dropped 2 per cent last year, with a total of 5,782 experiments being made on just over 3,700 dogs – more than 99 per cent of which are beagles.
The multinational company B&K Universal, owned by New York-based Marshall Farms, wants permission to demolish the majority of its existing site and construct four new buildings covering almost 4,000 square metres to house the dogs. The redevelopment is reported to be the only one in the UK without outside exercise areas for beagles.
The local authority, East Riding of Yorkshire Council, refused the first application in June due to traffic concerns, but the company has appealed to the Planning Inspectorate. A decision is expected in a few months.
Centres that breed dogs for experimentation are exempt from main animal welfare legislation but adhere to a code of practice designated by the Home Office. There are 119 registered animal breeding establishments in the UK, but the Home Office refused to reveal the number which bred dogs, saying the information was "commercially sensitive".
It said the majority of the dogs used in the UK for experimentation are used for toxicology testing to ensure the safety of drugs on humans.
A spokesman for B&K said the facility would "reduce the need to import animals from overseas". He added: "The breeding facility will provide modern buildings that will be more conducive to providing socialisation and suitable environmental enrichment for the animals."
Join our new commenting forum
Join thought-provoking conversations, follow other Independent readers and see their replies