'Ultra-intense laser' stops electrons travelling at near-light speed for first time, mimicking black holes
Beam one quadrillion times brighter than the Sun used to produce quantum phenomenon known to occur around astronomical bodies
Josh Gabbatiss
Science Correspondent
Thursday 08 February 2018 16:57 Comments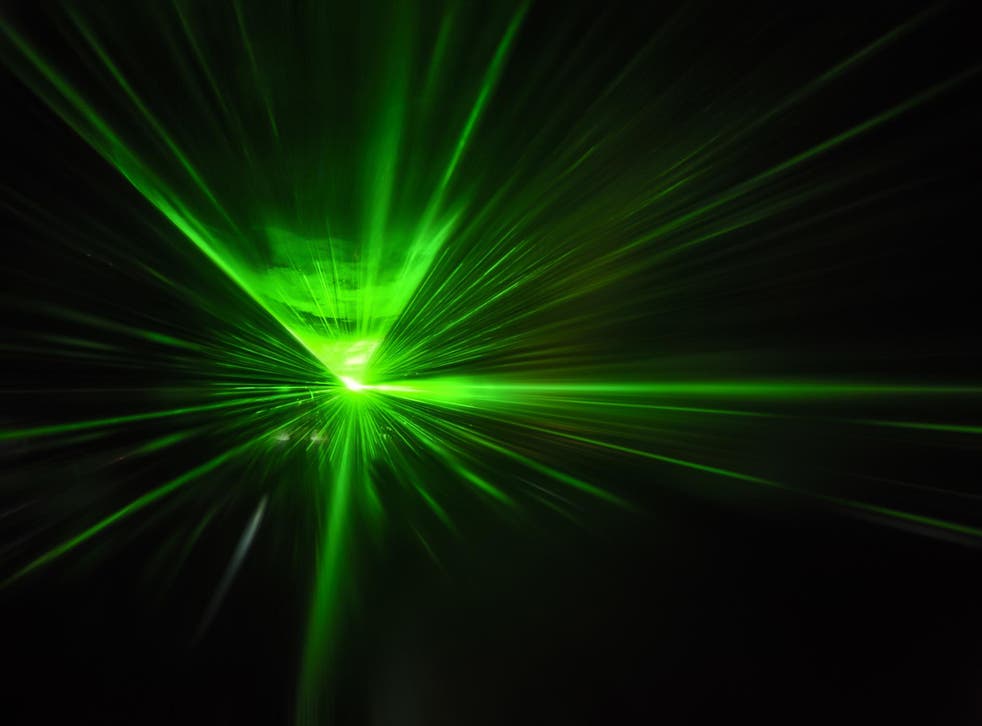 Using a laser beam one quadrillion times brighter than the Sun, physicists have stopped electrons travelling at near-light speeds for the first time.
The experiment produced a quantum mechanical phenomenon that was previously only thought to occur around black holes and quasars.
This effect is termed a "radiation reaction", and measuring how it works in a lab allows scientists to understand the processes taking place around distant astronomical bodies.
Electrons are the negatively charged particles in atoms. Their movement powers electrical devices, and they can also be manipulated to form beams.
Scientists find 'behemoth' black hole that shouldn't exist
When scientists fired an "ultra-intense laser" at another high-energy beam of electrons, they made the electrons shake so violently that they actually began to slow down – a process that required quantum physics to explain.
The light energy had to be delivered rapidly – within 40 quadrillionths of a second.
"Experiments like these are extremely complicated to set up and very difficult to perform," said Dr Dan Symes, a researcher at the Science and Technology Facilities Council's Central Laser facility who co-authored the study.
The scientists used two synchronised high-power beams, one to produce a high energy stream of electrons and another to shoot it.
"Essentially, you need to focus a laser beam as big as an A4 size paper sheet down to a few microns and hit it with a micron-sized electron bullet that's travelling very close to the speed of light."
The results were published in the journal Physical Review X.
"One thing I always find so fascinating about this is that the electrons are stopped as effectively by this sheet of light, a fraction of a hair's breadth thick, as by something like a millimetre of lead," said Professor Alec Thomas, a physicist at Lancaster University who participated in the research.
"That is extraordinary."
The researchers could tell their experiment had worked because the extreme conditions of the experiment caused light reflecting from the beams' collision to shift from the visible part of the spectrum and become gamma rays.
"We knew we had been successful in colliding the two beams when we detected very bright high energy gamma-ray radiation," said Dr Stuart Mangles, the senior author of the study at Imperial College London.
"The real result then came when we compared this detection with the energy in the electron beam after the collision. We found that these successful collisions had a lower than expected electron energy, which is clear evidence of radiation reaction."
To confirm the phenomenon they observed, the research team now intend to conduct more experiments with even higher intensity electron beams.
Register for free to continue reading
Registration is a free and easy way to support our truly independent journalism
By registering, you will also enjoy limited access to Premium articles, exclusive newsletters, commenting, and virtual events with our leading journalists
Already have an account? sign in
Join our new commenting forum
Join thought-provoking conversations, follow other Independent readers and see their replies