Blue Origin New Shepard rocket makes third successful landing
Manned test flights are expected to begin next year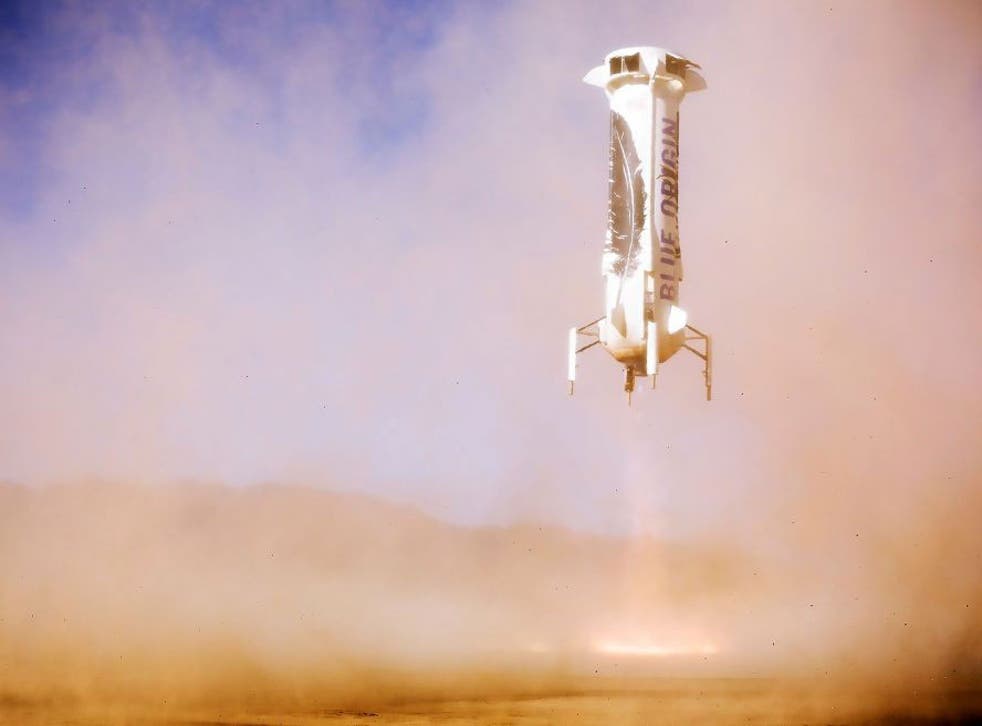 Blue Origin, the private space transport company started by Amazon founder Jeff Bezos, has successfully landed its New Shepard rocket back on Earth for the third time.
The rocket made its first launch in April 2015 but didn't survive the landing after a fault. More successful landings were made in November 2015 and January this year, and the third soft touchdown was made on Saturday in the remote deserts of western Texas.
The New Shepard, named after the first American astronaut Alan Shepard, was carrying an unmanned crew capsule which detached at an altitude of 64 miles and safely parachuted back to Earth.
The capsule contained two microgravity experiments, carried by Blue Origin for the Southwest Research Institute and the University of Central Florida.
Writing on Twitter, Bezos called the craft's flight "flawless," and said its touchdown was "perfect".
Blue Origin's eventual aim is to carry space tourists to sub-orbital altidues in the rocket's capsule, where they can enjoy weightlessness and views of Earth for a few minutes before coming back down to land.
The first manned test flights are expected to take place next year, and paying passengers could be climbing aboard as early as 2018.
The company will also work to deliver payloads like satellites and scientific experiments to space, like their main rival in the commercial space industry, SpaceX.
Blue Origin's rockets differ from traditional spacecraft in one important way - they can actually survive a landing back on Earth.
Launch vehicles used during Nasa's space shuttle launches typically detached at high altitudes and fell back to Earth, disintegrating in the atmosphere and crashing into the ocean.
Nasa unveils space tourism posters

Show all 6
This significantly raised the cost of spaceflight, since completely new rockets had to be built for each launch.
By softly landing upright back on Earth, Blue Origin's rockets can be reused after minimal repairs, making it possible to launch quickly and cheaply.
SpaceX has made successful vertical landings before, with rockets which travelled much deeper into space than the New Shepard. However, Blue Origin is a much smaller company with different aims, so their successful mission is still a major step towards reuseable rockets.
Join our new commenting forum
Join thought-provoking conversations, follow other Independent readers and see their replies