Scientists find some of the genetic variants responsible for increasing womens' chance of breast cancer
Women with a history of the disease in their family are twice as likely to get it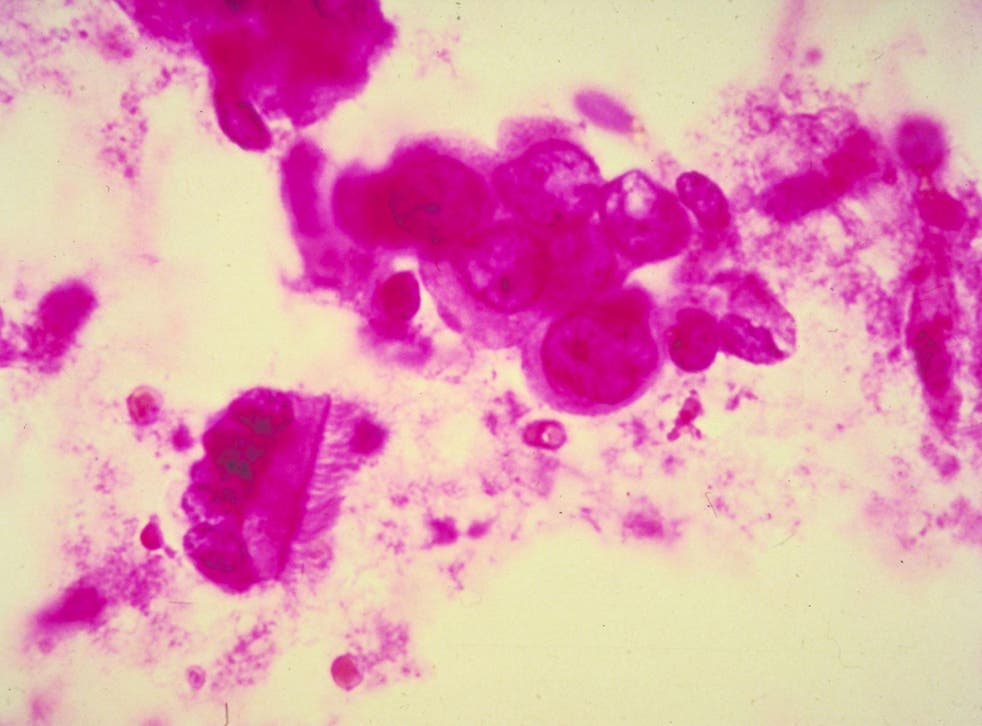 Scientists have found some of the genes that increase the risk of breast cancer.
The common inherited genetic variants, found in people that are more likely to develop the disease, together increase the risk by about a fifth.
Women who have a strong family history of breast cancer have double the chance of developing it themselves. But the exact mechanisms through which that happens remain partially mysterious, and finding them could help identify new ways of screening and treating the disease.
Now researchers working around the world found 65 new variants, according to a new paper. They account for about 4 per cent of that heightened chance.
Health news in pictures

Show all 40
Taken together with the 180 already known variants represents about 18 per cent of the extra risk that people with a history in the family have. The rest still remains mysterious, and hard work continues to identify how the increased risk is passed down.
Another 10 genetic variants were found that are linked to particularly stubborn cancers, which don't respond to hormone treatment. Those might represent a further 16 per cent of the increased chance of such cancers among women in affected families.
The variants are very common – some of them are carried by as many as half of all women.
To find the genetic variations, the OncoArray Consortium – made up of 550 researchers from around 300 different institutions on six continents – analysed genetic data taken from over 275,000 women. Around half of them had been diagnosed with breast cancer.
Professor Doug Easton, one of the lead investigators from Cambridge University, said: "These findings add significantly to our understanding of the inherited basis of breast cancer.
"As well as identifying new genetic variants, we have also confirmed many that we had previously suspected.
"There are some clear patterns in the genetic variants that should help us understand why some women are predisposed to breast cancer, and which genes and mechanisms are involved."
Genetic studies of this sort look for "loci" - regions of DNA that increase the risk of disease.
The loci may contain rogue genes, or DNA sequences that do not contain instructions for making proteins but regulate gene activity.
Pinpointing specific genes is difficult, but the OncoArray scientists were able to make predictions about many target genes - a first step towards designing new treatments.
However most of the new variants found were in gene-regulating regions. When the researchers took a closer look at these, they found distinct patterns specific to breast cancer.
US co-author Professor Peter Kraft, from the Harvard TH Chan School of Public Health, said the findings revealed a wealth of new information about the genetic mechanisms underlying the disease.
"This should provide guidance for a lot of future research," he added.
Around 70% of all breast cancers are fuelled by the sex hormone oestrogen and respond to hormone therapies such as tamoxifen.
Others, known as oestrogen-receptor negative, are not affected by the hormone and are more difficult to treat. Ten new genetic variants linked to these cancers were identified.
The new studies, published in the journals Nature and Nature Genetics, underscored the fact that the two cancer types are biologically distinct and develop differently.
Mutant versions of the two genes BRCA1 and BRCA2 have by far the biggest impact on breast cancer risk.
Inheriting either of these genes raises the lifetime risk of developing the disease by as much as 90% for BRCA1 and 85% for BRCA2. It also increases the risk of ovarian cancer to a lesser degree.
Other genetic variants linked to breast cancer are much less potent on their own, but their effects add up.
Those identified in the new studies are relatively common - some carried by one woman in 100 and others by more than half of all women.
The combined effect of these variants is likely to be "considerable" said the researchers.
They estimate that 1% of women have a risk of breast cancer more than three times greater than that of women in the general population. Combining the genetic factors with hormonal and lifestyle influences was likely to increase the risk further, they said.
Professor Jacques Simard, from Laval University in Quebec city, Canada, another member of the international team, said: "Using data from genomic studies, combined with information on other known risk factors, will allow better breast cancerrisk assessment, therefore helping to identify a small but meaningful proportion of women at high risk of breast cancer.
"These women may benefit from more intensive screening, starting at a younger age, or using more sensitive screening techniques, allowing early detection and prevention of the disease."
Additional reporting by Press Association
Join our new commenting forum
Join thought-provoking conversations, follow other Independent readers and see their replies