Brexit: Scientist behind one of the century's most important discoveries set to leave UK over EU exit
Nobel Prize-winning physicist Andre Geim considers taking research elsewhere as international student applications plummet
Simon Parkin
Monday 21 August 2017 13:08 Comments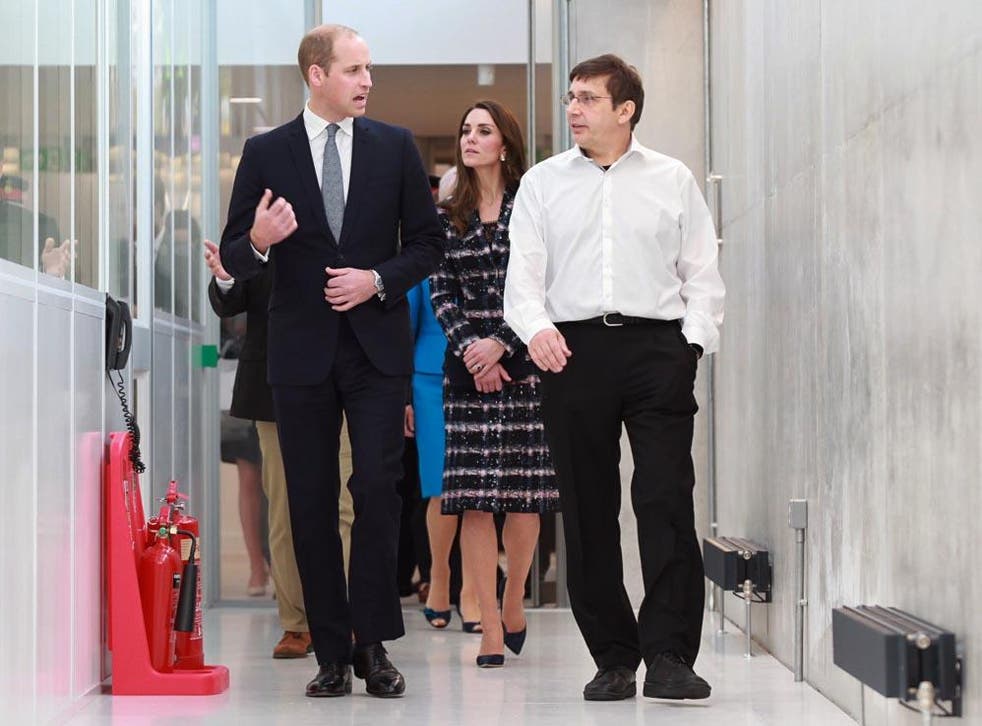 For many years Andre Geim was best known for designing an experiment that looked more like a parlor trick than a serious piece of scientific research. One Friday evening, in a moment of boredom at his Dutch lab, the Soviet-born physicist casually poured a glass of water onto a super-electromagnet. When the water struck the magnet it didn't spill to the floor, as Geim had expected, but instead began to float as a cluster of pristine liquid balls. Geim, with characteristic wit and flourish, published his findings in the April 1997 issue of Physics World alongside a picture he took of a live frog sitting pensively on the levitating droplets.
Shortly after Geim arrived at Manchester University in 2001, he began hosting Friday night sessions for students to conduct what he calls "curiosity-driven research"—a similar way to demonstrate the value of impromptu experimentation. In 2002, following one of these gatherings, Geim's attention was drawn to a ball of used Scotch tape in a nearby wastepaper bin. On it was a grey residue, from where it had been stuck to a piece of graphite. Geim, who specializes in minutely thin materials, placed the tape under an atomic microscope and found the layers of residual carbon were thinner than any he'd seen before. Immediately he suspected he had found graphene, a one atom-thin material (a strand of human hair is between 100,000 and 300,000 atoms thick) that had, until this moment, been only a white whale of speculation among theoretical physicists.
In the subsequent weeks Geim worked 14-hour days with one of his Ph.D. students, Konstantin Novoselov, to discover graphene's extraordinary properties. The material, it turned out, was 200 times stronger than steel; electrons would whisk across its honeycomb-like structure 1,000 times quicker than in copper. The commercial value of the material soon became clear. A clutch of patents illustrate its potential uses: mobile phones with folding screens, ultra-long-life batteries, aircraft wings and high-speed trains. In 2015, to quicken the arrival of these products, Manchester University launched the National Graphene Institute, a project supported by £1 million a year ($1.3 million) in funding from the EU's Graphene Flagship, Europe's largest ever joint research project.
Alchemising research into commerce often takes years. But graphene's world-changing moment may be at hand. The material's hexagonal lattice makes it a potential sieve, one that could be used to filter nanoparticles, organic molecules, and even salt from water. United Nations estimates suggest that, in just eight years, 14 percent of the world's population will encounter water scarcity. Graphene could present a new, affordable, and potentially ubiquitous way in which to turn salt water into drinking water. In a climate-changed world, graphene might even save lives. Geim and Novoselov shared a Nobel Prize in physics for their work on graphene in 2010.
All of this potential came into doubt on June 23, 2016, when 51.9 percent of those who voted in the UK chose to leave the EU. Geim describes himself as a Eurosceptic. Yet he watched the results of Brexit trickle in with a sense of gathering dismay ("At about 4am it became clear that the Remainers were likely to lose," he told me. "I went to bed acknowledging the human species were not very smart animals."). Geim's response was typical of that of many scientists, for whom freedom of movement and cross-border partnerships are indispensable. A Brexit survey run in March by Nature found that of the 907 U.K. researchers who were polled, around 83 percent believed the UK should remain in the EU. Paul Drayson, former minister of science in the Department for Business, told Scientific American: "The very idea that a country would voluntarily withdraw from Europe seems anathema to scientists." In Geim's case, he and most of his engineers are not British by birth. Indian and Chinese nationalities dominate, followed by Russians, Ukrainians, Italians, Spanish and Polish. All of his funding comes from the EU. The Brexit result has cast thick doubt about how money and people will flow to and from the UK.Brexit result has cast thick doubt about how money and people will flow to and from the UK.
Geim washes an old mug in a grimy kitchen in the corridor along from his office at Manchester University. While the 12 months following the Brexit vote have been characterized by confusion about where the U.K. will stand in its future of dogged isolation, Geim seems clear on what will happen next. "Nothing positive can be expected," he says. Geim speaks with an Eeyore-ish languidness, that can, as we move into his office, seem gloomy. "We cannot even expect a neutral outcome anymore," he says. "The question now is simply: to what extent is this going to be a disaster for science in the U.K." Geim suspects the U.K. will be summarily "kicked out of crucial scientific collaborations" such as the European Innovation Council and Horizon 2020, an enterprise touted as "the biggest EU Research and Innovation program ever" which provides almost €80 billion ($94 billion) to researchers seeking to take their ideas "from the lab to the market."
Geim's bracing straightforwardness is born of experience. He came to the U.K. in the late 1980s with just £1 in his pocket. Having served Soviet Russia, Geim knows only too well the risks of blinkered national hubris and isolationism. In practical terms too, he has already seen the effects. Every year Geim receives a steady flow of applications from abroad seeking to join the Marie Curie research program in Manchester. In 2017 he has received no applications at all.
The danger Brexit poses is vast to British scientific research—that long and storied tradition which, from Newton to Hunter, from Turing to Crick, has enabled the U.K. to put its name to a multitude of world-altering discoveries. Sticklers will argue that Newton's discovery of gravity, or Turing's foundational work in computing happened without EU subsidy. But none could seriously contest that British scientists have flourished within the framework the EU has created for collaborative science, and the structures it has provided to facilitate that enterprise.
Even before Brexit, the level of U.K. science spending stood below 0.5 percent of GDP, a lower percentage than any other G8 nation. Loss of additional funding would compound the pressures placed on scientific institutions. Even if the British government manages to compensate for the financial shortfall, the psychological effects of Brexit will linger. In 2015, long before the Brexit vote, Dr. Sara Kendrew, an astronomer at Oxford University, warned of anti-immigrant rhetoric's ambient effects. "Our foreign-born scientists are part of the hidden face of migration in this country," she wrote in The Guardian. "They work extremely hard to teach and mentor students at our universities … and bring in millions of pounds in research funds."
The cri de coeur of Brexit reflects the body politic's diminishing interest in, bordering on outright dismissal of, facts and expertise. As Michael Gove, then U.K. Justice secretary and leading Brexiteer, notoriously put it last year: the people have "had enough of experts." It's a position reflected elsewhere in the world. The election of a TV celebrity and real estate mogul to the office of the U.S. Presidency has ushered in what many perceive to be a systemic assault on the sciences in the Anglo-Saxon world.
There was, for example, Trump's appointment of Scott Pruitt to lead the U.S. Environmental Protection Agency, a man who had previously stated his belief that there was no need for an E.P.A. There was the Trump administration's dismissal of climate change as a reality—scouring all mentions of the term from the White House's website on inauguration day. And don't forget the administration's proposed $620 million (13 percent) cut to the National Science Foundation in its 2018 budget, and a cut of $3.1 billion (22 percent) to the U.S. Department of Health and Human Services, the nation's single largest funder of basic science.
There has been resistance. On April 22, a day to celebrate Planet Earth each year, more than a million people gathered in some 600 cities to stage a March for Science. In Washington, where 100,000 gathered, a sea of bobbing placards displayed slogans ranging from the droll ('Science is Real. Your Alternative Facts are √-1') to the rallying ('Science Belongs To Everyone'). Among the event organizer's 21 stated aims was the desire to affirm science as a "vital feature of a working democracy," and a call for evidence-based policy. How did science, a discipline that works in clear facts and demonstrable data, come to be so viciously contested and politicized?
It wasn't always this way. In 1959 the Republican Dwight Eisenhower named George B. Kistiakowsky, a Harvard chemist, as his Presidential science adviser. The following year, when the presidency passed to Democrat John F. Kennedy, Kistiakowsky continued to serve. His post was considered immune to politics.
In those days, it fell to experts to explain their scientific findings, and to politicians to debate the best way in which to react to those findings. Now, more often, politicians debate not the policy but the facts themselves. "What scares me and many other people in academia is not only the decline in rational thinking," says Geim. "It's also the sense that politicians have started to put ideology in front of pragmatism. Politicians should never do this. They may play the popular vote, but not at the expense of making well-informed decisions."
Geim may as well be talking about Brexit.
Collaborations between U.K. and European scientists were instrumental in the Large Hadron Collider project that discovered the Higgs Boson particle. The Human Brain Project is reliant on U.K. and EU partnerships, as is the European Space Agency. Speaking to the BBC, Paul Nurse, Nobel Prize winner and director of The Francis Crick Institute, said: "Being in the EU gives us access to ideas, people and to investment in science." U.K. scientists currently receive close to £1 billion annually for research from the EU. Professor Robert Young, who leads the research Graphene project at the University of Manchester, estimates that U.K. universities receive €1.60 for every €1 they put in to European research funding. Between 2007 and 2013, the U.K. sector supported EU projects by spending €5.4 billion, and was rewarded in return with funds of around €8.8 billion.
In November 2016, hoping to salve fears within science and academia, British Prime Minister Theresa May pledged £2 billion a year to plug the gap left by EU finding. But since May's failed attempt to solidify her party's lead in the recent General Election, many other campaign assurances have toppled. The government's promise that it will replace EU funding to scientific institutions cannot, Geim says, be relied upon. "Science is always a long game, so any sympathy which is left in the government will be overshadowed by needs to fund other casualties of Brexit: the NHS, public services and so on… There will be real and immediate cuts in funding."
Not everyone shares Geim's pessimism. Before the referendum, the pharmaceutical giant AstraZeneca pledged to build a new research campus in Cambridge for some £500 million. The site will become its home of oncology research, as well as housing scientists focused on respiratory, cardiovascular and metabolic diseases. Work is continuing on the campus, despite the Brexit result, with occupation scheduled for next year. "Cambridge has been a successful place to do science for the last 800 years, and it will be a good place to do science for the next 800 years or more," says Mene Pangalos, executive vice-president of AstraZeneca's Innovative Medicines and Early Development Biotech Unit.
The company has a long history in the U.K., having started pharmaceutical research here in 1936. Around 70 percent of the company's product was developed in the U.K., including numerous cancer medicines. The company currently sells 70 different medicines in the U.K., which may help to explain Pangalos's positive, if measured, perspective. "Brexit hasn't changed our plans," he says. "Our commitment to the U.K. is for the long term."
Nevertheless, AstraZeneca's recent research would have been impossible without the EU. "The development, manufacturing and export of medicines in the U.K. have all benefited from being a part of the EU's collaborative research programs, clinical trials and regulation frameworks," admits Pangalos, "As well as, of course, free movement of goods throughout the EU and to countries where the EU has trade agreements." All of these are threatened by the result of the vote. AstraZeneca currently employs staff from 68 nationalities in the U.K., whose right to live and work here, particularly if they earn less than £35,000 a year, the current threshold that dictates whether or not a non-EU worker is allowed to remain, is threatened. "Science knows no borders, so to invent the best medicines, you need the best people," he says. "We want speedy resolution between the U.K. and EU on the future status of EU nationals currently employed in the U.K. and their families."
As of June, an estimated 150,000 EU citizens who have already applied for permanent residency cards as a means of securing their future in the U.K. will have to apply again for a new "settled status" register. The EU, by contrast, offered a lifetime guarantee that Britons living in Europe could continue to enjoy all rights they held, along with the right to freedom of movement to work or retire in any other EU country of their choice. The contrast between the two offers resulted in Donald Tusk, the president of the European council, warning that Theresa May's plan was so underwhelming it may have damaged the EU's efforts to protect Britons in the EU.
EU nationals who are members of Prospect, the British union for scientists and engineers, are similarly fearful of their right to stay. "Bearing in mind we have significant number of members who are non-U.K. nationals there's an increasingly angry sense that those people are being used as bargaining chips in the Brexit negotiations," Sue Ferns, Prospect's deputy general secretary, told me. "Many organizations are heavily reliant on EU funding and although the government has given some guarantees, science doesn't just work like that. We need longer-term assurances."
Dame Nancy Rothwell, vice chancellor of Manchester University, told me that "undoubtedly" the institution will lose some staff. "It's my job to be optimistic," she said, when I point out the contrast in tone between her and Geim's outlooks. "We recruited a very senior member of staff from Italy the month after the vote, and he just shrugged his shoulders and said, 'I am coming anyway.' But undoubtedly there have been a few who have you know chosen not to come, and of course, we don't know how many have simply decided to not apply at all."
The politicization of science is fraught because, as graphene demonstrates, the road from research to commercial product is often long and never straight. A 1939 essay by Abraham Flexner noted: "Throughout the whole history of science," Flexner wrote, "most of the really great discoveries which had ultimately proved to be beneficial to mankind had been made by men and women who were driven not by the desire to be useful but merely the desire to satisfy their curiosity." This is the familiar pattern of research: years of investigation and experimentation done in the hope that, some day, all that effort will, in some small or extravagant way, change the world.
In pictures: European parliament Brexit discussions

Show all 12
Compared to schools and hospitals, which have clear and immediate benefits, the payback from investment in the tectonic business of scientific research is harder to quantify. "Science faces a huge political challenge right now," says Prospect's Ferns. "Long term projects are vulnerable. The only time this kind of work gets public recognition is when there is a crisis … But you can't turn the tap on and off."
To illustrate the point, Dame Rothwell points to the 2002 winners of the Nobel prize: a trio who became the first to fully sequence the genome of an organism, in this case, a tiny worm. The work took decades, without a clear end benefit, yet was eventually responsible for unraveling aspects of AIDS, arthritis and neurodegenerative diseases such as Alzheimer's. "I always like to quote that story to politicians," says Rothwell. "The work led to massive breakthroughs, but nobody could have predicted it."
For Geim, the Brexit result and its threat to his research and development of graphene is sufficient that he is considering leaving both Britain and the EU. "Just a year ago I was completely settled here, and despite, as you can imagine, many offers from around the world—the best possible places—I turned everything down. Leaving was never even a consideration for me. But during the last few months that has changed… I can only imagine how many others are thinking the same. Singapore. China. There are many options. Maybe it is inevitable? Probably it is inevitable."
Bloomberg
Register for free to continue reading
Registration is a free and easy way to support our truly independent journalism
By registering, you will also enjoy limited access to Premium articles, exclusive newsletters, commenting, and virtual events with our leading journalists
Already have an account? sign in
Register for free to continue reading
Registration is a free and easy way to support our truly independent journalism
By registering, you will also enjoy limited access to Premium articles, exclusive newsletters, commenting, and virtual events with our leading journalists
Already have an account? sign in
Join our new commenting forum
Join thought-provoking conversations, follow other Independent readers and see their replies