Britain has the fewest robots in manufacturing, but Brexit might change that
Cheap immigrant labour may no longer be available for manufacturers; now they're looking to invest in robotics to cut costs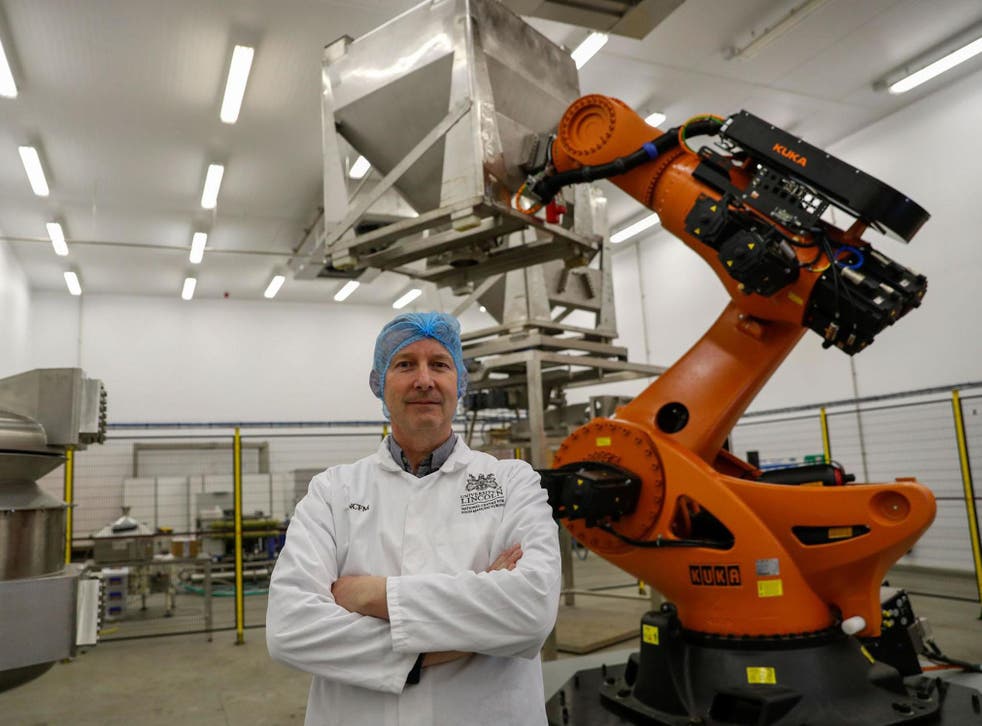 It's 5pm on a wet Wednesday afternoon in the Lincolnshire market town of Spalding and Simon Bradshaw and his partner, Sharna, are taking their daughter to see a new statue commemorating 19th-century hiring fairs for farmers and shepherds.
Their visit says less about a keen interest in agrarian history and more about the Britain of today in the most ardently pro-Brexit region. They say the bronze structure is being vandalised by people from eastern Europe. Sharna, a stay-at-home carer, complains that immigrants have made the town dangerous and overcrowded. "They've no respect," she says.
From Donald Trump's America to Italy and Hungary, the vilification of immigrants is hardly new. But the flipside to the resentment in the UK is that for people who saw Brexit as a defensive wall against incomers, the threat isn't human; it's robot.
Bradshaw, 38, works as a forklift driver at a local food distribution company. Manual jobs like his are commonplace in Lincolnshire, many of which were filled by eastern European migrants in recent years. The irony for those who believed the influx of cheap labour was jeopardising their livelihoods is that they now face having their jobs automated if Brexit yields some of the economic dividend its supporters say it will while curbing immigration.
Britain currently has the lowest density of robots in manufacturing among the G10 nations, partly because businesses opted to use cheap and expanding migrant labour force in the past decade rather than buy new machinery to boost their efficiency.
Companies initially could use robots to fill labour shortages, but in the longer term the threat is that they end up stealing jobs too.
Indeed, the slow pace of adoption is a longstanding problem for Britain's international competitiveness and productivity. In 2017 Britain had just 85 robots per 10,000 employees, compared with 106 on average across Europe, according to the International Federation of Robotics. About half of Britain's robots are used in car manufacturing. The food industry is only just beginning to use them for cutting, moving and packaging products.
But Britain's low robot density also makes it ripe for investment, with 1.5 million jobs at high risk of having some tasks automated, according to the Office for National Statistics. Regions most at risk of losing jobs to robots are also those that voted for Brexit, based on Bloomberg analysis of ONS data.
The area around Spalding had the greatest concentration of eastern European migrants in the 2011 census, and was also the biggest vote of anywhere in the UK for Brexit.
"The robots won't get sick and the robot doesn't need a visa," says Thijs Geijer, senior economist at bank ING Groep. He has found that Britain has 4 per cent of the robots used in Europe's food and drink industry, with Germany and Italy being the continent's main markets.
Robots most threaten "the three Ds", business minister Andrew Stephenson told parliament this month, jobs that are "dangerous, dirty or dull". He said the government was working with individual industries to ensure they used automation in a way that boosted profits and productivity without harming workers. However, there would be jobs lost to robots, he said.
Curbing immigration remains top of the list for many Britons who want to leave the EU. That particularly poses a challenge for food and drink companies, which make up the UK's biggest manufacturing industry. They have relied on EU migrants for almost a third of their combined workforce.
With politicians in Westminster still unable to agree when, how or even if the UK should leave the EU, that's becoming harder. Net migration from the EU has fallen to its lowest in a decade.
"Businesses are having to ensure they use their work force effectively and find alternative ways of performing tasks for which they do not have labour," says Mike Wilson, chair of the British Automation and Robot Association. "Robot automation being an obvious solution."
With Nigel Farage's new Brexit Party topping the polls in the European parliamentary elections, Lincolnshire encapsulates the disillusionment with the government 100 miles away in London more than most places.
In places like this, workers feel immigration is something that happens to them, rather than something they can be part of, according to John Curtice, professor of politics at the University of Strathclyde. "They feel culturally isolated," he says.
About a third of Britain's food touches Lincolnshire in some way, according to the local government. The countryside is an expanse of potato, rapeseed and tulip fields, interspersed with truck stops and food manufacturers like canning factory Princes Ltd sitting alongside the wide roads.
Spalding was where barcodes were first trialled in a British supermarket in the 1979, but the town certainly doesn't look like it's on the brink of an industrial and political revolution that could alter it for good.
The statue that piqued the interest of Bradshaw and his family stands amid 18th-century houses and a pub that boasts that it once hosted the philosopher Jean-Jacques Rousseau, interspersed with new stores catering to the town's more recent Polish and Lithuanian arrivals.
Despite high employment, just 17 per cent of people in South Holland, the area around Spalding, have specialist training for technical roles or management, less than half the UK average.
For the food and drink companies that populate the area, there's a perfect storm of tightening profit margins caused by the growth of discount retailers and now a US-China trade spat that's pushing up the cost of raw materials.
"With no investment and prices always being driven down, there was no room for investment,'' says Chris Brooks, a product development chef at Olympus Automation Ltd, which is working with local companies and the University of Lincoln to test its "robotic chef".
The aim is to replicate the work of humans on an industrial scale and with extreme accuracy, but without needing breaks or making mistakes. "Companies have got to breaking point where it's a case of 'which way do I go? I either go under or I invest'," Brooks says.
International trade secretary Liam Fox has said such technology could drive another revolution in manufacturing, boosting Britain's woeful productivity level, which lags about 20 per cent behind peers in the G7 nations.
Chinese automaker BYD is already selling driverless forklifts to Volkswagen, General Motors and Toyota. But Bradshaw reckons his job as a forklift driver in Spalding is safe because a robot couldn't do the same work. It requires a human to pick and mix the right pallets of products, he says.
"One pallet would be apples and another would be chocolate biscuits and a robot wouldn't be able to tell the difference," says Bradshaw. "You've got to check everything is different, and with robots everything is the same."
Lucy Meakin contributed to this report
© Bloomberg
Support free-thinking journalism and attend Independent events
Join our new commenting forum
Join thought-provoking conversations, follow other Independent readers and see their replies