Cancer breakthrough: Scientists develop 'smoke detector' test that can spot disease before symptoms are noticeable
'This could have huge potential, as early diagnosis is a key factor in survival rates'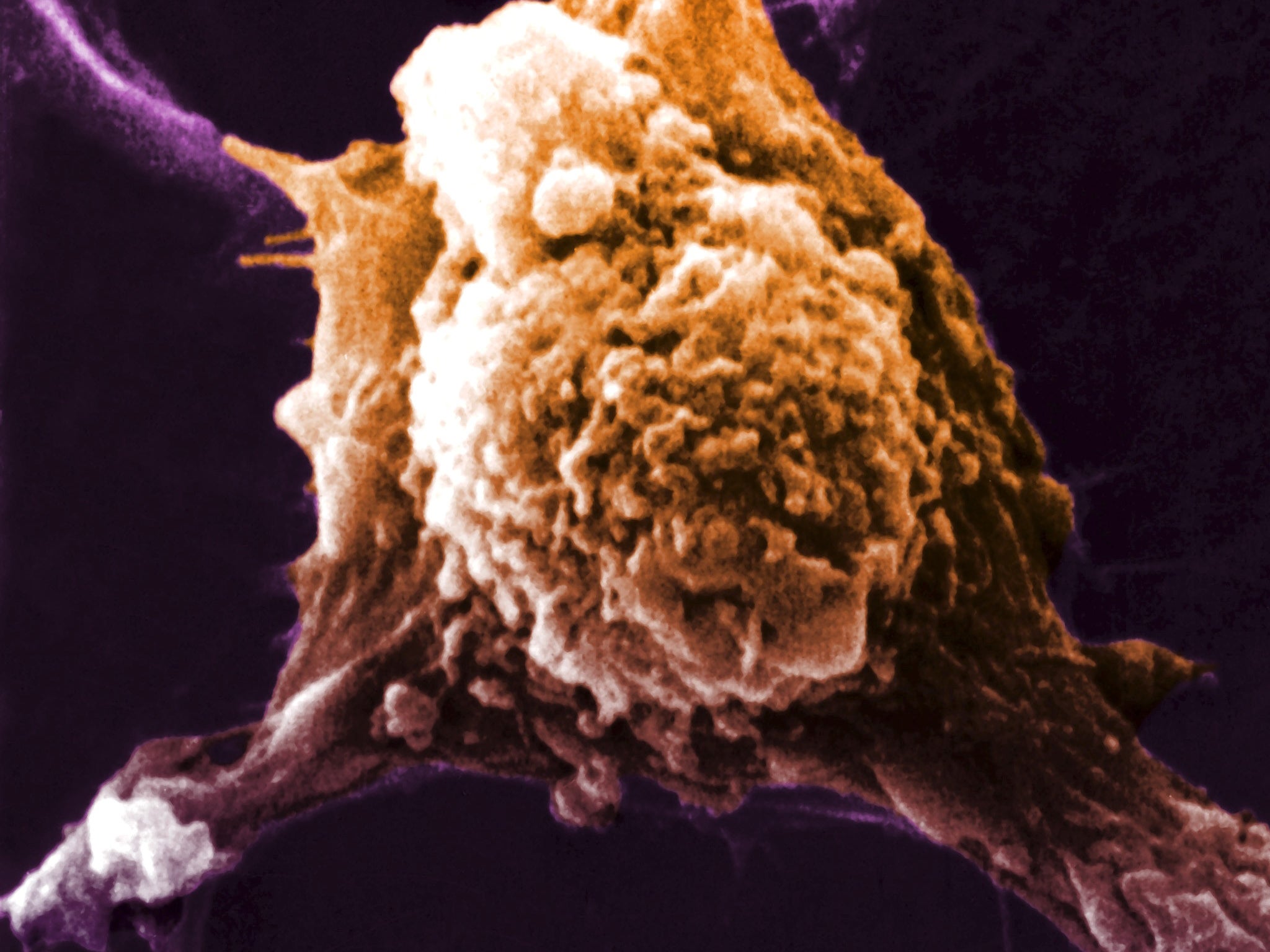 A simple blood test that can detect cancer before any symptoms are noticeable has been developed by researchers in a breakthrough that could save thousands of lives.
The scientists, who unveiled the test at the British Science Festival in Swansea, compared the new test to a smoke detector, because it does not actually find cancer but changes to red blood cells that occur when cancer is present.
Discovering cancer early is a key factor in successful treatment.
If a tumour is caught in a single part of the body, there is a much better chance that it can be removed surgically.
If the cancer has spread to other organs, the chance the patient will die is much higher.
Because it is a simple blood test costing just £35, it could be used to monitor people with a high risk of getting the disease.
Professor Gareth Jenkins, who led the study, said: "The test can be likened to a 'cancer smoke detector' because a smoke detector does not detect the presence of fire in our homes but its by-product – smoke.
Big Bang Theory cast films skin cancer awareness campaign in memory of young fan
"This test detects cancer, by detecting the 'smoke' – mutated blood cells.
"The old adage of no smoke without fire also applies to 'no cancer without mutation', as mutation is the main driving force for cancer development."
The researchers, from Swansea University Medical School, said the test could detect cancer before there are any noticeable symptoms.
"This could have huge potential, as early diagnosis is a key factor in survival rates," a statement issued about the research said.
The test takes a few hours with standard laboratory equipment.
The researchers worked on developing the test over the past four years, studying 300 healthy people, patients with signs of pre-cancer and patients with the oesophageal form of the disease.
13 ways to help prevent cancer
Show all 13
The test detects mutations in proteins on the surface of red blood cells.
In healthy people, the number of mutations of this type averages about five per million, but in cancer patients there can be 50 to 100 mutants per million.
These mutations do not have a role in the development of cancer, with the researchers describing the effect as "collateral damage" caused by the disease.
"The benefit of the blood cell mutation is that it can be monitored in a simple, efficient, and non-invasive way," the statement said.
Professor Jenkins said one of the reasons why oesophageal cancer was so deadly was that it was often diagnosed late. The average patient lives for about a year after diagnosis and just 15 per cent live for five years.
There are some 7,000 cases a year in the UK and Professor Jenkins said those people would be "pretty pleased" to have had a test capable of detecting the disease at an early stage.
Asked how significant the test would be if it worked for all cancers, he said: "With any cancer, if it is caught early enough and surgically removed, that is the biggest impact you can have on the outcome of a cancer diagnosis.
"I would think it would have a massive effect."
They are now beginning research to see if pancreatic cancers can be detected in the same way, and seeking funding to enable further work to be done.
Professor Jenkins said they needed to find evidence that it would work for other cancers, but added it would be hard to imagine that it would not.
"It would be really difficult to think why it would only affect oesophageal cancer," he said.
Dr Áine McCarthy, Cancer Research UK's senior science information officer, said: "Finding new ways to detect cancer early – especially cancers that are hard to treat like oesophageal cancer – is vital to improve survival.
"That's why studies like this, which used blood samples to detect background DNA damage as a sign of cancer, are exciting because they could lead to more oesophageal cancers being diagnosed in the early stages.
"But larger scale studies are needed to confirm the results and show the test is reliable before it can be used in the clinic."
Join our commenting forum
Join thought-provoking conversations, follow other Independent readers and see their replies