Meal portion guide reveals 80% of parents overfeed their children
Nutritionists warn of more pre-school children at risk of obesity than ever before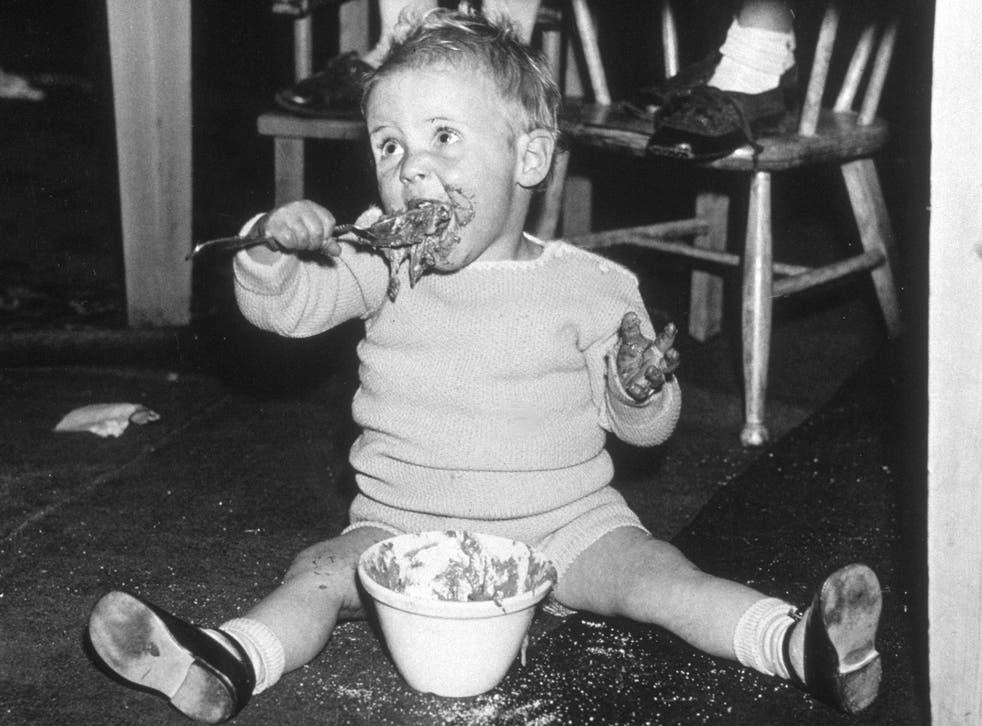 A meal size guide for children and toddlers has been launched to encourage parents to cut portions, as nutritionists warn more pre-school children are at risk of obesity than ever before.
A survey of 1,000 British parents found that 79 per cent routinely give their children meal portions which are larger than recommended by scientists, the Infant and Toddler Forum revealed.
The forum released an illustrated guide to portion sizes and a food tracker alongside its #rethinktoddlerportionsizes campaign, showing parents precisely how many spoonfuls or slices they should be serving at mealtimes.
No more than five tablespoons of pasta, five tablespoons of rice or four tablespoons of mashed potato should be served for dinner to a child between the ages of one and four, the guidelines state.
The guide also warns against giving toddlers too many raisins and cornflakes during the day "because of their sugar content", and says sweets and chocolate should strictly only be consumed "once a week".
In terms of meat, only processed ham, sausages and minced meat are recommended for toddlers by the guide, while the consumption of fresh fish and eggs in reasonable portions is encouraged.
Judy More, pediatric dietician and member of the ITF, told the Independent: "We felt it was time to put out some clear information so parents feel more confident with what portions they are giving their children.
"A big part of this has been reassuring parents that they are in fact feeding their children enough, as this has emerged as a major concern for them. The portions we are suggesting date back to a time in the 1990s, when childhood obesity was not such a problem as it is now.
"We always say to parents, if your child is gaining weight safely and gradually, that is perfectly healthy and you should always allow them to eat to their appetite."
Meanwhile the survey additionally revealed 36% of parents use unhealthy food and drink as a "pacifier" to calm young children down, with only 25% worried about their child becoming obese in the future.
73 per cent of parents said they were worried their children do not eat enough, while 71 per cent admitted they routinely offered their child a bigger portion of crisps than is recommended.
Gill Harris, a child psychologist and ITF member, said: "Most toddlers are naturally better than older children and adults at regulating their food intake.
"They usually only eat what they need and don't overeat. However, portion size is critical. It's one of the main ways in which, as parents, we can inadvertently override children's self-regulation systems.
"Larger portions form our acceptance about what is an appropriate amount to eat and this becomes the 'norm'.
"In other words, how much you offer often determines how much your child will eat and habits learned in early life generally tend to persist."
Last November, statistics from the National Child Measurement Programme found over a fifth of British pre-school children are overweight or obese.
By the time the children reach the age of eleven, 33% are still above average weight.
In May scientists from King's College London announced they had found no significant link between eating dinner after 8pm and obesity in children, despite initial concerns.
Register for free to continue reading
Registration is a free and easy way to support our truly independent journalism
By registering, you will also enjoy limited access to Premium articles, exclusive newsletters, commenting, and virtual events with our leading journalists
Already have an account? sign in
Register for free to continue reading
Registration is a free and easy way to support our truly independent journalism
By registering, you will also enjoy limited access to Premium articles, exclusive newsletters, commenting, and virtual events with our leading journalists
Already have an account? sign in
Join our new commenting forum
Join thought-provoking conversations, follow other Independent readers and see their replies