Influenza drug 'good contender' for at-home treatment against Covid-19
The government has promised to 'supercharge' the search for and development of a new generation of drugs that can be taken by Covid sufferers within their own homes
Samuel Lovett
Science Correspondent
Wednesday 21 April 2021 17:50 Comments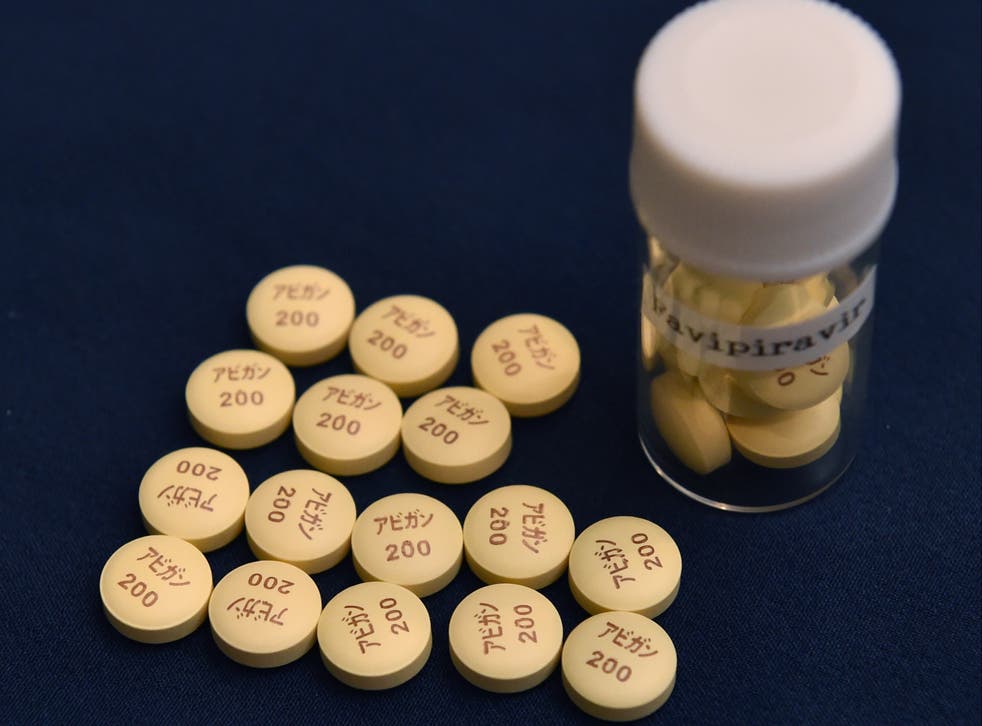 Leer en Español
An antiviral typically used to treat influenza is a "good contender" for a drug that could be taken at home by people infected with Covid-19, according to a scientist who is trialling the medicine.
Favipiravir, licensed as a flu treatment in Japan since 2014, has already shown potential in reducing lung damage in hospitalised Covid patients and speeding up the time taken to clear the virus from the body.
But two UK trials, in Glasgow and London, are investigating whether the drug could be taken by people in the community before their disease has progressed, therefore keeping them out of hospital.
The government has promised to "supercharge" the search for and development of a new generation of easy-to-take, at-home drugs that can reduce transmission and quicken recovery from Covid-19.
A new taskforce, modelled on the team behind Britain's vaccine procurement programme, is to oversee this work. It intends to deliver two effective treatments - offered in tablet form - to the public as early as autumn.
Favipiravir is seen as a leading candidate, and is currently being trialled in 302 patients in a Scottish study led by Dr Janet Scott, a clinical lecturer in infectious disease at the University of Glasgow.
Her work begun long before the pandemic, with intentions of initially using the drug to treat Lassa fever, but attention subsequently turned to Covid-19 at the beginning of 2020.
Now, Dr Scott is hopeful that her trial will be able to show that favipiravir can effectively treat Covid sufferers from within their homes.
"Most antivirals are better used when the virus is in a period of fast replication, before it actually gets to overwhelm the body and before the immune response is the main thing driving disease," she told The Independent. "That's why they're so much better earlier on in disease than later on."
Dr Scott said she believed people who are more vulnerable to Covid-19, including the elderly and those with comorbidities, would benefit most from favipiravir - if it's proven to be effective.
"Our ideal target is people who are at higher risk of getting severe disease," she added. "If you're 18 and you get Covid, chances are it's going to be milder - though I can't speak for Long Covid.
"Whereas if you're 75 and you get a bit of a cough, and it turns out you've got Covid, then you've got a fairly high chance that that will be a significant event for you. Those are the people who could really benefit from a pill early on."
After the government said it will be channeling more resources and money into developing antiviral treatments, Dr Scott is hopeful that she will be able to expand her current trial and deliver results as soon as possible.
"If you get the volunteers, this trial could be done very quickly," she said. "It's been challenging to get space to see patients, research nurses to work on the trial. I'm hoping this announcement will turn that around a bit and we'll be able to move the trial around quite quickly now."
Dr Scott said that favipiravir is the only at-home, tablet-based candidate of its kind that has shown promise against Covid-19.
Other encouraging treatments in development, such as monoclonal antibodies, have to be administered intravenously via a drip. Budesonide, which shortens the recovery time of Covid sufferers who do not need hospital treatment by an average of three days, has to be inhaled via an inhaler.
"Are we really going to use IV drugs for mild disease in the community? What we need is a pill that people can get from the pharmacy and have at home, and as soon as you have symptoms, it's well-tolerated enough to start taking it immediately," said Dr Scott.
Given its use in Japan, plenty is already known about the safety profile of favipiravir too, she said, adding that it has few side effects.
"We need something that is so benign in terms of it not causing side effects, that it's not a big deal if you take it and you don't have Covid. Favipiravir is a good contender for that.
UK news in pictures

Show all 50
But it also needs to be effective. And what we don't know, as we haven't got the clinical results from the trials, is whether it is effective."
Small studies conducted last year on hospitalised patients in China returned promising results. The drug was shown to reduce lung damage and accelerate the speed at which Sars-CoV-2 is cleared from the body. Those findings were the "basis of us going ahead with our own trial," said Dr Scott.
Unlike other proven treatments for Covid-19, which reduce the severity of symptoms seen in those suffering from severe disease, favipiravir prevents the replication of the virus once its entered into the body's cells.
It inserts faulty genetic material into Sars-CoV-2, which is an RNA virus, that means it can no longer properly replicate and spread any further throughout the body. The earlier this process of multiplication is disrupted, the better chance an individual has of avoiding a serious infection.
Register for free to continue reading
Registration is a free and easy way to support our truly independent journalism
By registering, you will also enjoy limited access to Premium articles, exclusive newsletters, commenting, and virtual events with our leading journalists
Already have an account? sign in
Join our new commenting forum
Join thought-provoking conversations, follow other Independent readers and see their replies