Molnupiravir: New Covid drug cuts risk of death by 50 per cent, early trial results show
'It exceeded what I thought the drug might be able to do in this clinical trial,' company official says
Samuel Lovett
Science Correspondent
,
Zoe Tidman
Saturday 02 October 2021 14:28 Comments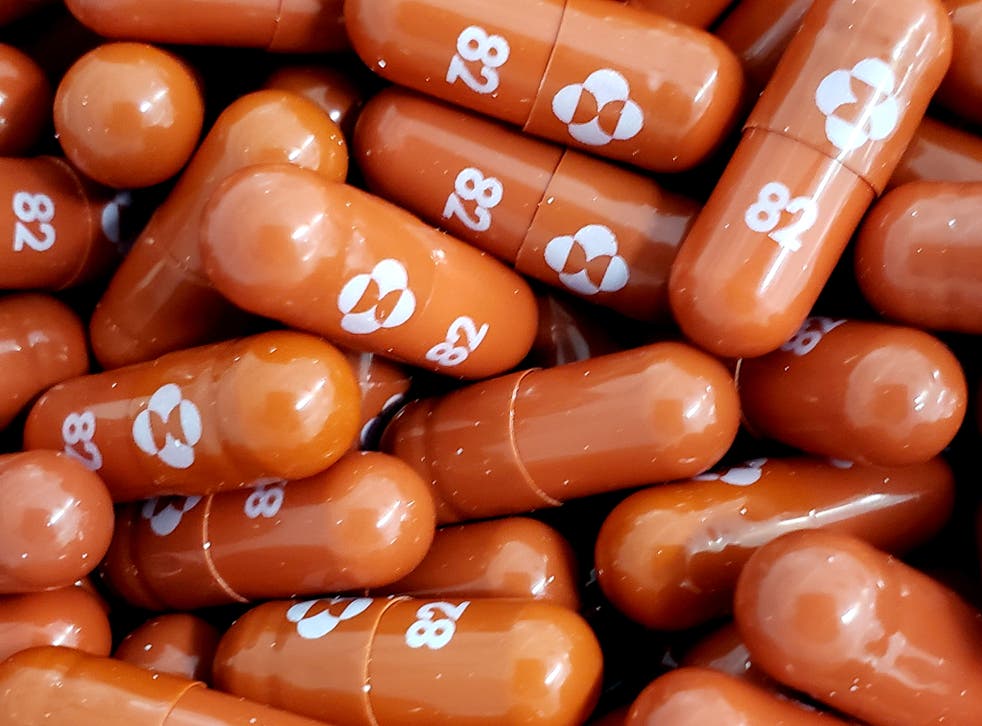 An antiviral drug originally developed to treat influenza reduces hospitalisation and death from Covid-19 by 50 per cent in patients recently infected with the virus, early trial results suggest.
It is is hoped the drug, consumed as a pill, will be able to play a major role in treating people who test positive for Covid and prevent their infection from culminating in severe disease.
The drug, known as molnupiravir, is manufactured by the pharmaceutical company Merck, which said it intends to apply for emergency use authorisation in the US within the next two weeks.
In the UK, the chair of the antivirals taskforce has hinted at the government's interest in buying supplies of the drug, given its potential in keeping infected people out of hospital.
"We are involved in looking closely at all of the options available, but we're really not in a position to give out the details around specific conversations at this moment in time," chairman Eddie Gray told a briefing after Merck's results were published.
Molnupiravir works by interfering with an enzyme that the virus uses to replicate, thereby preventing it from further spreading throughout the body.
If authorised for use, it will be the first oral antiviral medication for Covid-19. There are currently two approved ways of treating the disease: using steroids, such as dexamethasone, or by administering lab-designed antibodies intravenously.
Data from Merck's trial is specific to 775 adults with mild to moderate Covid who were deemed at higher risk from serious disease due to health problems such as obesity, diabetes or heart disease.
Among the half of patients taking molnupiravir twice a day, 7.3 per cent were admitted to hospital over the course of 30 days. This compares with 14.1 per cent of the second group of patients who were given a placebo pill.
The drug also appeared to lower the risk of mortality by half, though the numbers are small and experts have cautioned against over-interpreting the data. There were no deaths among the molnupiravir group, while eight of those who received the placebo died from Covid.
Upon seeing the results, the US medicines regulator recommended stopping the phase three trial early to begin the process of applying for emergency authorisation.
"It exceeded what I thought the drug might be able to do in this clinical trial," Dr Dean Li, vice-president of Merck research, said about the interim findings. "When you see a 50 per cent reduction in hospitalisation or death, that's a substantial clinical impact."
Peter Horby, a professor of emerging infectious diseases at the University of Oxford, said the interim results are "very encouraging".
"A safe, affordable, and effective oral antiviral would be a huge advance in the fight against Covid," he added.
Prof Horby indicated that he would like to assess molnupiravir as part of the UK's Recovery trial, which aims to identify drugs that could be used to treat adults admitted to hospital with Covid-19. The trial previously discovered that dexamethasone reduces mortality in hospitalised patients.
"It will need to be studied in hospitalised patients, too, if we thought it would benefit them," he told The Independent. "It would be something that, based on what we've seen, we would be interested in looking at including in the Recovery trial."
Merck's vice-president for infectious diseases discovery, Daria Hazuda, said the company was "committed to making this drug rapidly available in the UK".
However, Mr Gray refused to provide more details when pressed on this during Friday's press conference. "The emergence of phase three data tends to accelerate all processes of this type, but I couldn't give you a specific date," he said.
Nonetheless, he hinted that the UK would look to buy the drug, adding: "I have chosen to turn up today to be here. Read into that what you wish."
UK news in pictures

Show all 50
A course of molnupiravir is estimated to cost £500. Merck has said it will only be able to make 10 million courses of treatment before the end of the year, 1.7 million of which are reserved for the US.
Penny Ward, a visiting professor in pharmaceutical medicine at King's College London, said the "availability of a well-tolerated, effective oral antiviral will be particularly useful in supplementing vaccination as a means to reduce the proportion of patients needing hospital care".
She added: "It is greatly hoped that the antiviral taskforce has, like the vaccines taskforce, pre-ordered courses of this medication so that the UK can, at last, properly manage this condition by treating vaccine breakthrough disease and relieve pressure on the NHS during the forthcoming winter."
Register for free to continue reading
Registration is a free and easy way to support our truly independent journalism
By registering, you will also enjoy limited access to Premium articles, exclusive newsletters, commenting, and virtual events with our leading journalists
Already have an account? sign in
Join our new commenting forum
Join thought-provoking conversations, follow other Independent readers and see their replies