AstraZeneca picks up new vaccine technology originally intended to target Covid
Hopes for one day treating cancer, heart disease and respiratory illnesses using new vaccine platform
Samuel Lovett
Thursday 23 September 2021 15:14 Comments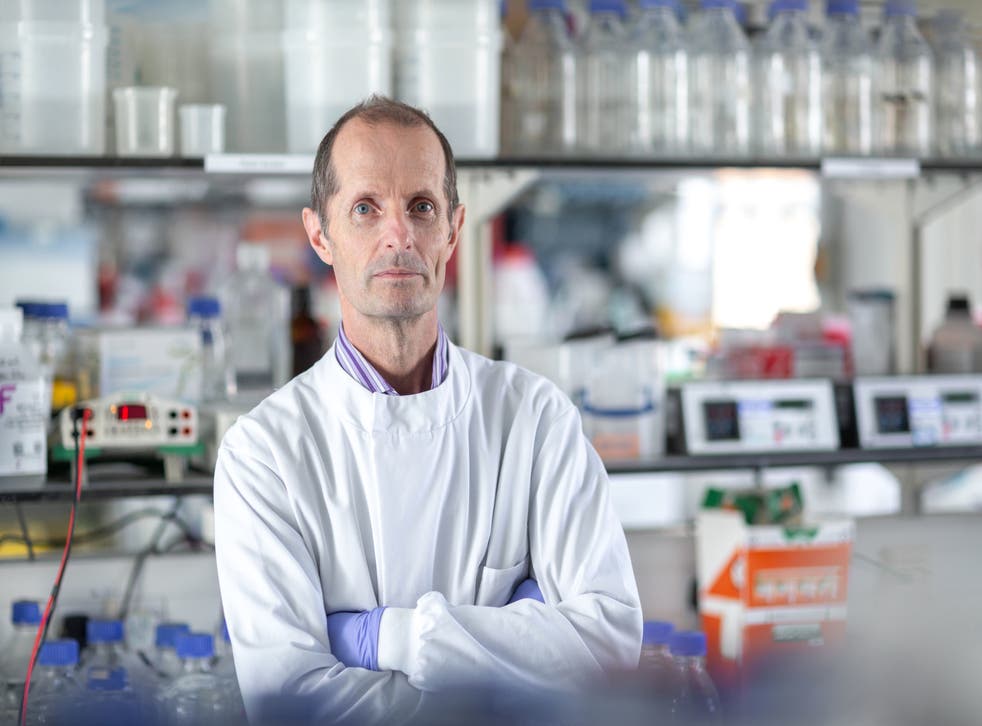 Leer en Español
Scientists at Imperial College London are partnering with AstraZeneca to develop a new vaccine technology - originally intended for targeting Covid-19 - that will aim to treat cancer, heart conditions and other non-infectious diseases and illnesses.
The vaccine platform works by delivering genetic material called self-amplifying RNA to human cells, which are then trained to recognise and respond to infection.
Professor Robin Shattock, an immunologist at Imperial, utilised this technology at the beginning of the pandemic to design a Covid-19 jab. However, it never progressed further than stage two clinical testing due to the success of the UK's wider vaccination programme.
Now, AstraZeneca has entered into a "long-term" collaboration with Prof Shattock's team and intends to further develop the technology for treating conditions and illnesses beyond Covid.
"We have clinical data that is good for the technology but it needs to be improved on," Prof Shattock told The Independent. "AstraZeneca want to take our approach and advance it. They see the potential of the platform."
For Covid-19, the Imperial vaccine originally coded for the spike protein structure found on the surface of Sars-CoV-2. Once injected, this generates the immune system to produce the necessary antibodies and T cells, leaving behind a strong layer of protection against Covid-19.
However, the platform is unique in that it uses self-amplifying RNA, which not only encodes the Sars-CoV-2 spike protein but also makes copies of itself once injected into humans, generating more of the original message.
"It's a bit like having a photocopier," said Prof Shattock. "After amplification, you've got thousands of these plans which are then passed around."
It's hoped the same chain of events can be used to teach the body to identify other foreign threats or internal malfunctions, such as cancer, and then neutralise them via trained immunological cells.
Prof Shattock said his team, alongside experts at AstraZeneca, would be working to apply the self-amplifying RNA to a range of disease areas.
"Beyond infectious disease, there's the likelihood to look at protein replacement therapy, oncology, cardiology - it'll be a wide spectrum," he said.
"We'll be going after multiple targets. Some may be low-hanging fruits and may be more aggressively pushed into the clinic, while others will require more work. It's difficult to predict which targets will deliver a home run."
He said there were no plans for human trials at this stage, with the immediate focus on first optimising the vaccine platform in the lab and determining whether it will be successful in treating the likes of cancer or heart disease. "We haven't set a timeline for being back in the clinic," said Prof Shattock.
The agreement with AstraZeneca will support the Imperial team with research and development funding for up to 26 different drug targets.
UK news in pictures

Show all 50
"We have all seen how technologies based around RNA have been fundamental to preventing ongoing severe disease and death in major global pandemics," said Prof Shattock. "The prospect of further therapeutic applications adds to this technology's great potential."
Professor Alice Gast, president of Imperial College London, said: "I am deeply proud of my colleagues' work in pioneering self-amplifying RNA technology.
"This collaboration will help realise our ambition of building a lasting legacy from the great scientific advances Imperial made in this pandemic."
Register for free to continue reading
Registration is a free and easy way to support our truly independent journalism
By registering, you will also enjoy limited access to Premium articles, exclusive newsletters, commenting, and virtual events with our leading journalists
Already have an account? sign in
Join our new commenting forum
Join thought-provoking conversations, follow other Independent readers and see their replies