Eight-week dose interval a 'sweet spot' for Pfizer vaccine, say scientists
A new study has shown that a longer dosing interval with the Pfizer jab generates more neutralising antibodies and 'helper' T cells against the Covid virus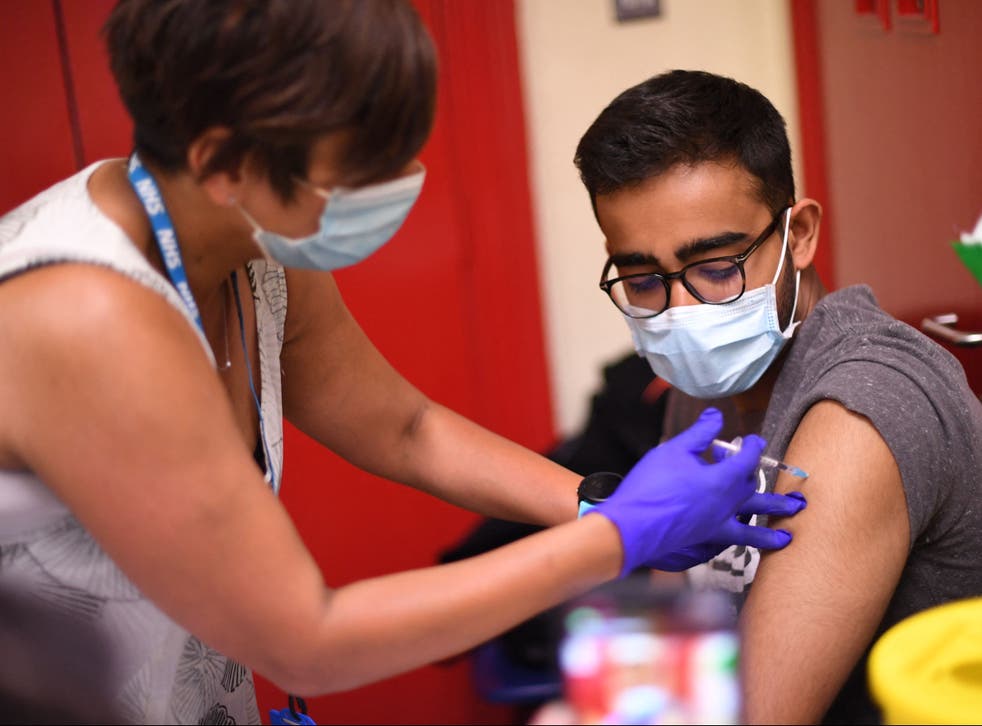 Waiting eight weeks between a first and second dose of the Pfizer vaccine is a "sweet spot" for providing protection against Covid-19, scientists have said.
As part of a new study examining the immune responses generated by the jab, researchers found that a longer dosing interval generates more neutralising antibodies and "helper" T cells against Delta and other variants of concern than a 3-week regimen.
Although the Pitch study – led by a consortium of British universities and part-funded by the government – focuses on 3-week and 10-week dosing intervals, the scientists said their findings support the decision of UK health officials to offer second jabs to people after eight weeks.
As cases of the Delta variant continue to surge, the Joint Committee on Vaccination and Immunisation (JCVI) has faced pressure to reduce the interval between first and second doses to ensure more people are fully protected.
But the data suggests there is good cause to wait at least eight weeks to receive a second jab, according to Dr Lance Turtle, a senior clinical lecturer in infectious diseases at the University of Liverpool, who was involved in the Pitch study.
He said there is a "trade off" between "wanting to have as many people immunised as fast as possible versus getting the highest response possible", adding: "You can't have both of those things unfortunately."
"Eight weeks to me seems like a reasonable compromise," he told a science briefing on Thursday.
The Pitch study, which has yet to be peer-reviewed, examined how antibody and T cell levels change over time in UK healthcare workers following either a "short" (3–4 weeks) or "long" (6–14 weeks) interval between the first and second dose of the Pfizer vaccine.
Of the 503 healthcare workers recruited to the study, 223 (44 per cent) had previously been infected with Sars-CoV-2, the virus that causes Covid-19.
For the long interval cohort, blood samples were taken and assessed before, during and after vaccination. For those who received both seconds within four weeks, samples were taken before and after.
Following two vaccine doses, neutralising antibody levels were twice as high after the longer dosing interval compared with the shorter dosing interval. However, the antibodies dropped off "significantly" between the first and second jabs.
Nonetheless, Professor Miles Carroll, a Health Protection Agency official involved in the study, warned against getting "hung up just on" neutralising antibodies generated by the vaccine.
He said the "three-dimensional, four-dimensional activities that are happening in the immune system" need to be taken into consideration, such as the T cell responses.
Overall, T cell levels after a second jab were actually 1.6 times lower in the longer dosing cohort – but the scientists said there was a higher proportion of "helper" T cells, which provide long-term immune memory and help to generate infection-preventing antibodies.
The study showed that "that after one vaccination we had a pretty good T cell response that didn't decay over the eight-week period or 10-week period," said Professor Carroll. "So that's also playing a part to protect you."
Researchers found that levels of antibodies and T cells varied significantly from person to person, which may depend on genetics, underlying health conditions, and past exposure to Sars-CoV-2 and other coronaviruses.
All participants in the study will be followed up after six and 12 months to assess their longer-term immune responses.
Despite the variation in the results, Professor Susanna Dunachie, joint chief investigator of the study, said the Pfizer vaccine is "very good at including an immune response no matter what regimen you get".
UK news in pictures

Show all 50
She said that the JCVI's decision to recommend an eight-week dosing interval had "balanced up" a number of factors, such as vaccine supply, the prevalence of Covid-19 in the community, "the desire to open up" and the levels of protection generated by delaying second jabs.
Professor Dunachie added that the eight-week gap was "the sweet spot for me", while Professor Carroll said it was a "good compromise".
He said some people in the study were given their second dose after eight weeks, enabling researchers to generate data on this regimen. "It's a good time interval," he said. "We're in a good place."
Join our new commenting forum
Join thought-provoking conversations, follow other Independent readers and see their replies