UK study of 'mixing and matching' vaccines expands to include two more jabs
Oxford researchers recruiting volunteers to test Moderna and Novavax vaccines as second doses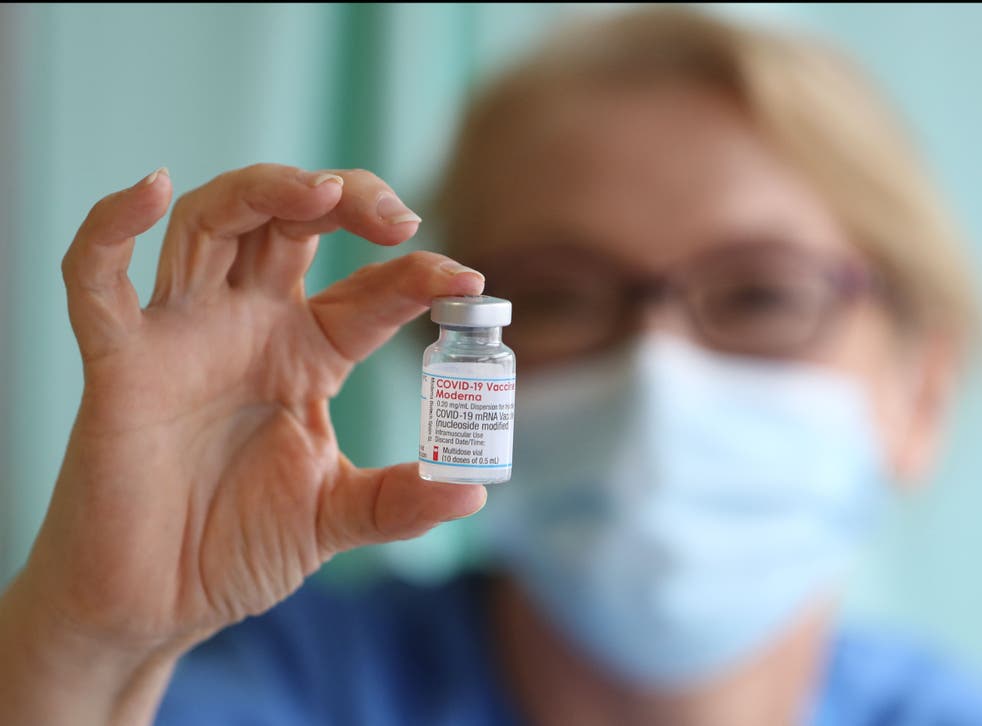 Two further jabs are to be added to a trial examining whether doses of the Oxford/AstraZeneca and Pfizer/BioNTech coronavirus vaccines can be safely mixed.
The Moderna and Novavax jabs will be included in the UK's Com-Cov study, launched in February by researchers at Oxford University to explore the possibility of "mixing and matching" different coronavirus jabs.
The treatment, known as a heterologous prime-boost, can only be administered with licensed vaccines and involves using one dose each of two different types.
France and Germany have already begun administering a different second dose for older citizens who received a first shot of the AstraZeneca vaccine, which has been linked to rare blood clots.
The World Health Organisation says there is not enough data to support this policy, but the team at Oxford says its first round of findings will be available next month.
This will clarify whether the AstraZeneca and Pfizer vaccines can be safely mixed and will generate an immune response that is similar to or greater than the current standard dosing schedule.
In the meantime, the Com-Cov study is seeking to recruit adults aged over 50 who have received their first vaccination in the past eight to 12 weeks.
The volunteers, who will have received either the Oxford or Pfizer vaccine, will be randomly allocated to receive either the same vaccine for their second dose or a dose of the jabs produced by Moderna or Novavax.
The Moderna jab has started being rolled out across the UK, while the Novavax jab manufactured by GlaxoSmithKline (GSK) is under rolling review by the Medicines and Healthcare products Regulatory Agency (MHRA).
The six new arms of the trial will each recruit 175 candidates, adding 1,050 people to this programme.
Recruitment, which starts next week, is expected to end next month, with results from this branch of the study due to be released in June or early July, according to chief trial investigator Matthew Snape.
"The focus of both this and the original Com-Cov study is to explore whether the multiple Covid-19 vaccines that are available can be used more flexibly, with different vaccines being used for the first and second dose," he said.
"If we can show that these mixed schedules generate an immune response that is as good as the standard schedules, and without a significant increase in the vaccine reactions, this will potentially allow more people to complete their Covid-19 immunisation course more rapidly.
"This would also create resilience within the system in the event of a shortfall in availability of any of the vaccines in use."
UK news in pictures

Show all 50
The researchers will study any adverse reactions and the immune system responses to these new combinations of vaccines.
The study is designed as a "non-inferiority" one, which means its aim is to demonstrate that mixing is not substantially worse than not mixing.
Prof Snape said he would be surprised if mixing and matching doses generated a lower antibody response than those found in previous clinical trials of each vaccine.
If the study shows promising results, the MHRA and Joint Committee on Vaccination and Immunisation would formally assess the safety and efficacy of any new vaccination regime before it is rolled out to patients.
Register for free to continue reading
Registration is a free and easy way to support our truly independent journalism
By registering, you will also enjoy limited access to Premium articles, exclusive newsletters, commenting, and virtual events with our leading journalists
Already have an account? sign in
Register for free to continue reading
Registration is a free and easy way to support our truly independent journalism
By registering, you will also enjoy limited access to Premium articles, exclusive newsletters, commenting, and virtual events with our leading journalists
Already have an account? sign in
Join our new commenting forum
Join thought-provoking conversations, follow other Independent readers and see their replies