Deep sea snailfish has soft bones and open skull to cope with crushing pressure, study finds
Research shows how animals have adapted to survive in hostile environments
Conrad Duncan
Monday 15 April 2019 17:54 Comments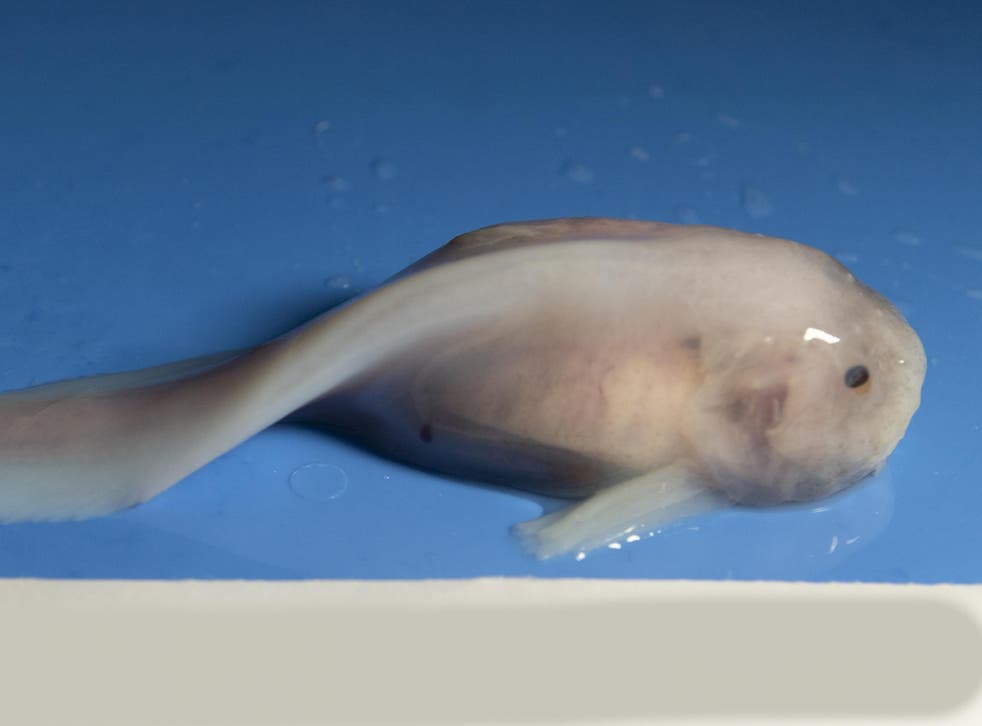 Snailfish use their soft skeleton and partially open skull to survive intense crushing pressure in some of the deepest areas of the ocean, according to a study.
Researchers caught several snailfishes to study how they had adapted to the deep sea and compared them to closely-related species living in shallow waters.
Snailfish live in some of the deepest areas of the ocean, known as the hadal zone, between six and 11km below the surface.
The zone is thought to be among the most hostile areas on earth, due to high pressure, darkness, cold temperatures and scarce food resources.
Despite these problems, snailfishes are top predators in the hadal zone's food web and are the most common and dominant fish family in the area.
Dirty water threatens the Great Barrier Reef

Show all 20
Lead researcher Wen Wang and colleagues found snailfishes caught in the Mariana Trench had transparent skin, an inflated stomach, soft bones and incompletely-closed skulls, unlike similar shallow sea species.
The research team found osteocalcin, a gene that regulates tissue mineralisation and skeletal development, is cut off in the hadal snailfish.
The truncated gene may contribute to the species' unusually soft skeleton by preventing bones from mineralising.
Snailfish species' incompletely-closed skull is believed to protect the brain by making sure crushing pressure does not push it out.
The study also found multiple copies of genes which make cell membranes more fluid, which researchers believed could help cells function at extreme pressures in the deep sea, and the loss of several photoreceptor genes, resulting in snailfishes' poor vision in light.
Researchers said the extensive internal and external adaptations by deep sea snailfish has helped them to endure the immense pressures and challenges from living in the deep sea.
Support free-thinking journalism and attend Independent events
They concluded that the paper, which was published in Nature Ecology & Evolution, could help to shed light on how species can adapt to extreme environments.
Register for free to continue reading
Registration is a free and easy way to support our truly independent journalism
By registering, you will also enjoy limited access to Premium articles, exclusive newsletters, commenting, and virtual events with our leading journalists
Already have an account? sign in
Join our new commenting forum
Join thought-provoking conversations, follow other Independent readers and see their replies